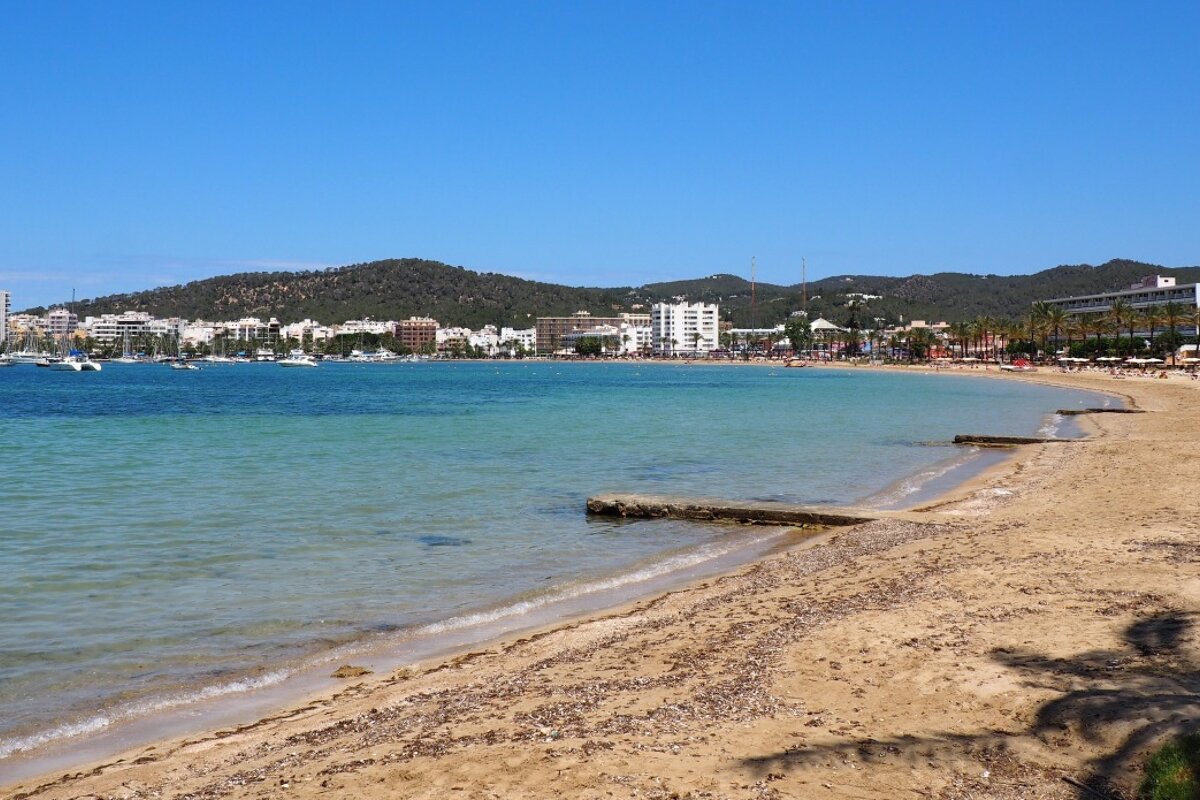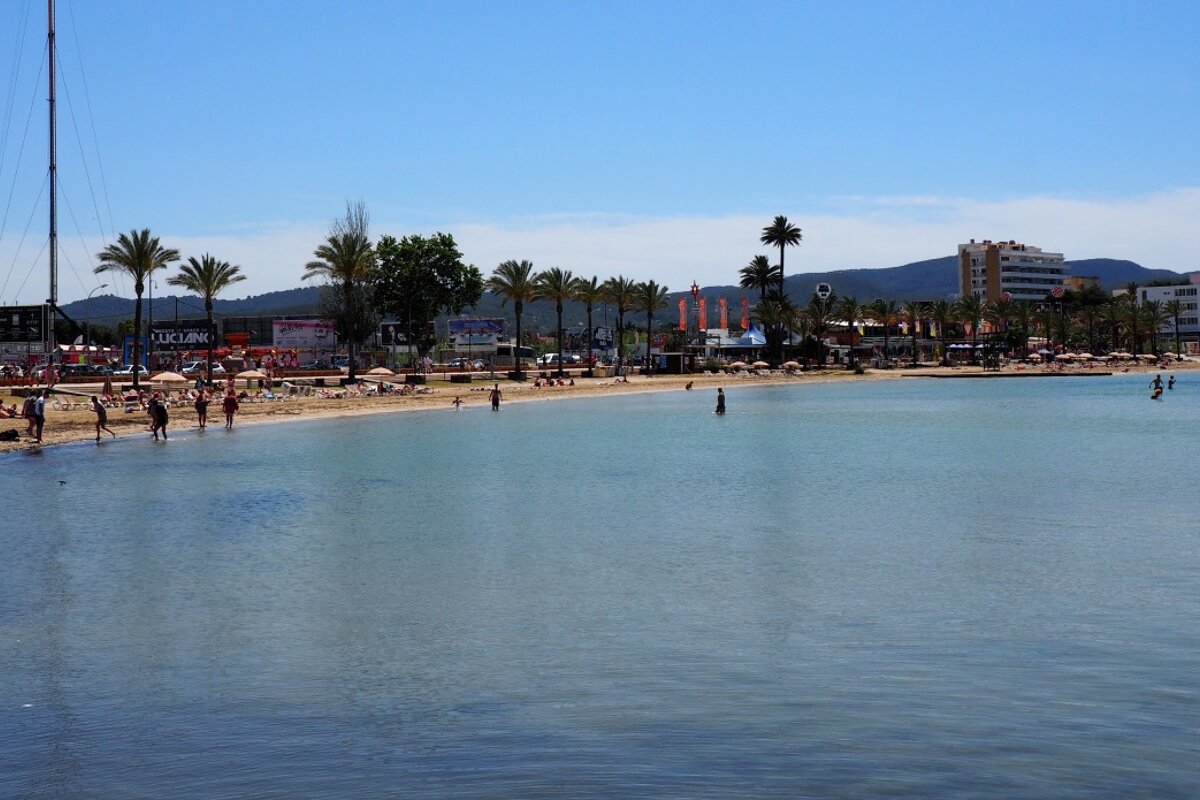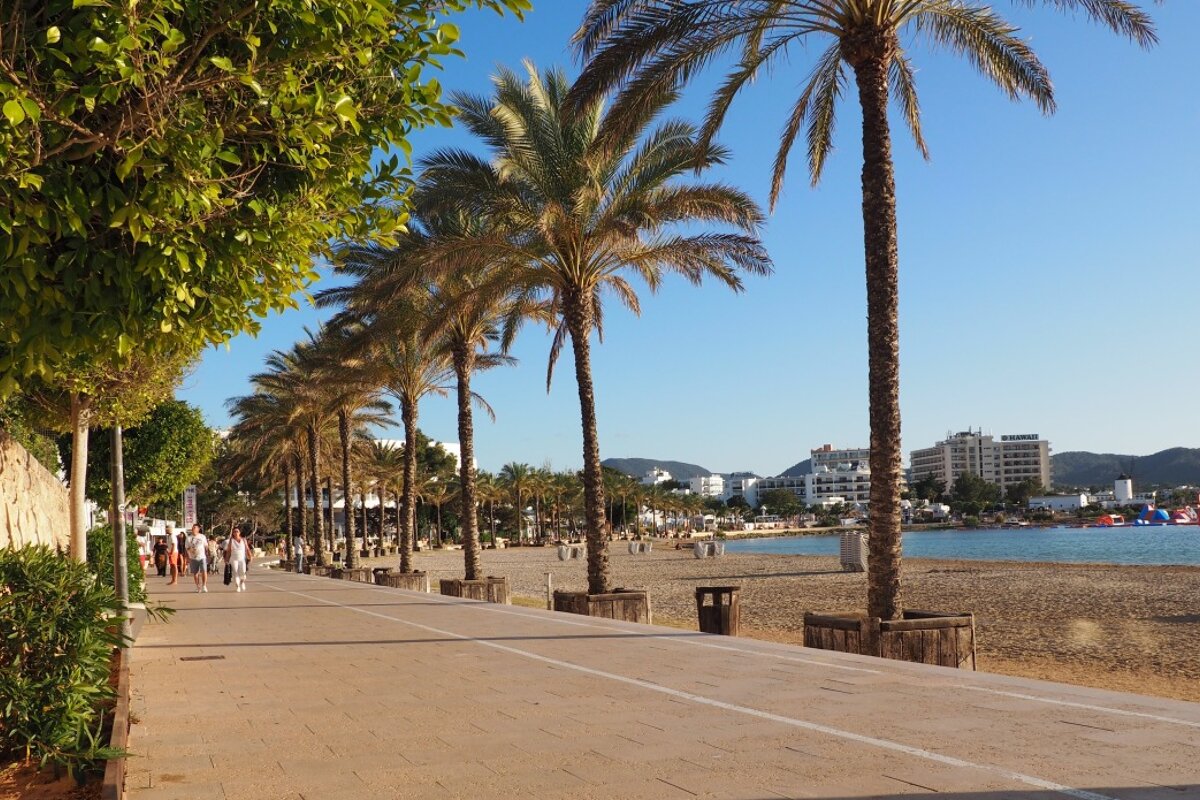 S'Arenal de San Antonio, West Ibiza
Urban beach, perfect for families due to the clear shallow water
This is the main beach in San Antonio, 500 metres long with lots of soft golden sand.
Being San Antonio, the area is built up, but the beach is pretty wide so doesn't get unbearably rammed in the summer. Great family location as the waters are clean, clear and shallow, so safe for children. If you are staying in San Antoni then this is an obvious choice, however there are plenty of smaller beaches not far away if you are looking for something a little more authentic. If you are staying outside of the town then a visit to this beach is perfect if you are looking for a location where you can sunbath within easy reach of bars and retaurants...oh, and maybe a little shopping too!
The promenade is just behind brimming with restaurants, bars and cafes. There are sun loungers and umbrellas plus plenty of water sports on offer.
Read our review of S'Arenal beach here.
Beach Bars & Beachclubs in Ibiza
Restaurants and bars line this beach from end to end as well as small supermarkets and shops enabling you to break up your beach day with some souvenir shopping, a beach picnic, lunch or cocktails in one of the many bars. You'll find anything from KFC to Brit pub fry-ups to classy beach lounges and hippy venues take your pick as you wander along the waterfront.
Water Safety & Clarity
The water is clear and blue and has a sandy seabed along most of the water line, getting a little weedy out deeper, but mostly sandy and with a gradual incline all the way out. The long beach has two life guard stations which are manned 11am – 7pm June through to September, showers and toilets as well as disabled facilities are available at regular intervals along the beach.
Beach Quality
It's a long sandy beach, which is wide enough that people can spread out a little – until peak season at least.
Watersports Nearby
Sun loungers and parasols are available for rent as well as enough kayaks, paddleboards, and pedal boats to keep you occupied all day long. At the far end of the beach there are shelves of rock leading down to the sea, here you can find a few rock pools and a good snorkelling zone.
Location
San Antonio, Ibiza