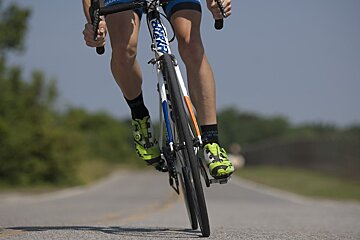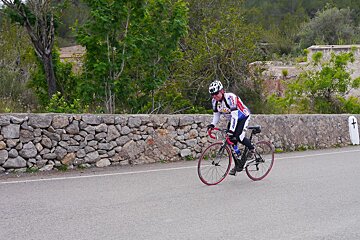 Cycling in Ibiza
Discover the top Ibiza cycling
Ibiza's mild winters, the intense light and colour that pervades the spring, and the pleasant temperatures all year round make it ideal for active visitors.
Cycling in Ibiza & Spain
Although a small island Ibiza offers some impressive, demanding and leisurely rides that makes the island a popular destination right through the year.
The cycling season begins in February and is busiest until May but most cycle shops are open until October. July and August are the hottest months on the island so not an ideal time for training. If you decide to come at this time then cycling at the crack of dawn not only ensures you have run of the road but keeps you cooler than you would be in the hot sun.
Enjoy the mild winters, sunny skies and the fabulous light and colours of autumn and spring. Throughout the winter, the best professional European teams come to neighbouring island, Mallorca, because they find it has the ideal conditions for training. The resort of Alcúdia in the north of Mallorca is a favourite of Britain's Team Sky during the winter as they take advantage of the climate and landscape as well as the dry, warm weather.
Renting bikes
If you choose not to bring your bike with you on your Ibizan holiday - and with airlines charging carriage these days for your bike & the possibility of loss or damage to your pride and joy during transit, there are good reasons to leave your bike at home.
If you do decide to take your own bike, make sure you've padded your bike bag to the max. Taking your own is tempting but it can be a heafty cost with budget airlines charging £50/€50 each way and can also be a risky choice if your bike gets damaged.
Renting charges do vary from shop to shop, for bike frame and duration of hire so it's best to check each site beforehand. Most shops charge extra for pedal hire but will happily fit your own for free.
Amateur visitors who want to enjoy the beauty of Ibiza can also rent bicycles and ride along the charming country roads - it's the best way to see the small villages of the interior, and explore the culture, typical Ibizan cuisine and the peaceful way of life of the locals.
If you are a casual cyclist, then the local bike stores will also cater for you, with half day and full day rental options available. Helmets are not compulsory but are available to hire at all of the shops.
There are bikes for rent in most of the holiday resorts around Ibiza where you can hire road, mountain, touring and childrens bikes. Many of these stores are also specialist bike shops so you can pick up accessories & clothing if required.
Equipment for cycling
Water - One of the biggest problems in Ibiza is the heat. Fit two bottle cages to your bike and take 750ml bottles with electrolyte drinks.
Sun Cream - Dry air and hot summer sun means you will burn quicker here than at home
Windbreaker - Although it may be warm in the valley temperatures can drop rapidly as you climb, weather can change quickly and the fast descents can cool you down fast.
Snacks - Energy Bars and gels are a very good idea if you are planning a day on the roads.
Mobile Phone - Being able to contact someone to pick you up if your chain breaks is helpful.
Money - You may need it in an emergency or just for a beer at the end of the day.
Basic Repair Kit - You can't fix everything by the side of the road but not all breakdowns require the day to end.
Cycling hotels & camps
Many of Ibiza's hotels welcome cyclists and will be able to offer storage rooms and bike racks - check before you book.
Flying with your bike
A review of airlines terms and conditions in relation to sports equipment baggage indicates that it is highly likely that you will be subjected to a standard charge for taking your bike on board. Easyjet; bmibaby; Aer Lingus; and KLM indicated that there was an average additional charge of between £15 (€22.50) and £25 (€36) to take your bike, one-way.
However, make sure that the combined weight of your luggage does not exceed you allowance. Although you may have paid an excess for your bike its weight may be added to the weight of your hold luggage and there can be a penalty for any kg's over the allowance.
The more conventional airlines such as British Airways and its code share partner Swiss airlines permit free transport of bikes providing they fit within the free baggage allowance, and are packed in a hard shelled container.
Packing your bike for a flight
There are a few options available in transporting your bike. Hard bike boxes tend to cost in the region of £300 and like a hard case suitcase it will minimise the risk of damage occurring to the your bike but they are heavier. A soft bike bag is the cheaper option, costing around £100. Whilst this will provide your bike with a little more padded protection it is not as reliable as the hard box. On our recent trip from the UK to Geneva, we transported our bike in its original cardboard box, protected the key areas with bubble wrap and cardboard and it arrived safely and undamaged. Most airlines stipulate the following:
Bikes should be contained within a protective box or appropriate bike bag;
Only one bike should be carried per box/bag, and no other items (except protective padding) should be included within the box/bag;
Handlebars and pedals must be fixed sideways against the frame or removed; and
Tyres should be deflated slightly to reduce the risk of damage.
If you are transporting your bike, you should also check out your travel insurance arrangements. A lot of travel insurance companies will not cover your expensive mountain bike without an additional excess payment, and a lot of airlines will not be held responsible for any damage sustained whilst the bike is in their care. Check out your household insurance policy to see whether it can be covered as 'contents away from home'. There may be a slight surcharge for this option, but it's potentially better than having to fork out for a new bit of kit, or a brand new bike!!
Top Tip
In addition to bubble wrap, purchase some pipe lagging and zip ties from a DIY store to put around the frame of the bike for protection during transportation. In addition, if you don't have your original cardboard bike box, ask your local bike shop for one. If you have the choice always use the manufacturer's box and your bike should arrive safe and whole. However, it is worth noting that the most frequently damaged part of a bike is the rear gear hanger. Remove the rear gear mechanism and tie wrap loosely to the frame to avoid this scenario. This applies almost equally to disc brake rotors if your bike sports them. Take them off, likewise pedals, its only a five minute job and will prevent you engaging in a fruitless search for an obscure part in resort.
Safety advice for cyclists
Carrying ID in Ibiza is mandatory, to avoid fines from the local police or Guardia Civil always carry some form of photographic identification on you.
Riding two abreast is legal in Ibiza but keep as far to the right as possible. Ride in single file when there is poor visibility.
Keep to the hard shoulder of roads wherever possible. Don't make any risky manoeuvres and always comply with all traffic regulations.
Respect the natural surrounding because the ecological balance is very fragile. Do not leave litter behind and do not light fires in the woods.
Do not enter private property without the expressed permission of the owner.
In the summer, it is advisable not to cycle during hottest time of the day. Take water, sun-cream and a hat on excursions.
Before leaving, make sure your cycle is in good condition. If you are planning to go out at night or might be returning late, ensure that your bike is fitted with working lights.
Before setting off, make sure you let someone know where you will be going and when you think you are likely to be back.