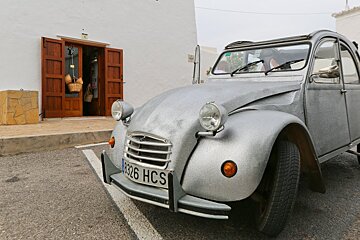 Driving to Ibiza
Discover the top Ibiza driving routes
Taking your car with you on holiday to Ibiza gives you absolute freedom to go where you want when you want in comfort. However, there are a few things to consider before you set off.
Whilst road tripping is undoubtedly one of the best ways to see a country, ensuring your car is up to the trip, planning your route in advance and familiarising yourself with the road rules and regulations of the country you are visiting, will make the driving an enjoyable part of your trip rather than creating unwanted stress on your holiday.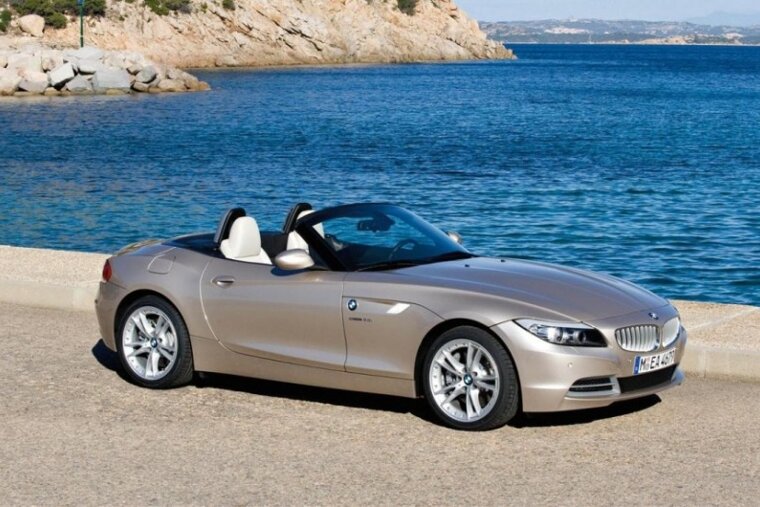 Cost of driving to Ibiza
If you decide to drive through France to reach Spain then you will need to consider the various regulation changes, tolls and insurance implications. Check out our guide to Driving in France.
Motorways ('autopistas') and dual-carriageway roads ('autovías') in Spain have seen recent improvements and are now amongst the best in Europe. Motorways are prefixed with 'AP' and they are toll roads ('autopistas de peaje'). The charge for using them is payable by cash or credit card. You will find that the motorways themselves are never particularly crowded whilst the non-toll roads leading to the same destination can be busy. For a quick journey, using the motorway network is probably best but, if you are not in a hurry and want to save money, you'll be better off using the 'autovías' that are prefixed with an 'A'. All 'A' roads are toll-free.
On a trip to Ibiza you will need to add a ferry into the equation. Ferries run from Barcelona, Valencia and Denia on the mainland, as well as from other Balearic islands. You just need to take into consideration times and days of travel, the size of your vehicle, and the number of passengers as the prices vary. We would highly recommend booking in advance, especially during busy periods.
Driving through Spain
Having your own car is the best way to explore the true Ibiza, allowing you the freedom to visit the island's most remote coves, natural parks and authentic villages. Here are some tips for those behind the wheel in Ibiza.
Parking
For street parking, blue lines indicate this is a zone where you need to pay for parking (known as 'ORA'). Seek out the ticket machine in the area so you can buy your pay and display ticket. These zones do often have 'free periods' but these vary from area to area, so just check on the ticket machine. If the lines are yellow, parking is not allowed while white lines mean free parking. Keep an eye out for disabled parking spaces as well. In many Ibiza towns you should pay attention to signs placed around parking areas that may indicate a market or other event taking place the following day and make sure you park in legal parking spaces. Otherwise, you could be fined, or even have your car towed away.
Petrol stations
Pretty much all petrol stations sell unleaded petrol ('gasolina sin plomo') in 98 and 95 grades, as well as diesel ('gasóleo' or 'gasoil') which can be regular or premium with additives to protect the engine. You will find that fuel is more expensive on the island than mainland Spain.
Renting a car
You might prefer to fly to Ibiza and just pick up a car once you arrive on the island. There are various car rental companies based all over Ibiza. The best offers can be found online, so we recommend you book beforehand. Age requirements and restrictions vary from company to company, please check the small print. Also remember to bring your driving license, passport, a credit card and any other documentation you might require upon picking up your car.
If you are flying to the island, it's probably best to hire a car from the airport. The car rental kiosks are easy to find as soon as you come out of the sliding doors at baggage reclaim. Alternatively, it's possible to pick up a car from most of the large resorts.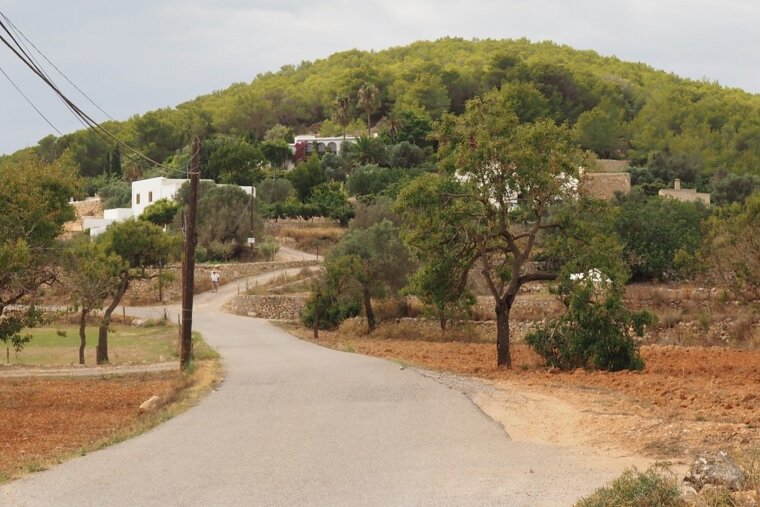 Taking the scenic route to Ibiza
Taking the scenic route is a good option if time is not of the essence or if you'd like to see a bit of the countryside en route. Driving the backroads can be very rewarding in terms of all the beautiful places and viewpoints you'll discover. Be aware that the mountainous regions of Spain can be affected by bad weather and so you should check whether your route requires you to have winter tyres or snow chains and whether the mountain passes or 'puertos de montaña' you intend to cross are not closed.
If you do decide to drive along the coast of the mainland or the islands, remember that these steep mountainous roads can be treacherous. They are full of hairpin bends and there are few protective barriers to spoil the view! They also get very busy during the summer season, so plan for the journey to take extra time during these peak seasons. Also beware of tour buses who seem to be fearless and will occupy most of the road.
Road rules & regulations in Spain
When driving in a different country, it is important that you are aware of any road laws and restrictions that may differ from home.
Speed Limits
In built up areas, stick to 50km/h and 90 km/h on other roads, for example on the outskirts of towns. Dual carriageways separated by a central reservation and motorways (toll roads) have a maximum speed of 120km/h.
Fines
Spanish fines will be sent to your home address. If paid within the first 20 days, you can benefit from a 50% discount. They can even be paid online on the DGT ('Dirección General de Tráfico') website. The use of radar detectors is also absolutely forbidden in Spain and failure to comply can involve a fine.
Drink driving
If the level of alcohol in the bloodstream exceeds 0.5gr/l (0.25g/l breath alcohol) then severe penalties including fines, imprisonment and/or loss of licence will ensue. This means that just one pint of beer can take you up to the limit. The police also use saliva drug tests to detect people under the influence of drugs whilst behind the wheel.
Mobile phones
Mobile phones may not be used whilst driving unless with a hands-free kit.
Triangles & High Vis
Reflective jackets are mandatory to carry, someone walking on the road or hard shoulder can be fined if not wearing one. Warning triangles are also compulsory in every vehicle with 4 wheels or more and Spanish residents must carry 2.
Seatbelts
If you have passengers in your car then the wearing of seatbelts is compulsory for both front and back seat passengers. Children up to the age of 12 and measuring less than 135cm in height must travel in the back seats of the car and be seated in a child restraint system adapted to their size and weight. Children measuring more than 135cm may use an adult seat belt. It is the driver's responsibility to ensure that all passengers are appropriately restrained.
Use of the Horn
Unnecessary use of audible warning devices is prohibited. Warning signals must be brief in built-up areas, and local authorities may prohibit the use of such signals completely, which is indicated by signs, except in an emergency.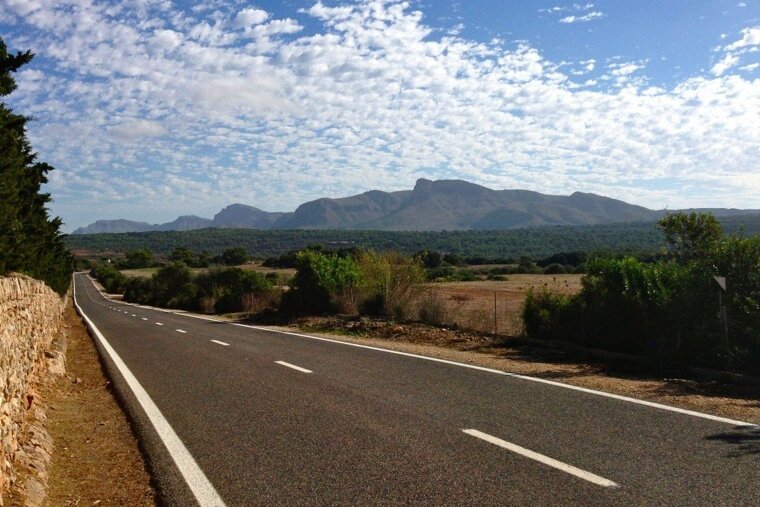 Legal documents & paperwork in Spain
In Spain, you are expected to have all your vehicle registration documents ready for inspection on demand. You should always have the following documentation in your car with you:
Full valid driving licence
Original vehicle registration document
MOT or equivalent test certificate
Motor Insurance
At least a month before taking your vehicle overseas, you should contact your car insurance company to ensure that you are adequately covered and are in possession of the necessary documentation. Many insurance companies will only insure a vehicle overseas for a maximum of 90 days at a time so, if you are planning on an extended stay, you may have to make additional cover arrangements. Even if it is not essential to carry a Green Card when driving within the EU, it is instantly recognisable proof of (at least) 3rd party insurance cover and is obtainable from your insurance company.
Breakdown Cover
Whilst checking out your insurance policy you should also ensure that you have European breakdown cover just in case of accident or mechanical failure. This can be part of your motor insurance or a separate company.
Equipment checklist for driving to Ibiza
Before embarking on your journey, you want to be sure that your vehicle is mechanically up to the job. Breakdowns and repairs abroad can be costly and take time out of your holiday so servicing your car well in advance of your trip should help. There are a few simple checks you can do yourself to prepare your vehicle for the trip.
Battery: A battery rarely last longer than 5 years and a long journey with lights, heaters or AC and windscreen wipers going puts a lot of additional strain on it. Consider replacing it before you go if it is approaching the end of its life
Fluids: Check the oil and water levels and ensure they are topped up correctly.
Lights: Check that all lights are working, clean and correctly aimed. For UK cars driving on the continent, you must fit headlight deflectors or adjust your beams so that you don't dazzle oncoming vehicles when driving on the right.​
Windscreen wipers: Check front and rear wiper blades for wear or splitting and replace if necessary.​
Number Plates: Your number plates should be clean and legible as it is possible to be fined if they cannot be read. Most European number plates now come with a dual country and Euro badge so the need for a conventional country sticker when travelling within the EU is not necessary. However, if you are in an older car that does not have this then make sure you place a country sticker on the back.
Breakdown procedure in Spain
Should you break down on a main public highway or motorway, follow these six simple steps:
Pull into the hard shoulder or as close into the side as you can and turn on your emergency warning lights.
Put on your high vis safety vest.
Exit the vehicle from the right-hand side (the side away from passing traffic).
Place your warning triangle 50 metres away in the direction of the approaching traffic. If it's a dual carriageway road you only need to place a triangle behind your car but if the road is a single carriageway, you also need to place another triangle in front of it.
Make sure yourself and your passengers are behind the motorway safety barrier or in a safe position.
Use a phone to alert your insurance company via your breakdown help line number.
The breakdown company will find a local tow truck ('grúa') to collect your car, who will then take it to a garage.
Road accidents in Spain & What to do
If you are unlucky enough to end up in an accident whilst driving in Ibiza, then there are certain procedures that you must follow:
Move to a safe place and alert oncoming traffic by placing your red warning triangle 50 metres down the road.
If two cars are involved, complete an accident report detailing the events that led up to the incident.
Take pictures of the aftermath if you have a camera handy.
If the drivers cannot agree on a version of events then do not sign any documentation and contact the police for assistance.
Included in the accident report are the following details:
Date and place of the accident (full address).
Vehicle information: make, model numbers, and vehicle registration numbers.
Drivers' information: full names, addresses, driving license details (number, category, date, and place of issue), identification (NIE, DNI or passport number)
Details of insurance companies and policies of all drivers
Witnesses: names and addresses
Injuries (yes/no)
Vehicle damage (yes/no)
An illustration and explanation of the accident including details of damage caused
Circumstances of the accident, including weather conditions, speeds involved
If you are involved in a serious accident resulting in casualties, then contact the emergency services by dialing 112 as soon as you can, having placed yourself in a secure spot. Do not move the vehicles until the police arrive.
More inspiration...
Sometimes you might not need or want to use your car. The good news is, there are lots of local public transportation links in Ibiza. Buses are the most common forms of public transport for tourists visiting the island and are relatively cheap. Many visitors find using public transport just adds to the holiday experience. For those who prefer to travel at their own pace, taxis are another option and are surprisingly reasonable in price too.