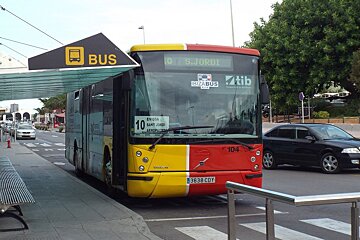 Bus services in Ibiza
Discover and book Ibiza bus services
The public transport system on Ibiza offers a low-cost approach to travelling around the island. Local bus lines cover most destinations on the White Isle and certainly all of the popular tourist spots throughout the year.
There are several private bus companies that operate bus routes around Ibiza. Information about all of them can be found on the Ibiza Bus website
Watch out for
Bus fares are a few euros, the exact amount depends on the journey. Bus tickets can be purchased from the bus driver directly when you get on, in cash. Drivers will have some change so you don't need the exact money but many won't accept a note larger than 20€. So beware before you start your journey!
Timetables
Local timetables, changes in schedule and all other information about local bus services can be found on the Ibiza Bus website. You can also take a look at their comprehensive bus guide, featuring all lines and frequencies. The local bus company usually set up special services for the biggest events on the island, keep an eye on their website for up to date information.
Bear in mind that children under 5 years old travel for free, but buggies must be folded for the duration of the journey. Pets other than guide dogs must travel in crates. Bikes must be folded.
---
Ibiza Town bus services
Several local bus lines run across Ibiza Town connecting its centre with the marina and the city's surrounding neighbourhoods. Some of the most useful bus routes for visitors to Ibiza Town, operating year round, are:
Dalt Vila to shopping area
Line 45 connects Dalt Vila, the old town, with the promenades of Vara del Rey and Avinguda d'Espanya, the main shopping areas in the city.
City centre to Pachá
Line 12B links the city centre with Ibiza Town marina and Pachá nightclub.
City centre to Playa d'en Bossa
Line 14 connects the city centre with Playa d'en Bossa via the popular nightlife hotspots of Ushuaia and Hard Rock Hotel.
---
Airport buses
There are several airport bus routes in Ibiza. However, most of them only run in the summer. Line 10 is the only airport bus route that operates all year round, from 06:00 to midnight in the summer and from 07:00 to 23:30 in winter. It runs between Ibiza Town city centre and the airport, via the ferry terminal to Formentera. Tickets cost 3.50€.
In the summer, a further three bus lines run between the airport and the towns of Sant Antoni and Sant Josep (L9), Cala Nova and Santa Eularia (L24), and Playa d'en Bossa (L36). Tickets cost 3.50€ or 4€.
Timetables and stops for these airport routes can also be found on the Ibiza Bus website.
---
Ibiza island-wide buses
Plenty of bus lines run between Ibiza Town and the main towns and resorts on the island. Most stop in small villages on their way. There are buses operating all year round from Ibiza Town to Sant Antoni (L3), Ses Salines (L11), Santa Eularia (L13), Sant Joan (L20), and Santa Gertrudis (L25) among other towns on the island.
From early May to late October, a further 22 bus lines become available. They connect the main beach resorts, towns and markets on the island.
This map shows the main bus routes throughout Ibiza: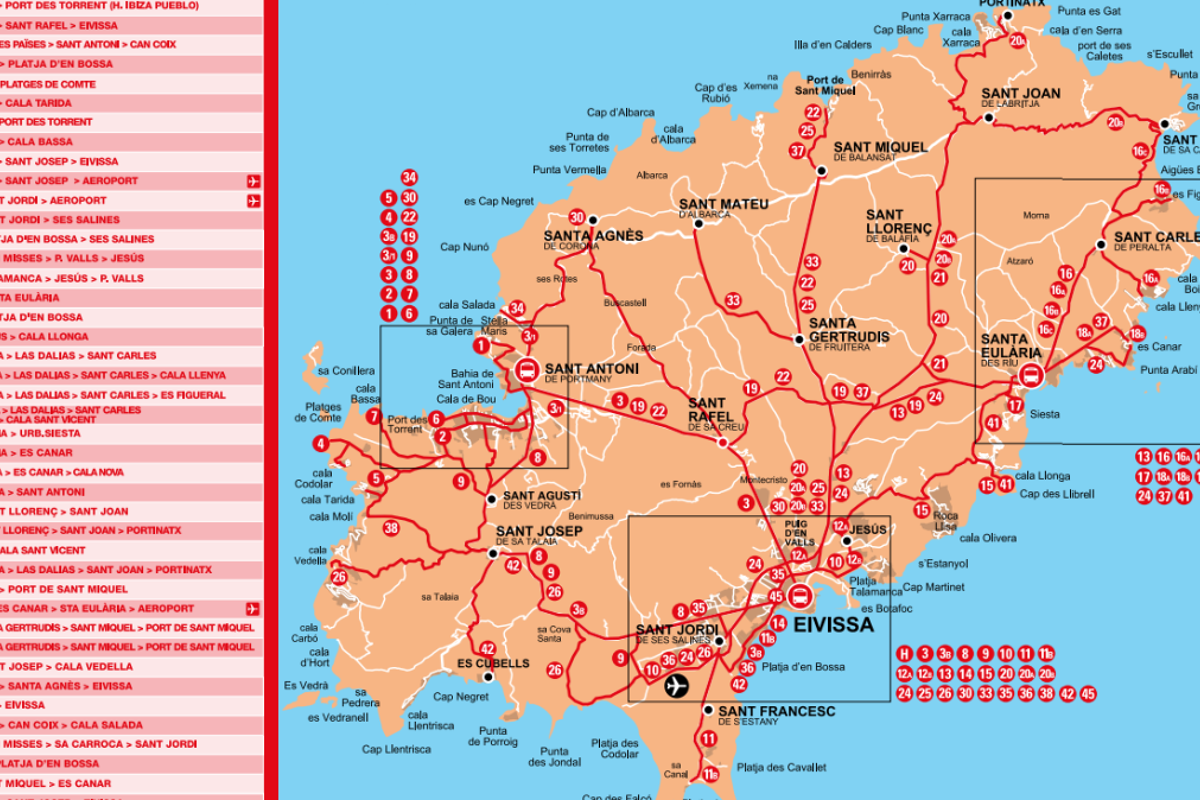 ---
Summer night bus service - Discobus
The local bus company sets up special night routes during the summer, from late May to September. Discobus links all the bars and nightclubs with hotels and apartments around the island. Costing from 3€ to 4€, this is a cheaper alternative to get to some of the more remote nightclubs if you are staying on the other side of the island. They run from midnight to 06:00.
There are 5 Discobus lines:
L2 - Discobus runs between Sant Antoni and Port des Torrent via the main hotels on the Bay of Sant Antoni.
L3 - Discobus runs between Sant Antoni and Ibiza Town marina via Privilege, Amnesia and Pachá.
L3B - Discobus runs between Sant Antoni and Playa d'en Bossa via Privilege, Amnesia, the new Ushuaia-Space and Bora Bora.
L13-18 - Discobus runs between Ibiza Town marina and Es Canar via Pachá, Amnesia, Privilege, and Santa Eularia.
L14 - Discobus runs between Ibiza Town marina and Playa d'en Bossa via Pachá, Bora Bora and the new Ushuaia-Space.
---
Note that these timetables may vary throughout the year and during holidays so please contact the bus companies in advance to avoid disappointment.