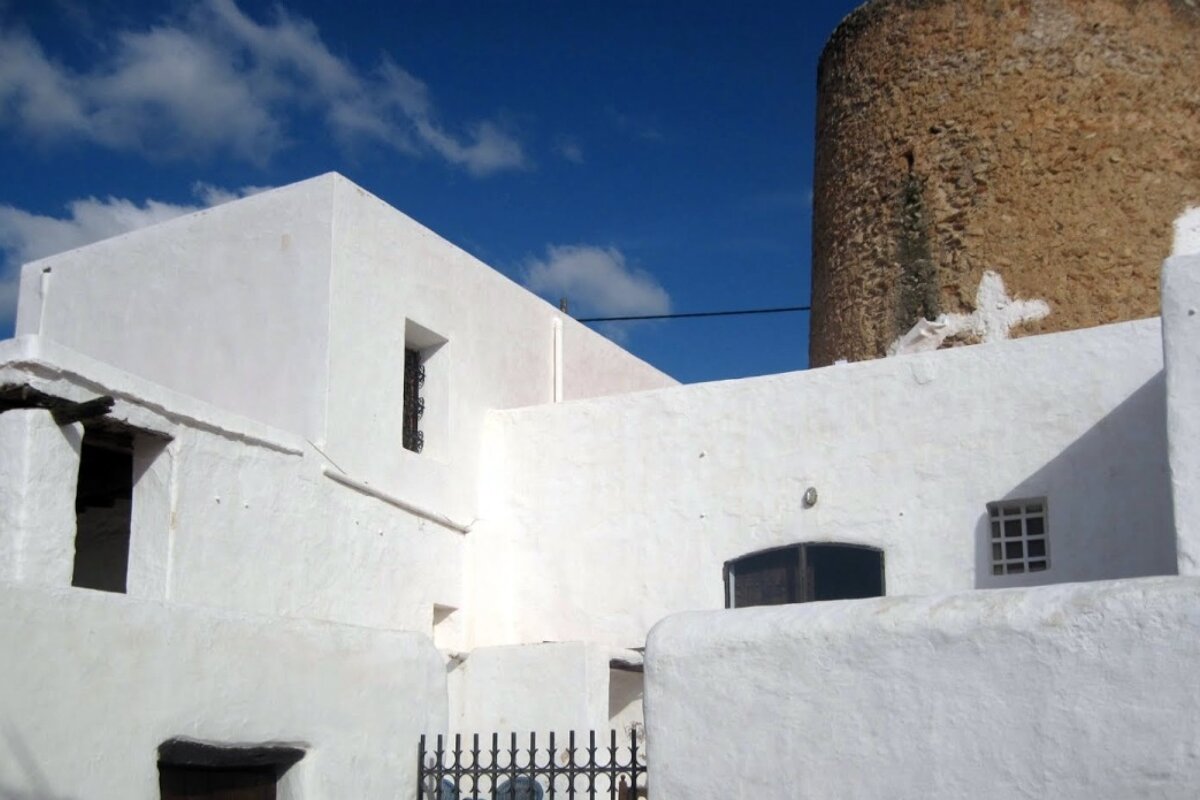 © Rutas por Ibiza en bici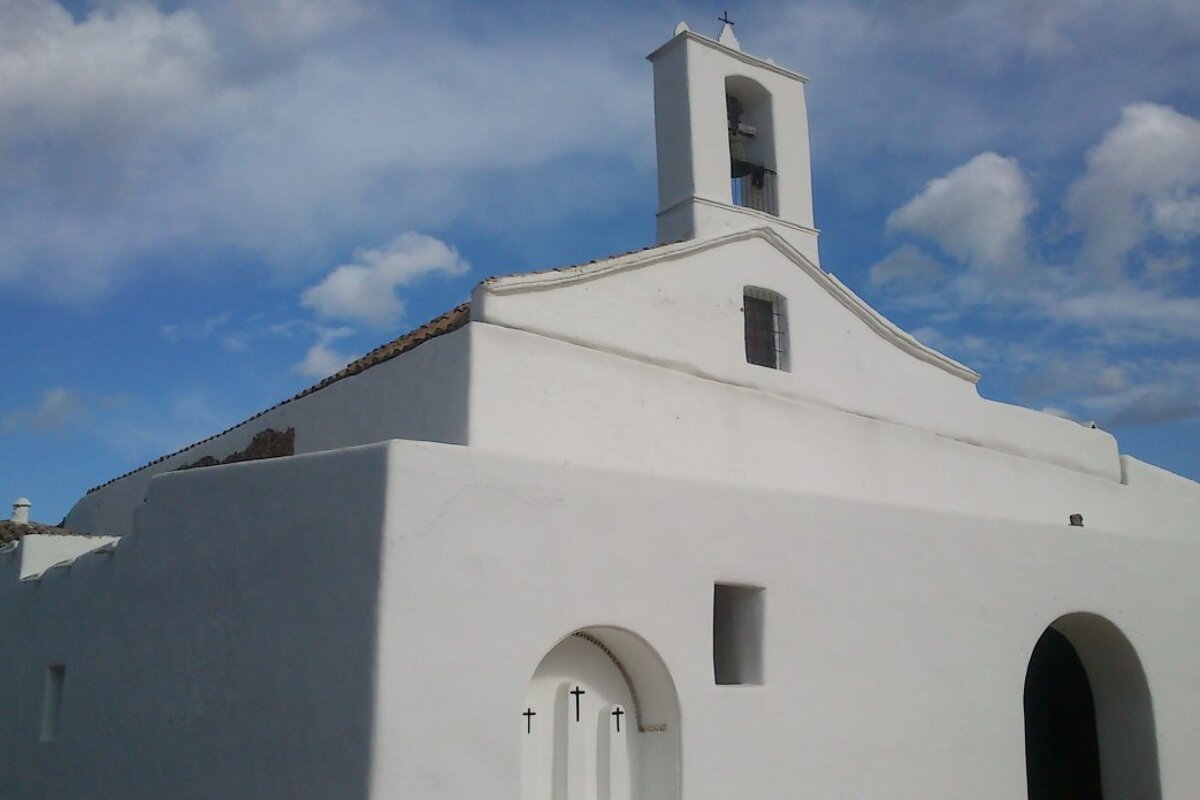 © Rutas por Ibiza en bici
Sant Llorenc de Balafia (San Lorenzo), North Central Ibiza
A perfect example of remote rural life on the island
Set back inland, 17km north east of Eivissa, is the small village of San Lorenzo. It's an attractive traditional village with an 18th century church and a few houses.
Sant Llorenc is a tiny hamlet tucked into the hills of north Ibiza. It is a quite little place home to very few tourist attractions other than the village itself. A church dominates the town, there's a village school and two restaurants that cater for locals and visitors. Views out across the rugged interior of the island are beautiful.
There are none in this village, no shops and no ATM, neither restaurant takes card payments so do make sure to plan ahead if you're heading here for the day.
History & Culture in North Ibiza
As with most towns and villages in Ibiza, life revolves around the church, which a main feature in Sant Llorenc. The belfry once stood to one end of the church but due to alterations made to the building in the 19th century it is now located in the middle of the facade.
Sights & Attractions in North Ibiza
The village itself is the main draw to Sant Llorenc, a small slice of rustic Ibizan life completely removed from the madcap tourism of the bigger towns and coastline.
The Church of Sant Llorenc like in most Ibizan villages is the focal point of the settlement, it stands proud, far larger than the village would seem to require and proudly whitewashed in bright Balearic white. This 18th-century church features a bell tower common to Ibizan most churches and also a large covered porch with, rather unusually, only one entrance arch.
Above the village lies a wooded, hilly area that has been designated the Can Pere Mosson Country Park, an area crisscrossed with walking trails, picnic areas and viewpoints. Popular with local families at weekends, although unfortunately dogs are not allowed in the park.
Nearby hamlet Balafia is a draw to this area, a tiny group of houses and defence towers dating back to Moorish Ibiza. It's one of the islands most unusual settlements having been built in a defensive architectural style whereas the rest of the island's defence towers, such as they are, are more often seen dotting the coastline. Visitors can walk the 1km to Balafia down a dirt road from Sant Llorenc and wander along the two tiny streets of the settlement to see the houses and towers, although do remember that these are peoples houses and private signs are hung at gateways to deter tourists.
There is an interpretive centre near the bus stop which contains information about the surrounding area including more about nearby Balafia however the opening hours are rare and erratic.
Beaches in North Ibiza
Sant Llorenc is well and truly inland but the coastline to the east near Santa Eularia has beautiful beaches such as Cala Llenya and Cala Nova, and to the north you'll find Cala Xarraca near Portinax.
Events in North Ibiza
Once a year in August the town hosts the Festes de Sant Llorenc a series of religious events and musical performances centering around the church.
Things to Do in North Ibiza
There is a small public children's playground in the village but no organised activities.
Dining in North Ibiza
There are two restaurants in Sant Llorenc.
Traditional Casanova situated next to the church, serving simple, rustic and excellent food of a reasonably priced menu this place seems to hail from another era, you'll find yourself sat at a table next to a priest, beneath pictures of ancient Ibiza. Casanova is a proper slice of real rural Ibizan life.
Paloma is a different vibe altogether, a modern, hipster café/restaurant located in beautiful grounds with large outdoor seating filled with blue iron chairs and white canvass parasols amidst the lemon trees. This place also has a boutique selling handmade clothing and jewellery and a menu featuring homemade falafel, focaccia, humus and smoothies. The organic, homemade fare is nicely priced, the vibe is cool and the location is beautiful.
How to get to North Ibiza
The rugged north of Ibiza can be seen in all its glory here; undeveloped, rustic, thickly forested and hilly, the north of the island is far different from the south. Look out over fertile farmland and the rusty red soil of Ibiza's interior. Sant Joan is the nearest large town, whilst Santa Eularia is not far to the east.
Directions
North of Ibiza 7km south of Sant Joan. Easily accessible along the c-733 highway from Ibiza Town to Sant Joan. Sant Llorenc is clearly signposted west off the highway.
Number 20a bus runs here from Ibiza Town 4-6 times a day Monday to Friday. On weekends and holidays only in summer.
Location
North Ibiza, Ibiza