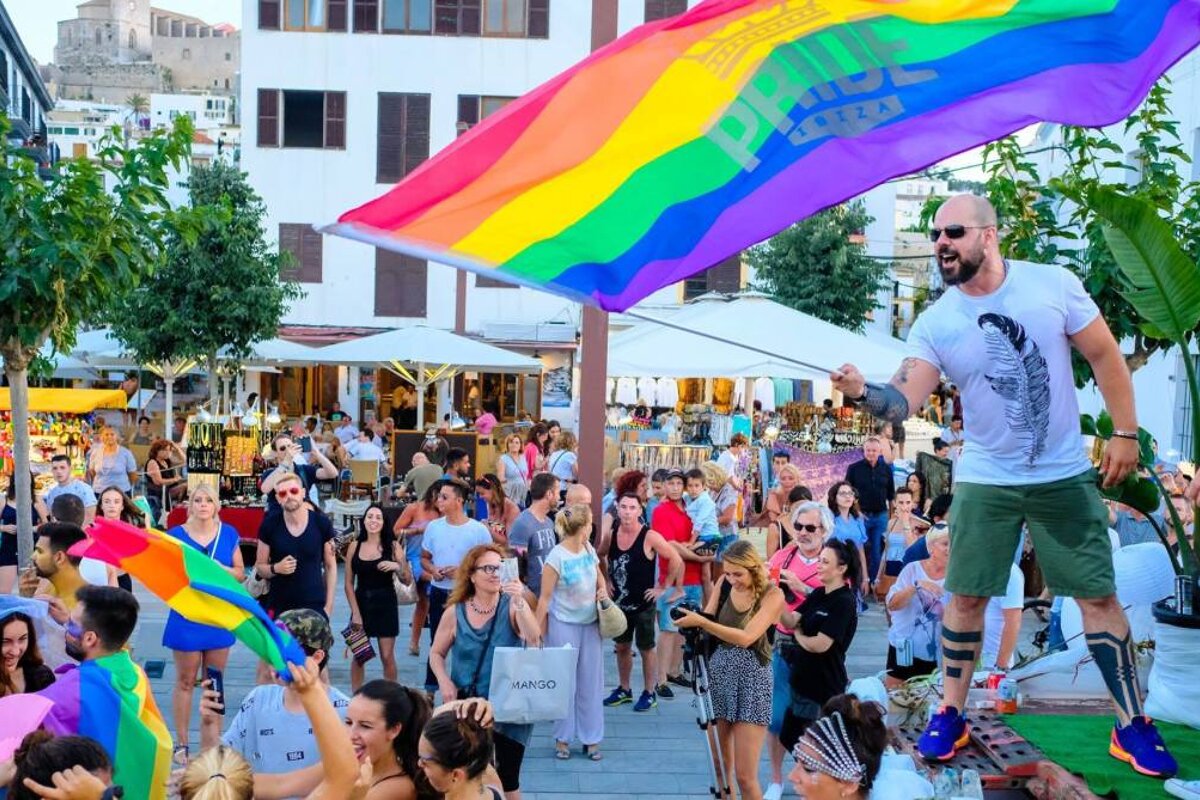 June in Ibiza: What's On & Weather
Endless summertime fun in Ibiza this June
June is one of the most glorious months in Ibiza thanks to its beautiful warming climate and magnetic energy that is spread across the island. With a wealth of incredible activities and events on offer, you will be well and truly spoilt for fantastic things to do.
In addition to a jam-packed schedule of incredible parties, visitors will be amazed by the wide range of fun-filled endeavours taking place throughout the month. From traditional fiestas to special musical events, or topping up on some traditional Ibizan culture, this month provides the perfect excuse to pack your bags and head over to the White Isle. Here is our pick of the best activities on offer in Ibiza in June.
What's the weather like in Ibiza in June?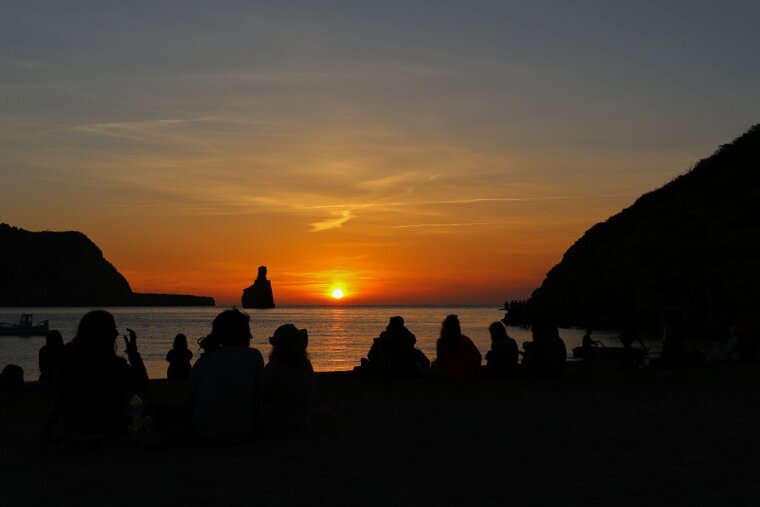 For the sun-seekers, June is truly summertime weather in Ibiza - the days are getting hot and the evenings balmy, rain is very rare, and the sea is nicely warming up at this point in the year. Water temperatures reach around 23°C, and air temperatures reach daytime highs of 28°C and lows of 19°C. Around the summer solstice, the days are long, with sunrise around 06.30 and sunset after 21.00, so there's plenty of time to catch some vitamin D and then enjoy a late Ibizan evening, with some al-fresco dining and drinks.
What's on in Ibiza in June?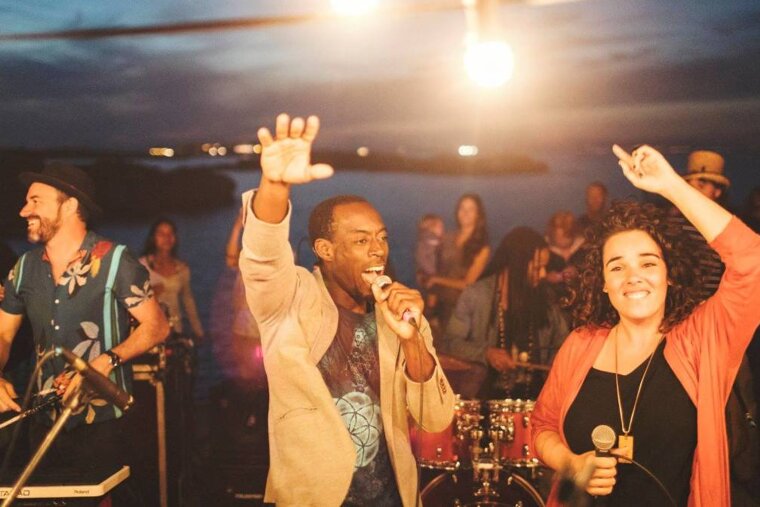 Traditional Fiestes:
The charming village of Sant Joan de Labritja commemorates its patron saint this month with a spellbinding celebration that is filled with hedonism and unrivalled fun. The main event takes place on the evening June 23rd and every year visitors can expect to experience a showcase of music, dance and bonfires with a dramatic firework display at the fantastic traditional event. The celebrations continue into June 24th, to celebrate John the Baptist and the summer solstice. You can visit the town of Sant Joan for the event, but celebrations also take place in towns across the island.
Jazz Festival:
The Formentera Jazz Festival is a unique musical event hosted every year in June in the stunning paradisiacal destination of Formentera. As a celebration of the elegance and freedom of jazz music, guests can enjoy fantastic live concerts, workshops, jam sessions and sublime DJs. The festival will reveal the magical splendours of Ibiza's neighbouring island, the perfect Mediterranean setting to host a particularly special event.
Gay Pride:
Firmly establishing itself as one of the most important dates in the European LGTBQ+ calendar, Ibiza Gay Pride takes place in mid-June in Ibiza (dates vary each year). Offering visitors four days of vibrant colour, freedom and fun, the event expects an impressive attendance each year from people across the globe. As well as an incredible parade, the weekend of celebrations includes a wide range of world-class performances and musical and cultural events.
Movie nights in June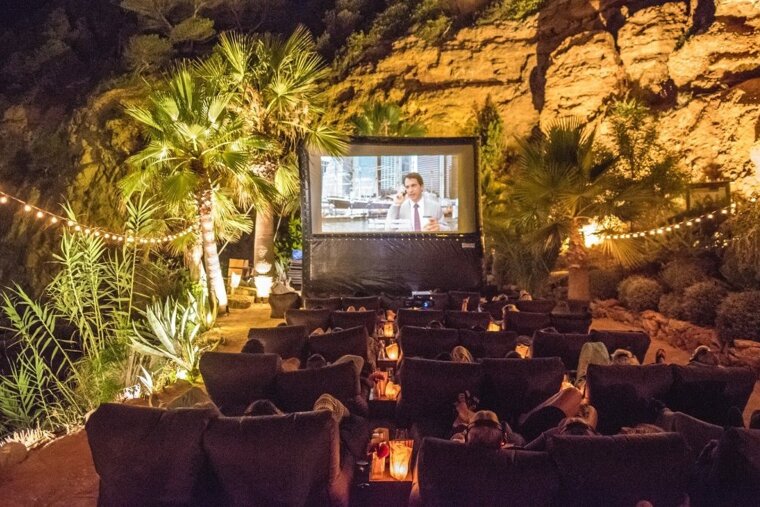 Set on a cliff overlooking the lush Sol d'en Serra bay, the dreamy venue of Amante Ibiza begins its annual series of incredible open-air 'Moonlit Movie Nights' in June. Surrounded by breath-taking panoramas, the unique cinematic events will provide unforgettable memories of the White Isle in a truly magical atmosphere. And of course, a glass of bubbly in hand will only enhance the spectacular experience. With long evenings and temperatures staying warm till late, you'll have no trouble relaxing into your comfy seat and getting stuck into a great selection of films.
Pool and beach parties in June
There is truly no better way to enjoy the island's glorious sun, than at a fun-filled day bed by an inviting pool, cocktail or glass of champagne in hand. The beach clubs are well and truly warmed up and parties are in full-swing by June, with jam-packed events schedules to look forward to. The global beach brand of Nikki Beach hosts extravagant beach parties throughout the summer, where guests can enjoy international guest DJs, magnetic performances and delicious cuisine at the luxurious seafront retreat. The popular poolside venue Ibiza Rocks also has a full schedule of fantastic pool parties on offer in June and throughout the rest of the summer.
Boat trips in June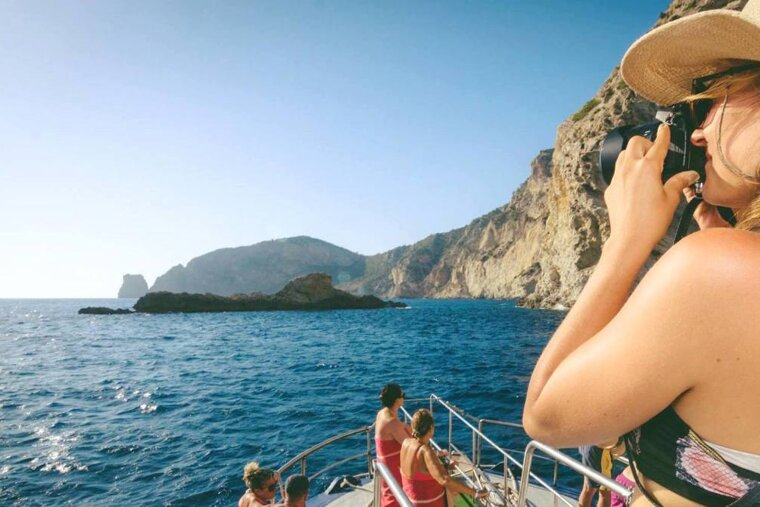 Boat trips
By June the boating season has well and truly started, but it's not yet so busy that you'll be fighting for a booking. No matter where you might be on the island, there will be the opportunity to take to the water close by. Many companies offer group boat trips where you buy a ticket, and join a group on a cruise for the day, half day or sunset trips. If you're looking for something more extravagant, join a party boat trip, where you'll find a fully-stocked bar and live DJs, dancefloors, sunbathing decks, and plenty of watersports activities, too.
Charter a yacht
For a more exclusive experience, and if the purse strings allow, then chartering a private yacht is a fantastic option for a special day out on the water with a group of friends of family. You'll have the flexibility to explore Ibiza's best coastlines on your own time frame, relax and sunbathe on deck, or for the thrill-seekers most boats are also well-equipped with watersports equipment to try.
Picturesque villages in June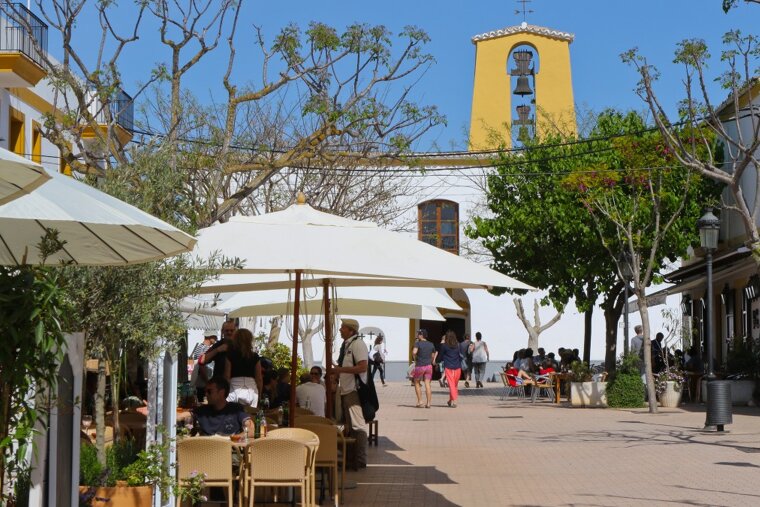 As the tourists begin to arrive and Ibiza Town fills up, head to the inland sleepy villages to get away from the crowds and explore. There are many beautiful villages scattered across the island, but here are some of our favourite must-visit spots:
Santa Gertrudis de Fruitera, located 12km north of Ibiza town and in the middle of the island, is surrounded by rich countryside and fruit trees. It's a small traditional village where you'll find art galleries, funky clothes shops and artisan goods.
Sant Carles de Peralta, also known as San Carlos, is a small village with a long history of hippy settlers and beautiful markets, and a pretty white 18th century church which dominates the scene.
Sant Josep de Talaia is known to have to some of the island's most beautiful beaches, but the town of San Jose itself is also a charming typical Ibizan village which with a beautiful 18th century church. The island's highest point, Sa Talaiassa, is also found here.
Sant Joan de Labritja, north of Ibiza Town, is surrounded by beautiful mountainous scenes, which provides great panoramic views across the countryside. Usually enjoying a quiet and slower pace of life, the town comes alive in June for the Fiesta de Sant Joan.
More inspiration...
Plenty going on and with the warmer weather and outdoor activities to enjoy, Ibiza is a fine choice for a holiday in June. Check our Events Calendar for a full run down and find some accommodation for your stay on our Hotel Pages.
Location