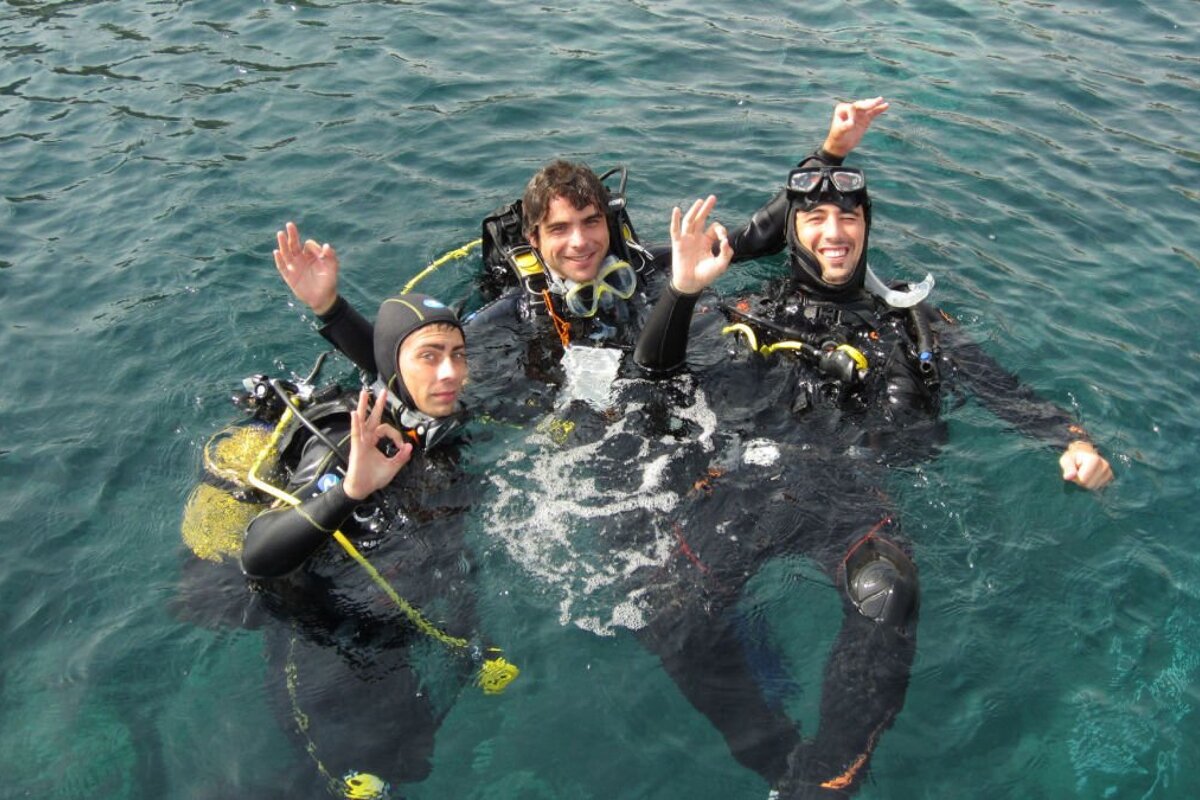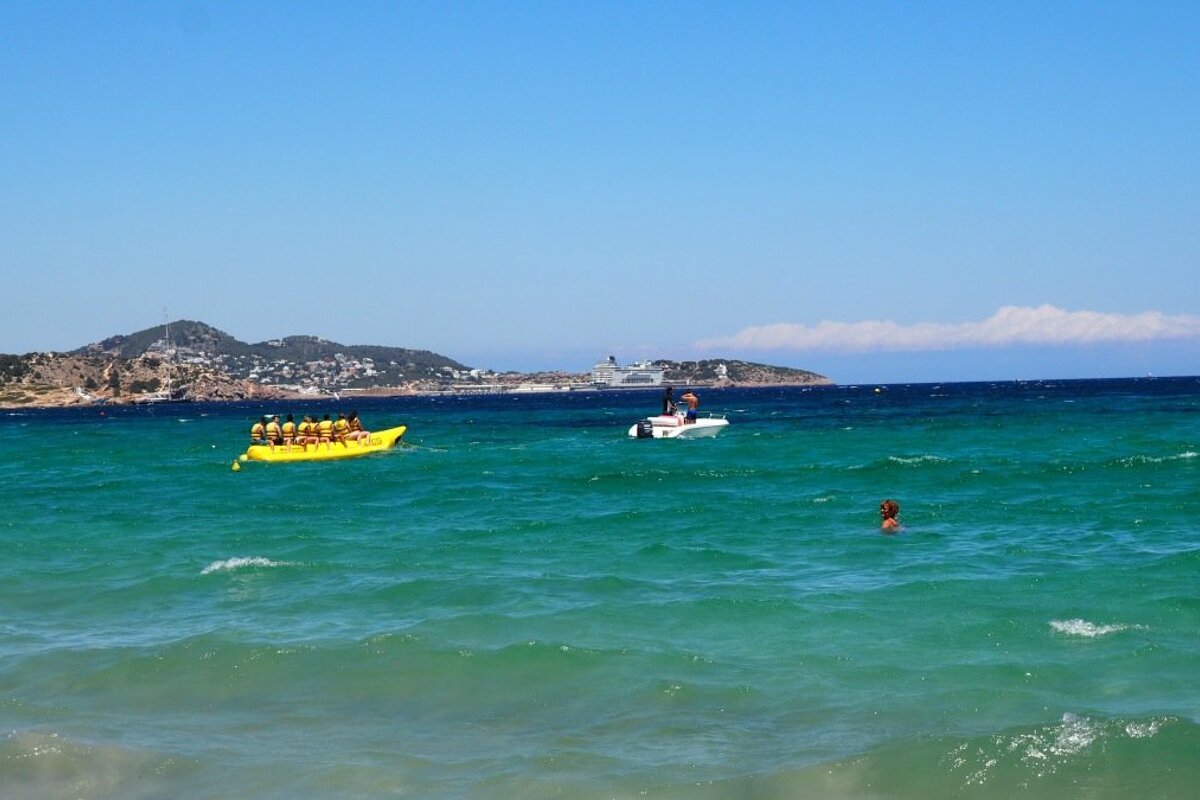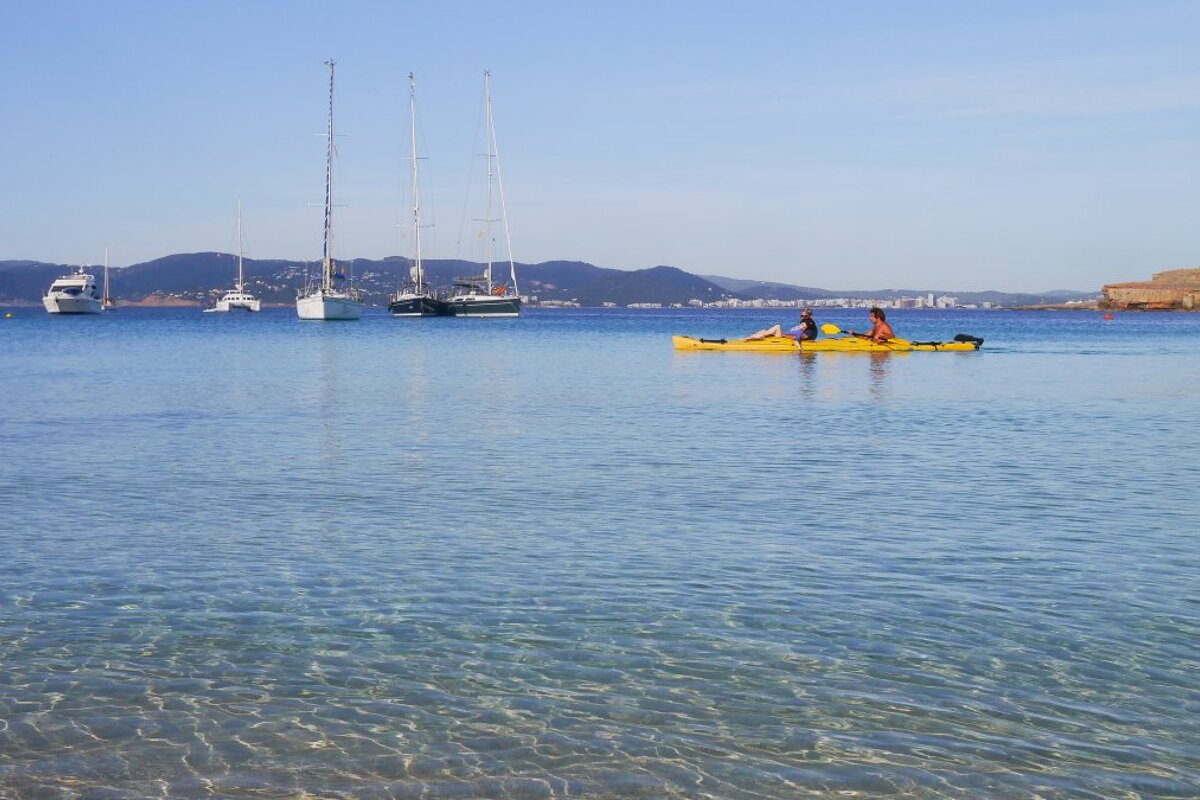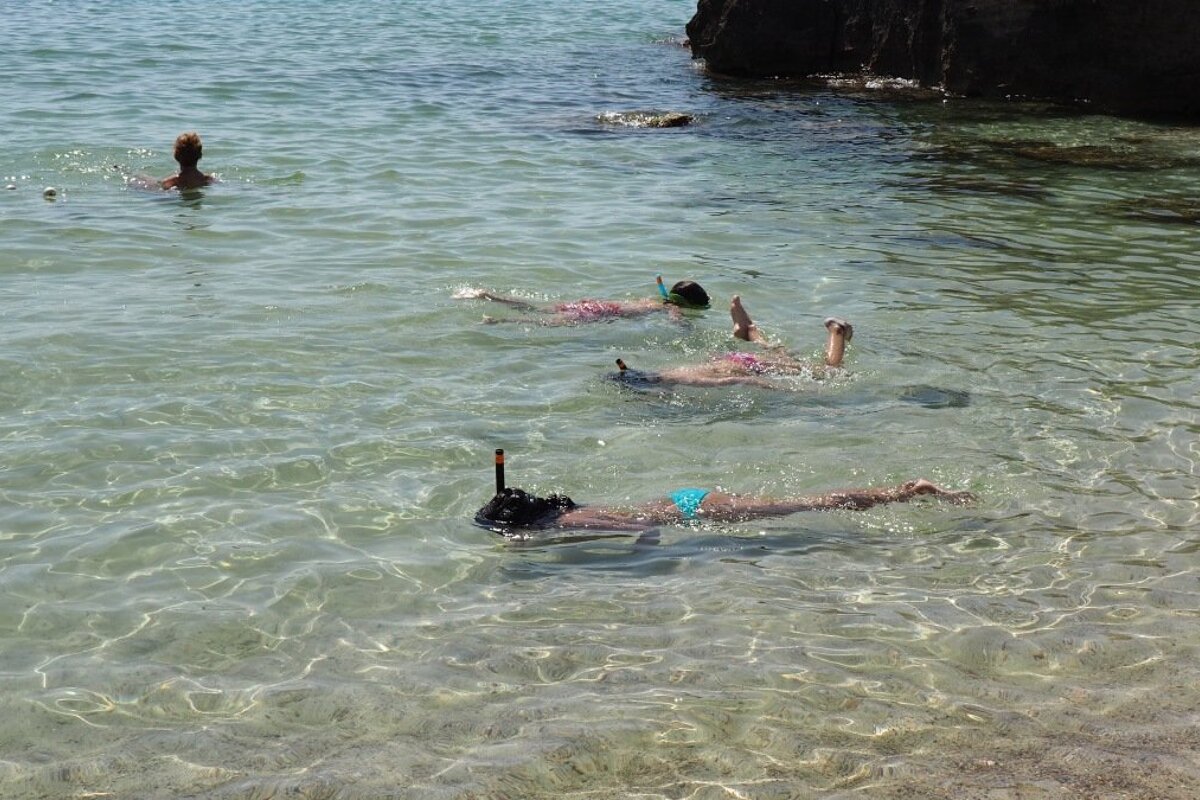 Watersports To Do in Ibiza
Discover the top Ibiza watersports
Mallorca is the perfect holiday destination for watersports thanks to its warm summers, island breezes and scenic coastline.
There are plenty of watersports centres offering equipment hire and lessons in activities like sailing, scuba diving, wakeboarding and kite surfing all around the island. Alternatively, thrill seekers can enjoy rides in speedboats, jet skis or banana boats.
Major beach resorts like San Antonio, Playa d'en Bossa and Santa Eulalia have plenty of watersports to keep the kids entertained. Banana boats, ringos, parasailing and flying mattresses are among a range of inflatable fun to be had on the sea. Pedalos, paddleboards and kayaks are available for hire at most of the bigger resorts, usually from the beaches. This includes popular spots like Cala Llonga, Cala Vadella, Talamanca or Es Canar.
It's also often possible to borrow watersports gear from some of the Boat Trip or Yacht Charter companies on the island. The equipment may be included in part of your package, but do remember to ask before taking your trip.
Most of the watersports operators open every day in summer, with weekend operations in June and September. Things get a lot quieter over the winter, although you will still find paddleboards, kayaks and boats to rent in some places. The wind picks up as of October and over the winter months, bringing good conditions for kiteboarders and windsurfers.
Canoeing / Kayaking
Ibiza's tranquil water and 300 days of sunshine make it the perfect destination for a spot of kayaking or canoeing. From complete beginners to experts, these are fun watersports that can be enjoyed by the whole family. Many beaches offer hourly rentals or, for those who want to get serious about it, there are a number of places on the island that offer courses and trips with certified guides. This is a great way to explore the Mediterranean's turquoise waters, breathtaking cliffs, hidden caves, nooks and crannies. You might even get close and personal with some fish along the way too!
Diving & Snorkelling
Dive into the beautiful waters around Ibiza and discover the world below. Anyone can go snorkelling and it is a great way to begin your underwater adventures without travelling too far away from the comfort of the waters' surface. Many of the tourist shops in resort sell snorkelling gear.
Scuba diving is a fantastic way to explore what lies below. If you are new to scuba diving, the diving schools around the island are more than equipped to show you the ropes and get you started. For those more experienced, there are endless excursions in Ibiza where you can dive into the beautiful blue waters and explore the depths below.
Flyboarding
Flyboarding (jetpack or hoverboard) has become a 21st-century international sensation in the watersports world. Imagine oversized boots affixed to your feet which allow you to be propelled into the sky above the water. Whilst not all watersports companies have this impressive piece of equipment, you will find more and more companies are investing on it because this surreal experience is becoming beyond popular.
Jet-skiing
Jet ski rental can be found at some watersport centres in Ibiza, however, do check to see whether you need a license to ride alone as each jet ski centre has different rules, although quite often you don't need you can go out with a licensed guide. Jet skiing is available in places like San Antonio and Santa Eulalia.
Remember that you have to stay 250m away from beaches and 50m from cliffs, 100m from other jet skis and 50m from diving buoys. It is also a legal requirement to wear a life-jacket.
Other surface watersports
There is an abundance of towed and motorised watersports operators, particularly in San Antonio and along the Playa d'en Bossa beach. Donuts, flying carpets, banana boats, torpedos... no matter how you like being pulled behind a speedboat, Ibiza has all the latest in inflatable fun. You can also rent seabobs – a kind of handheld underwater jetski- to cruise underwater. You could also use a seabob with scuba gear if you don't want to keep coming back up to the surface.
Paddleboarding
Becoming more and more popular across the globe and certainly in Ibiza, Stand Up Paddle boarding is a great way to explore the coastline at a leisurely pace. You can enjoy the water, the sunshine and the spectacular views all from the comfort of your board. Take a break and have a relaxing picnic or lay down for a while, or even try some yoga on the board! There are now plenty of places you can either rent your own board or take a group tour. Great for finding those hidden bays and coves to go an explore later.
Parasailing
Parasailing is a completely unique and incredible adventure. It's also one of the top ways to enjoy Ibiza's exhilarating coastline views as you experience flying 200 feet in the air whilst getting a real birds-eye view of what's going on below. Children must be 6 years old to try parasailing.
Sailing & yachting in Ibiza
Whether learning to sail in a dinghy, racing around the bay in a speedboat or chartering a luxury superyacht for a week, being on the water around Ibiza is a very special experience. With several small Islands just offshore and the other Balearic Islands an easy cruise away, there are many gorgeous places to drop anchor, dive overboard… or just enjoy the view as you float around in the Mediterranean.
Popular activities for those chartering out boats are onboard parties, sailing around Formentera or Es Vedra or watching the spectacular fireworks displays that light up the coast of Ibiza Town in summer.
Day boat rental: There are plenty of day charter experiences. You can hire out a small dinghy or speedboat to explore this sensational coastline, or hire out a 'party boat' for group events catering to up to 100 guests for parties, weddings, corporate events etc.
Weekly yacht charter: For those with a healthy bank balance, a yacht charter on is one of life's great experiences. Prices vary immensely- starting at around 4000 euros a week for a bareboat (without skipper), ranging right up to a million euro a week!
Waterparks
There are three main waterparks in Ibiza. The Aguamar Waterpark in Playa d'en Bossa is a great alternative to a day at the beach with fun waterslides, swimming pools and play areas. On the opposite side of the island, in the bay of San Antonio, you will find Sirenis Aquagames Waterpark inside the Seaview Country Club Aparthotel which has lots of different slides and an area dedicated to small children. Also in San Antonio, Ocean Mania Waterpark offers inflatable fun in the ocean in the form of slides, trampolines, catapults, rope swings and much much more to keep all the family entertained! The inflatable playground is open to all adults and children as long as you can swim. Buoyancy aids are mandatory and will be supplied.
Waterskiing & Wakeboarding
There are water skiing and wakeboarding companies based in San Antono and Santa Eulalia. The whole family can try these sports and enjoy the Mediterranean sea from a different perspective.
Windsurfing & Kiteboarding
For windsurfing, the long stretch from Figueretas to Playa d'en Bossa and the beach of Cala Martina on the north-east coast, where the wind blows directly onshore, are particularly popular. More advanced surfers will enjoy Playa Pinet Beach in San Antonio bay, as it is hit by stronger west wind. There are some windsurfing schools for those new to the sport, while you can also just rent a board and see where the wind takes you. Remember to avoid the 'swimming' zones along the beaches during the summer months or you will have the water police after you!
There are also a few places where kite surfers can catch good waves in Ibiza, such as Ses Salines and Playa d'en Bossa. The kite surfing schools provide lessons for people of all levels and have different styles of kites and boards for rent. There's the opportunity to book courses (which is highly recommended for beginners), or individual 1-hour lessons.