Keeping watch for pirates on Ibiza
Taking a trip to the southern tip of the island
About
Perched out on Ibiza's most southern tip is the ancient defence tower Torre de ses Portes. Still standing and in remarkably sturdy condition this 16th century look out tower is well worth a visit, if not for the tower itself then definitely for the view from this exceptional spot of natural beauty.
The watchtower was located on this point to guard against approaching pirates and it's clear to see why, the view out across the ocean is absolutely unparalleled
Open ocean stretches out on both sides of the Punta de ses Torres and dead ahead is a perfect view of the chain of islands that dot the ocean between Ibiza and beautiful neighbouring island Formentera. Each of the islands that rise out of the water like giant's stepping stones are pieces of Ibizan history themselves. One is rather unpleasantly named Illa des Penjat's – hangman's island, and was used accordingly for captured pirates, another Illa des Porcs was once full of pigs due to its use as a storage area for pig smugglers. You'll spot both of these islands now by the lighthouses that top them; in a step away from their gruesome and illegal pasts they now serve to keep passing ships safe from the shores of this rocky little chain of islands.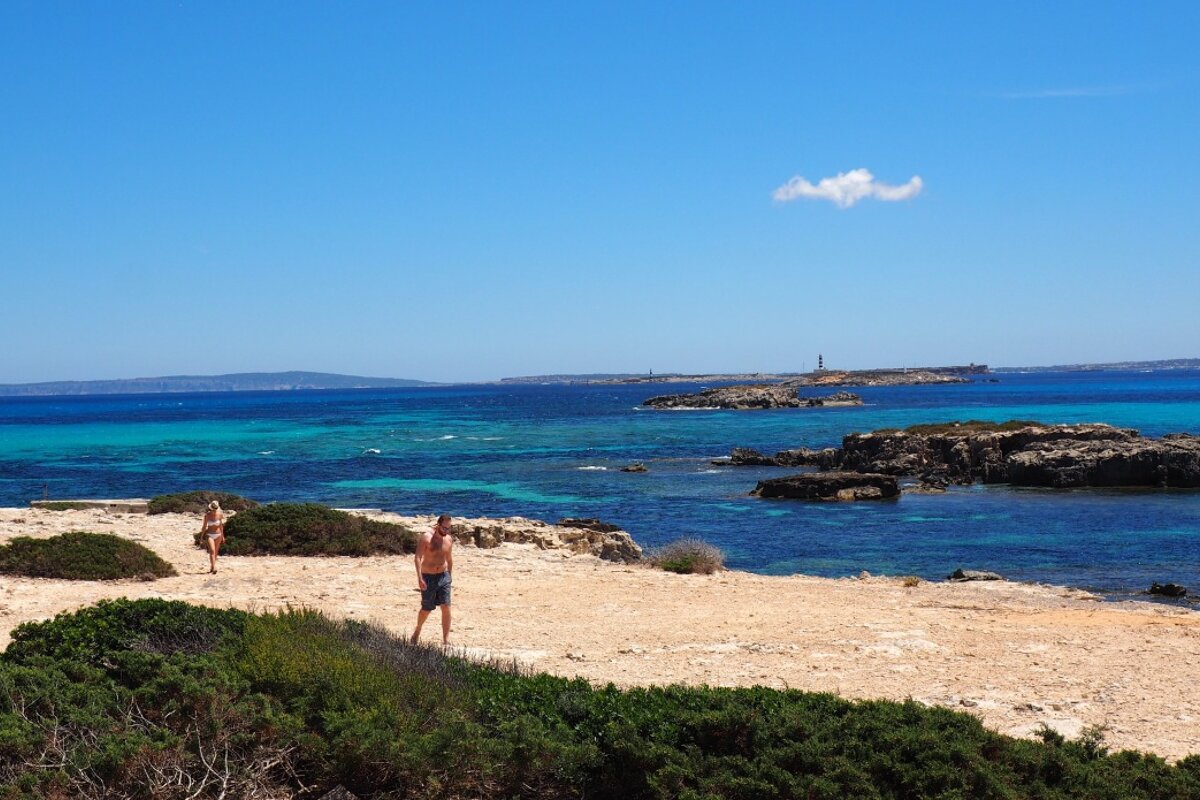 ---
Visiting the tower and seeing this panoramic vista involves a hike of about 30 minutes each way. The tower is at the end of a south-pointing spit of land with two of Ibiza's best beaches running back north on both sides, fashionable Las Salinas to the west and nudist beach Es Cavallet to the East. Access and parking for both of these beaches are at their northern ends and there is no road to the viewpoint, pick which beach you'd like to spend the day on and then walk from wherever you set up camp.
The walk from either direction is beautiful, the beaches and the lookout tower all belong to the Parque Natural de ses Salines, an area protected for its ecosystems, abundance of wildlife, vegetation and the location of the salt flats that you pass on your way to the beaches. This UNESCO protection means that the area has resisted all attempts at urbanisation and so a hike out to the Torre de ses Portes is a proper nature walk with a soundtrack brought to you by birds, ocean waves and not a house DJ for miles.
---
If you walk from Las Salinas, the path is a little more uneven and rocky than from Es Cavallet, you'll clamber up and down some rocky rises but you'll see some beautiful coastline for your troubles. The rocky stretch holds some very dramatic rock formations and isolated little coves carved out of the shore, perfect for a swim if you overheat on your walk. Keep your eyes on the rocks as you wander because not only has nature done it's best to create a spectacular landscape but man has joined in with artists carving their work into some of the rocky outcrops creating timeless sculptures upon natures canvas.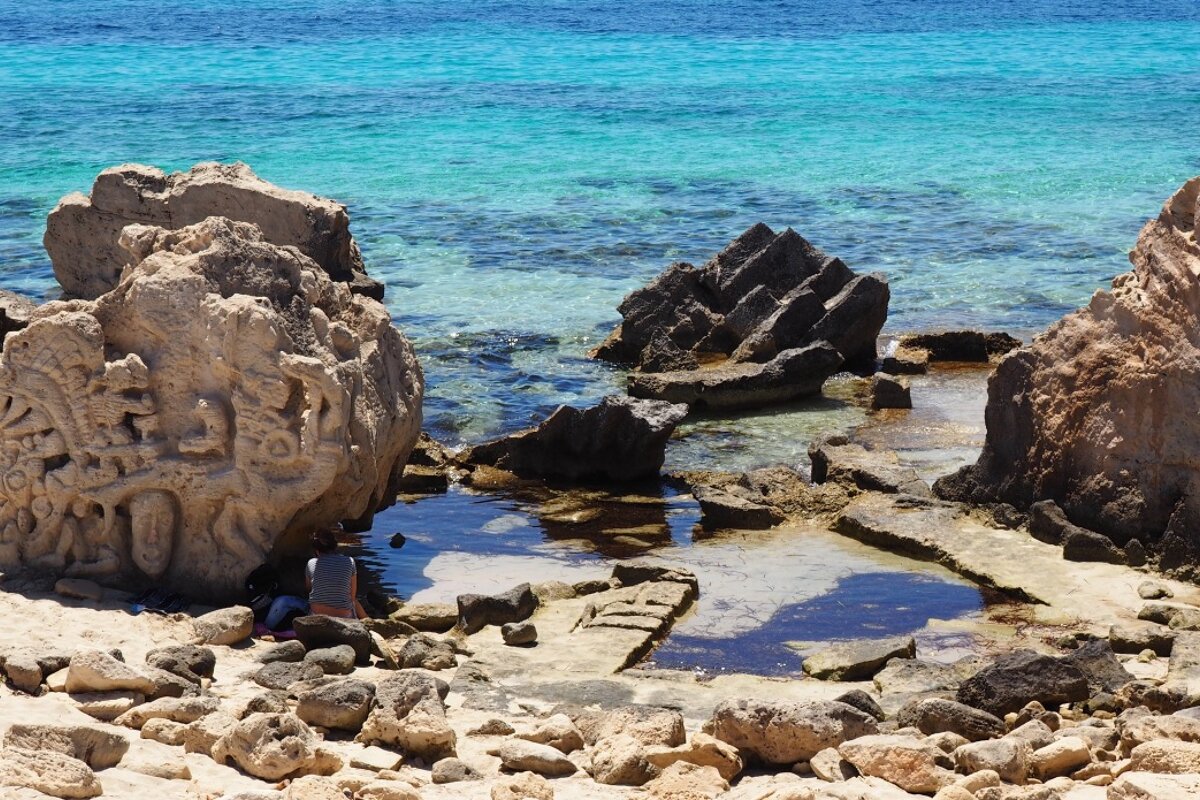 ---
Once you reach the tower take your time soaking in the ocean view, but don't forget to turn around and look back towards Ibiza main to really get an idea of the shape of this spur of land, and the way the two beaches lie back to back with the protected expanse of dunes between. If you wish to swim here, you'll find a few places to enter the water but it's largely a rocky and rugged coastline. Unless you really fancy a snorkel I'd wait until you're back on the sandy main beaches. You can also enter the watchtower should you wish too and explore its simple, dark, cave like interior.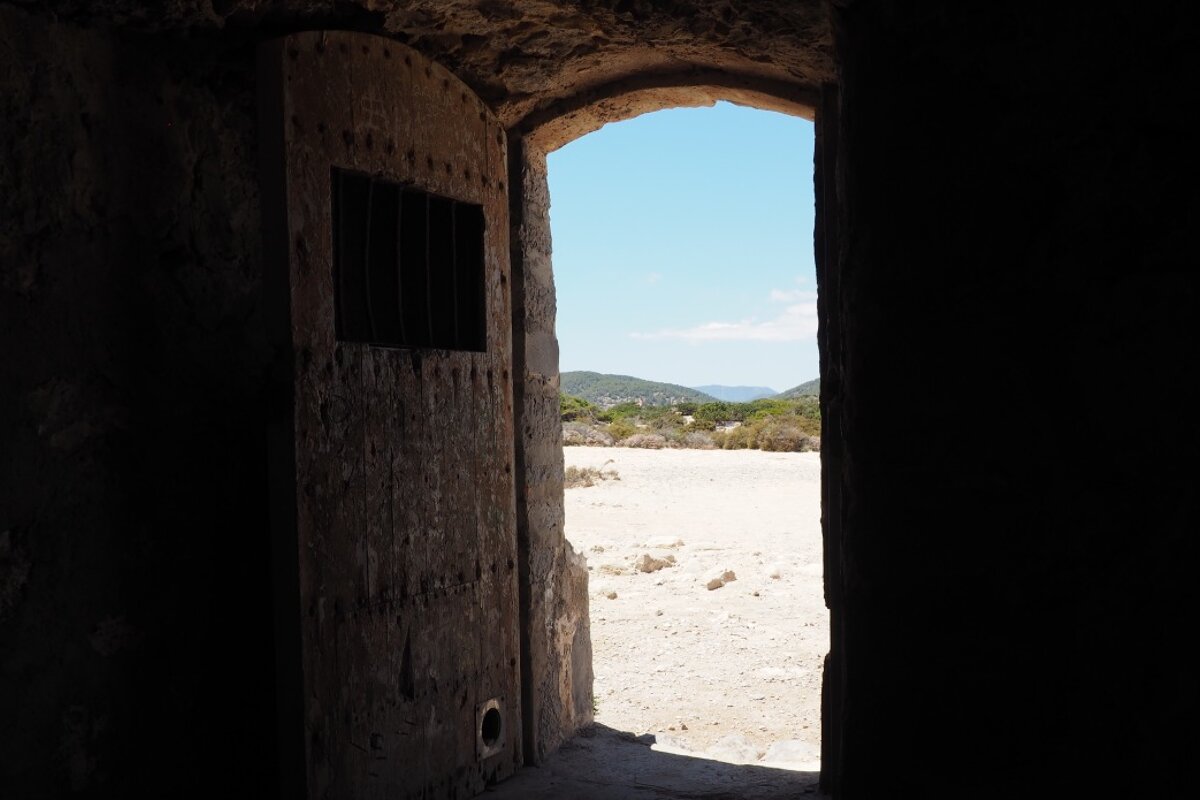 ---
Once you've looked your fill at the beautiful landscape, head on back to the beach of your choice, the walk to Es Cavallat is easier and flatter than the Salinas route and the path again sticks closely to the coastline although it's little less dramatic on this side. If you wish to you can wander amidst the sand dunes and find your way back to either beach from there but watch out for roped off protected areas. Also keep your eyes and camera averted as this area attracts overspill from Es Cavallet's nudist contingent who apparently enjoy nudist hiking also.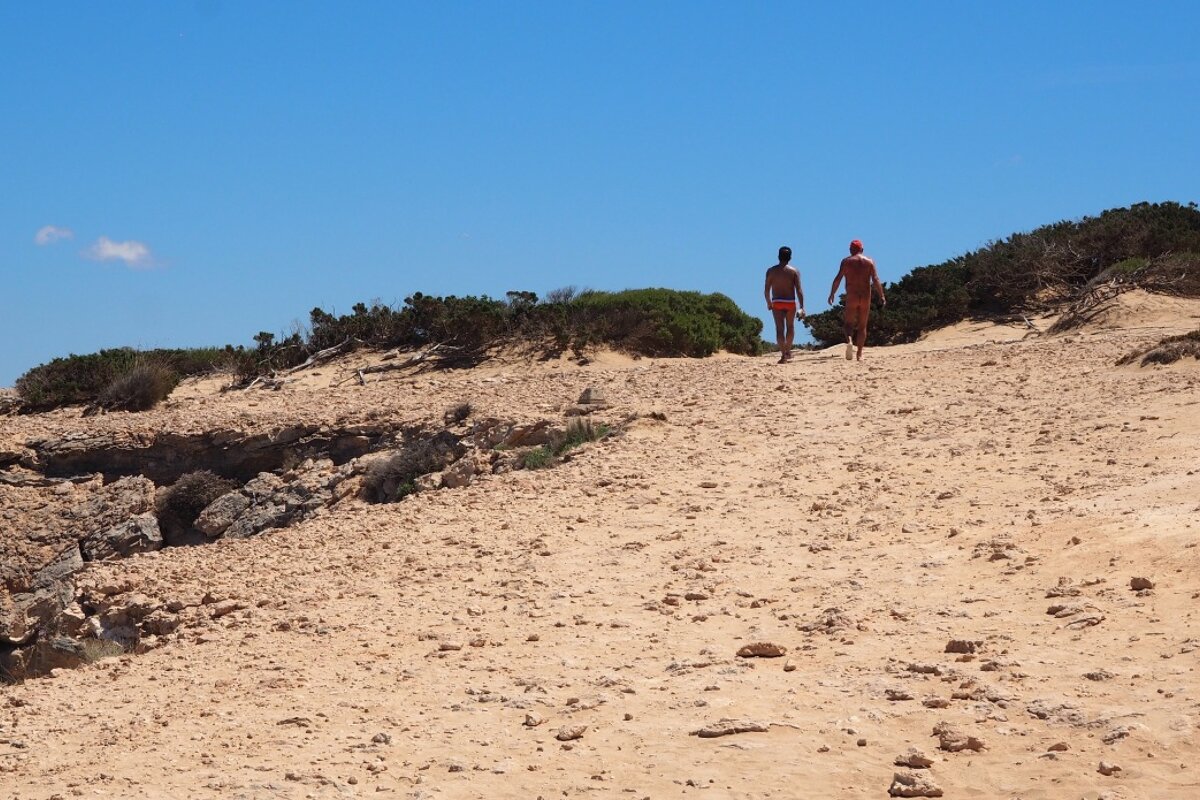 ---
Hike to Torre de ses Portes for a slice of history, a beautiful hour long walk along one of Ibiza's beast beaches, a chance to see some dramatic coastline and an epic view out across the ocean to Formentera, well worth the walk.