Es Cavallet, one of Ibiza's most southern beaches is a beautiful place to spend a day. Golden sand, clear blue sea, views for days and no dress code, Es Cavallet is a winner.
Named Ibiza's first official naturist beach back in 1978 this status has stuck and you'll find Es Cavallet beach now almost exclusively populated by nudists. The guidebooks will tell you that the northern end of this beach is more family friendly whilst the south is where the nakedness happens but in reality there's very little difference along the kilometre stretch of sand. The prettier southern end does tend to be busier and attracts most of the gay crowd due to the location of El Chiringay restaurant there. This leaves the north end a little quieter but if you're looking for an area where people keep their clothes on you'd be best off heading for a different beach.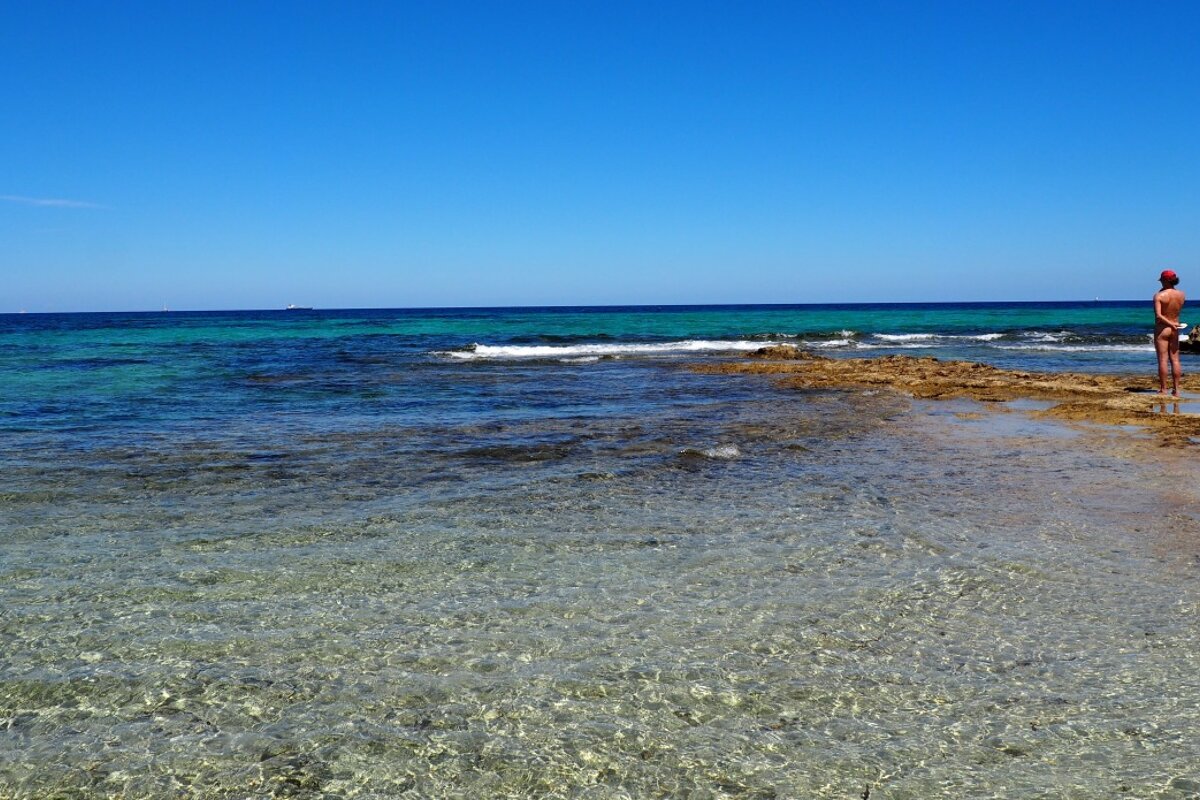 ---
You'd be missing out if you did leave however because this beach is truly beautiful, far more remote than neighbouring Playa D'en Bossa and substantially quieter than Bossa or Las Salinas.
Cavallet and Salinas lie back to back along this southern spit of land, tipped by the ancient Torre de ses Portes defence tower and separated from the main of the island by the shimmering salt flats. This tourism rich area has plenty to keep you occupied for a day's visit but if you'd rather just relax on the beach there's nothing stopping you. Es Cavallet's inclusion in the protected Unesco site Parque Natural de ses Salines means that you can do so on a beach backed by sand dunes, pine trees and wildlife as opposed to the apartment blocks, hotels and bars that line most beaches near Ibiza Town.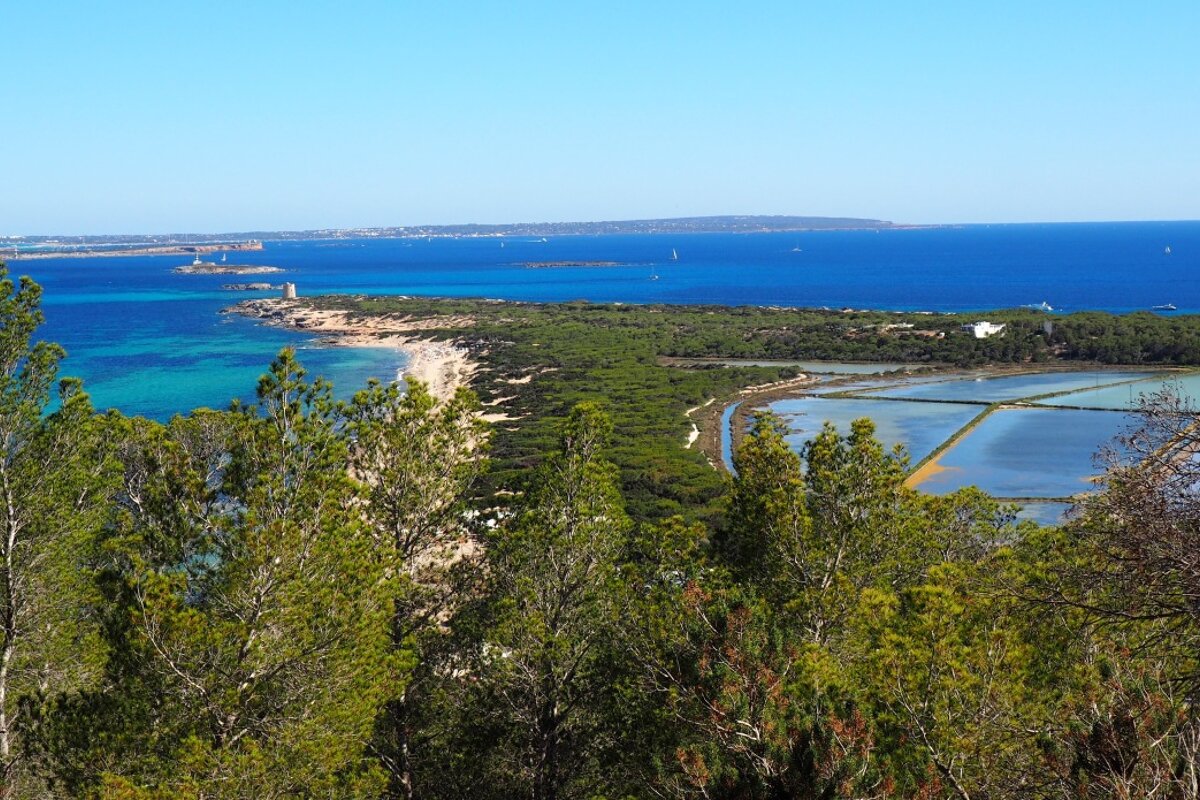 ---
There are a few buildings breaking up the nature of course and three of those are beach lounges and restaurants. You have the choice of El Chiringay at the south end with its rainbow flags flying and beautiful seafood menu. There are daily specials and a dedicated sommelier at El Chiringuito Beach House or try classy La Escollera to the north serving up bubbly Sangria and Paella just like grandma used to make. Each of these restaurants offers quality service in luxurious surroundings and gives you the option of sitting at a table in the restaurant or relaxing on a sofa, sun lounger, cabana bed or bucket seat whilst good food and drink is delivered to you.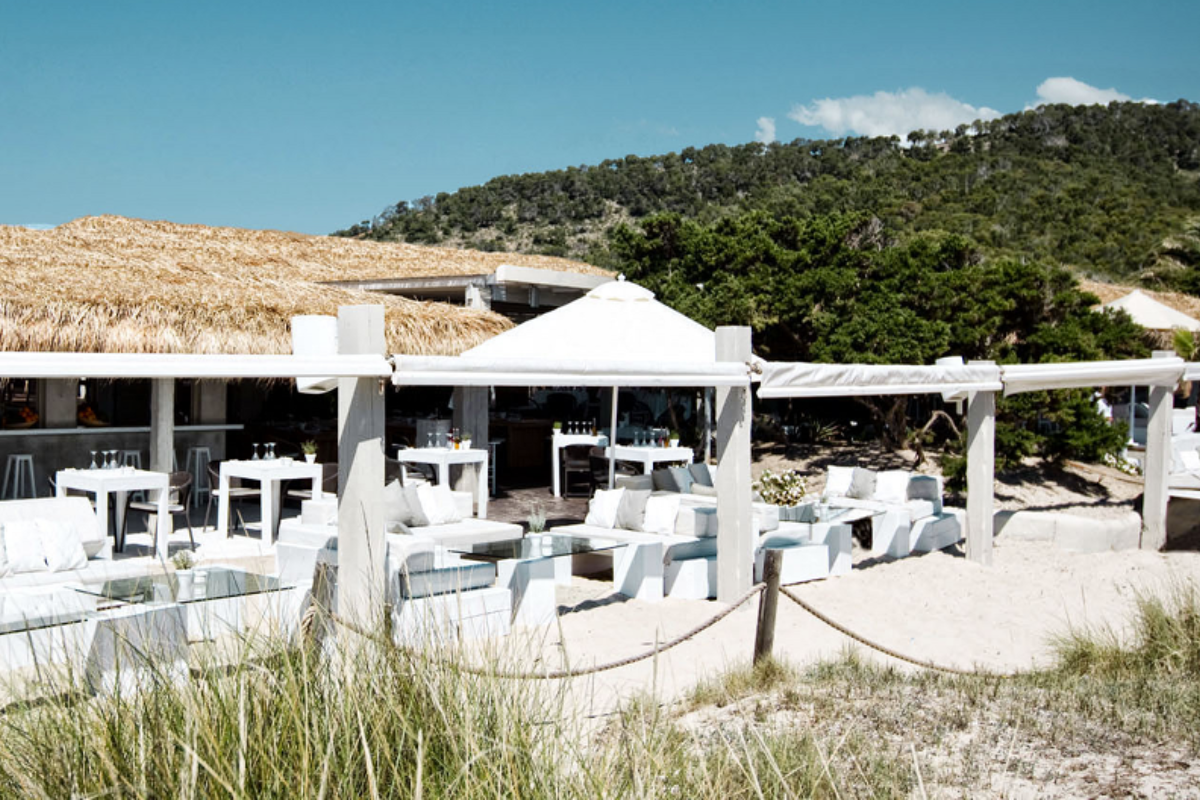 ---
These three lounges plus the occasional beach vendor selling fruit, cold drinks and sandwiches are the only form of sustenance you'll find on this beach. If you don't want to pay beach prices be sure to pack a picnic because the nearest shop is at the far end of Salinas beach..
Pack supplies, head to Es Cavallet and plan to set up for the whole day, you won't be sorry. The sand is soft and golden, the view is stunning, the water is beautiful and the seabed is rock free. Patches of seaweed are dotted around but easy enough to avoid and find a clear spot to swim. Do be aware that the sea has quite a steep gradient at entry which leads to a few choppy waves at the water line and there's a little pull of current here too, nothing that would affect an average swimmer but children should probably be supervised, especially since there does not always seem to be a lifeguard on duty during the hours indicated.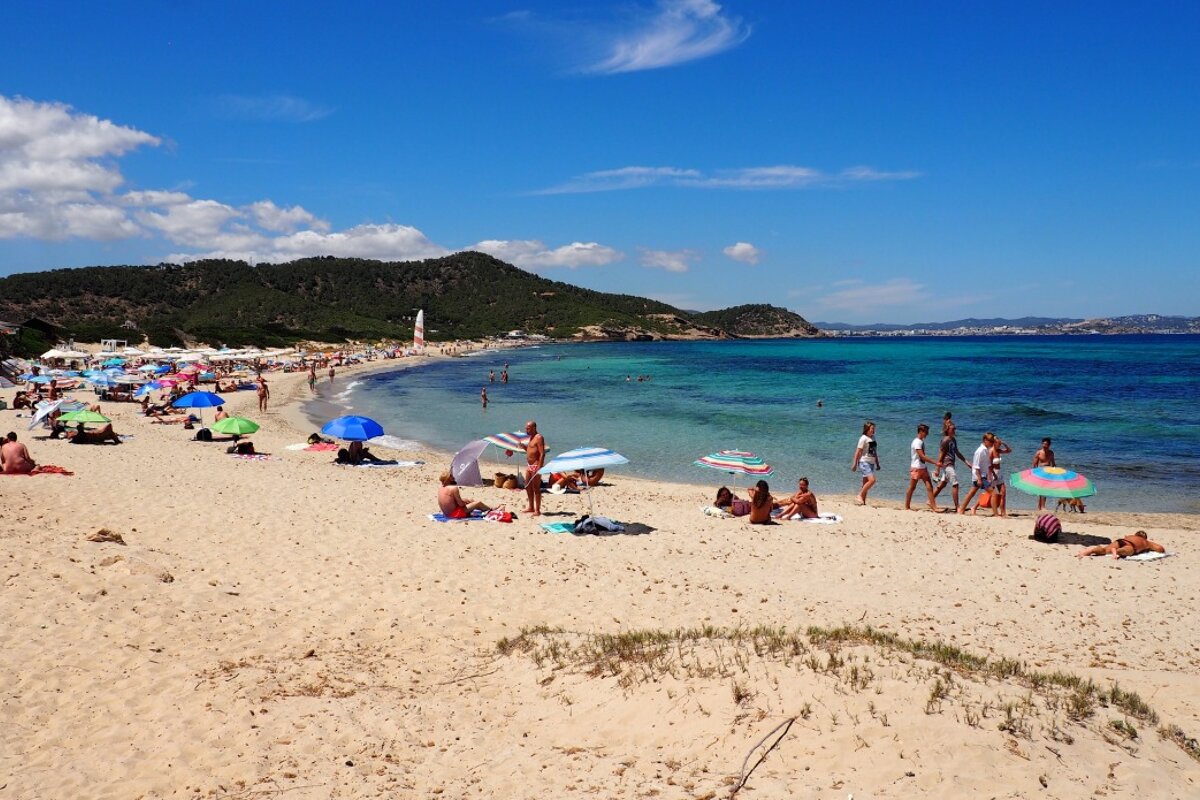 ---
Acces
As mentioned Cavellet tends to be much quieter than it's fashionable neighbours and this is probably due to accessibility (or maybe the nudity?). You can drive to the beach easily enough and will pass over the salt flats to do so, there is very limited free parking along the roadsides, a small pay parking area and some dedicated parking for the guests of La Escollera. If you are planning to get the bus however, the 11 from Ibiza Town will deliver you directly to Salinas beach but for Cavallet it involves a 20 minute walk through the salt flat roads, hop off the bus where the road splits and you'll see the sign pointing to Es Cavallet. There are also fewer facilities here, no showers or public toilets, only one wooden walkway onto the beach, no shops nearby and no water sports activities or rentals on the beach.
---
Summary
Head to Es Cavallet if you're looking for a thriving gay scene, want to let it all hang-out or want to chill on a remote, quiet, beautiful beach. Possibly best to avoid if nudity is not for you, if you need a calm shallow sea or if you need activities and shops to keep you entertained.