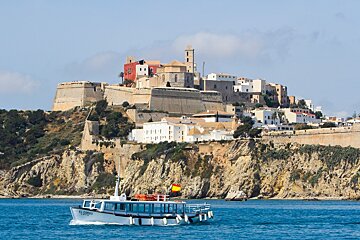 Boat trip ideas in Ibiza
Discover how to arrange the perfect Ibiza boat trip
With beautiful beaches, secluded rocky coves and turquoise waters, there is no better way to explore the coastline of Ibiza than from a boat.
The main ways of doing this are, depending on your budget, to charter a yacht or hire a boat; or take a boat trip with one of the many companies located all around the island. The latter is a popular option for being the most cost effective and easy to organise and, of course, you don't need a skipper licence; as they usually offer scheduled departures so you just have to turn up and enjoy your day.
Popular Boat Trips from Ibiza

Party Boats
Formentera
Es Vedra
Sunset Boat Trips
Departure from San Antonio & Ibiza Town
Departure from San Antonio & Playa d'en Bossa
Departure from San Antonio & Playa d'en Bossa
Departure from San Antonio
Duration 3-4h
Duration 30-40min
Duration 3-6h
Duration 2-3h
Note that most of the boat trips around Ibiza are seasonal, starting from April and finishing in October.
Boat trip options
The majority of boat trips are day or half day adventures and often anchor for a while so people can soak up the stunning scenery and indulge in some swimming, snorkelling or kayaking. Sunset cruises can be booked in the evenings giving you the opportunity to enjoy the views with a glass of bubbly or sangria.
Ibiza has a wide range of vessels available including catamarans, motor boats and glass-bottom boats of different shapes, sizes and prices. Snorkelling, diving and specialist watersports boat trips are available all around the island, some even have glass bottoms so guests can discover the fish and sea vegetation below. You won't have to travel far to find a suitable trip for your individual desires because you will find boat trips starting in many of the island's marinas, while a few beaches also have departure points.
It's worth noting that some companies will pick you up from your accommodation and take you to the departure points. Food and drink are sometimes included in the price of the trip; otherwise, boats tend to have bars on board where you are able to purchase drinks.
Party Boats
There is no better way to start a day partying in Ibiza than aboard a party boat. These fun-filled vessels usually leave from nightlife hubs San Antonio and Playa d'en Bossa, cruising the Mediterranean waters to the sound of some of the best DJs on the island. A ticket to one of the parties in Ibiza's nightclubs is usually included so that the dancing never stops.
Boat trips to Formentera
The paradisiac island of Formentera is only a 30-minute boat trip away from Ibiza. This small island, about 19 kilometres long, is famous for its long white sandy beaches, crystalline waters and exclusive restaurants and beach clubs where you can rub shoulders with international celebrities. A visit to Formentera is a great day out and companies usually offer round trips from Ibiza departing in the morning and returning in the afternoon. They also take you along some of the most stunning spots in the White Isle's coastline.
Boat trips to Es Vedra
Es Vedra is a small uninhabited rocky islet off the south-east coast of Ibiza. Its unique shape has made it the stuff of legends as it is said to be home to the sirens who lured Homer as well as the holy island of the Phoenician goddess Tanit, while traditional Ibizan tales claim that a giant lives here, attacking whoever attempts to visit the island. The hippies thought that the island was an epicentre for magnetic currents, making it a site similar to the Bermuda Triangle, and visitors have witnessed lights and sounds coming from its waters, and even UFO visits! Whatever it is, there is no doubt that Es Vedra's beauty has inspired many, including Mike Oldfield who composed the album Voyager influenced by the island. You can see its imposing image from a boat booking one of the trips offered from the White Isle, which usually include a swim stop nearby.
Sunset boat trips
Many visitors to Ibiza know that watching the sunset from the island is a must-do when here. Its location in the Mediterranean sea makes it an exceptional spot from where to see the sun go down. However, watching it from a boat makes it even more special. Sunset boat trips usually include a swim stop and a glass of champagne or sangria to toast to the disappearing sun.
Safety advice
All boats in Ibiza carry all the modern safety equipment covered under European law and have fully updated First Aid kits, with crews First Aid trained. Boat trips and yacht charters should have passenger insurance covering everyone on board but it is always best to have your own travel insurance including watersports and other activities. Each boat should run through their safety guidelines once all guests have boarded the boat for the trip. If you have any questions, please ask the crew at the beginning of the trip and don't hesitate to enquire at any time.
When heading out onto the water around Ibiza, no matter how close to the coastline, be sure to keep a good eye on the weather and ask your boat rental company for advice if in doubt. Always bring a waterproof jacket in case the weather turns or a wind comes up, it can get cool on the water at night. Due to lack of space on boats, it's better to pack light and only bring soft luggage, never hard cases.
The water can get very busy along the coast of in the summer so be alert and watch out for other boats and people swimming at all times. If you notice any danger, notify the skipper of the boat as soon as you can. If you think you might get seasick, it's always best to ask for non-drowsy seasickness tablets ('pastillas para el mareo') at a pharmacy beforehand.
Sailing with Children
Make sure children wear a life jacket at all times. Never let them run around the boat or be unattended on deck and make sure they don't swim alone.