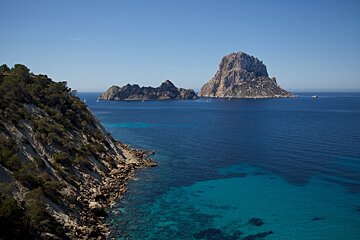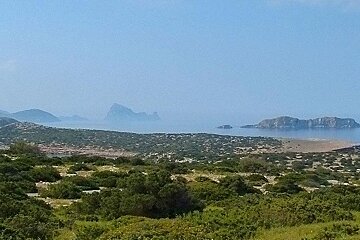 Es Vedra Nature Reserve, South West Ibiza
Small islands, beaches, cliffs, hills and forests on the south west coast
One of Ibiza's two National Parks, the nature reserve of es Vedra and es Vedranell encompasses a portion of the south west of the Island of Ibiza.
Taking in both the small coastal islands, as well as the marine environment, cliffs, streams, beaches, forests and hill ranges around the town of San Jose (Sant Josep de Sa Talaia), the nature reserve is one of the Island's most popular tourist attractions.
Just off the coast the predominantly limestone island of Es Vedra rises to 383 metres, and makes an impressive mark on the horizon.
This small rocky island has been uninhabited with the exception of a monk who came to live here as a hermit in the mid 19th century. Since then, stories of mystical sightings and UFOs have fuelled interest in the rock.
The only non-human inhabitants today are a species of wild goat, which lives on the slopes and in the island caves, and also a type of Ibizan wall lizard. Es Vedra is also home to a colony of Eleanora's falcon's, an endangered bird of prey.
Another main feature of this reserve is the fact that it includes the highest point on the island; Sa Talaiassa. The views from here are spectacular, when the weather is fine it's even possible to spot mainland Spain and Mallorca. Sa Talaissa (translated as "watchtower") is also rich with flora and fauna with lots of rare animal inhabitants.
It is possible to walk to the peak at 476 metres high, or if you aren't feeling that active it is possible to drive.
Watch this
Visitor comments
"One of the most magical places I've been in Ibiza. The story behind it could be true as after you visit you feel more positive and in peace with yourself." - Trip Advisor
"Es Vedra seems rather magical.Get a boat trip from San Antonio out to the rock & enjoy the trip. The views from above the cliff's particularly at sunset are marvellous. I suppose everyone has their own experience about the place." - Trip Advisor
"This is by far one of my favourite places in Ibiza, known as one of the most powerful magnetic points in the world together with Bermuda triangle. Its viewing point will take your breath away, and you will feel a special calm and tranquility in this place that will keep you just quiet admiring this powerful rock. Cala d´Hort is the closest beach to this spectacular scenario and has few good chiringuitos where you will be able to have a delicious typical Ibicencan lunch. As well there is the possibility of doing a Hike to La Torre del Pirata that is a viewing tower built by Phoenicians, civilisations that lived in this area way back in time. Best pictures from Es Vedra are taken there ;)" - Trip Advisor
Directions
There are regular boat trips to the Island departing from San Antonio.
Location