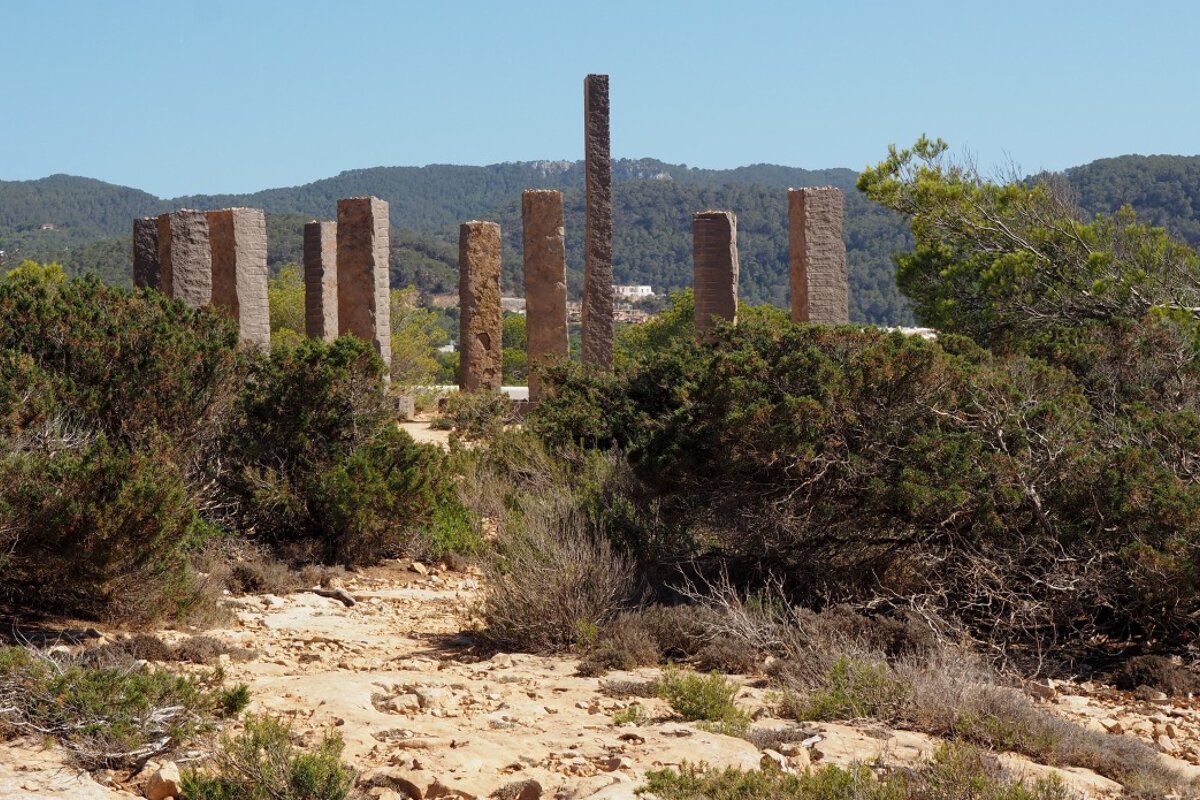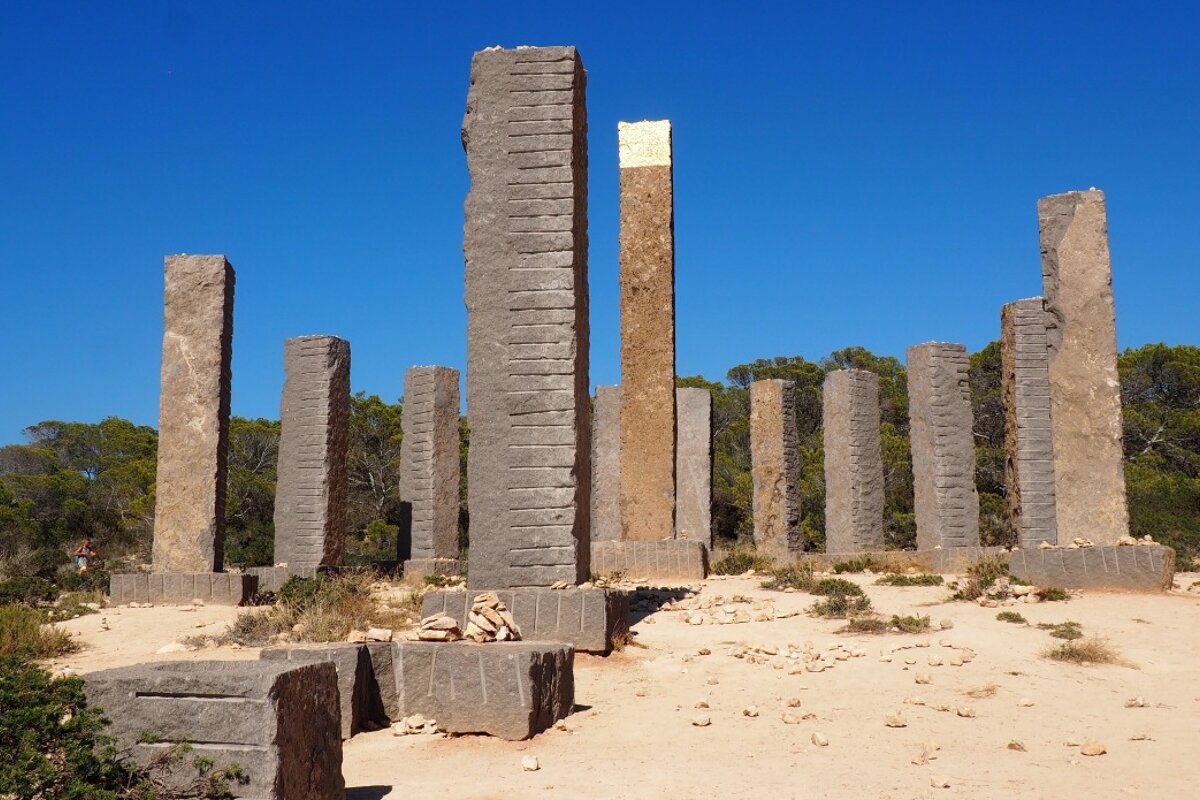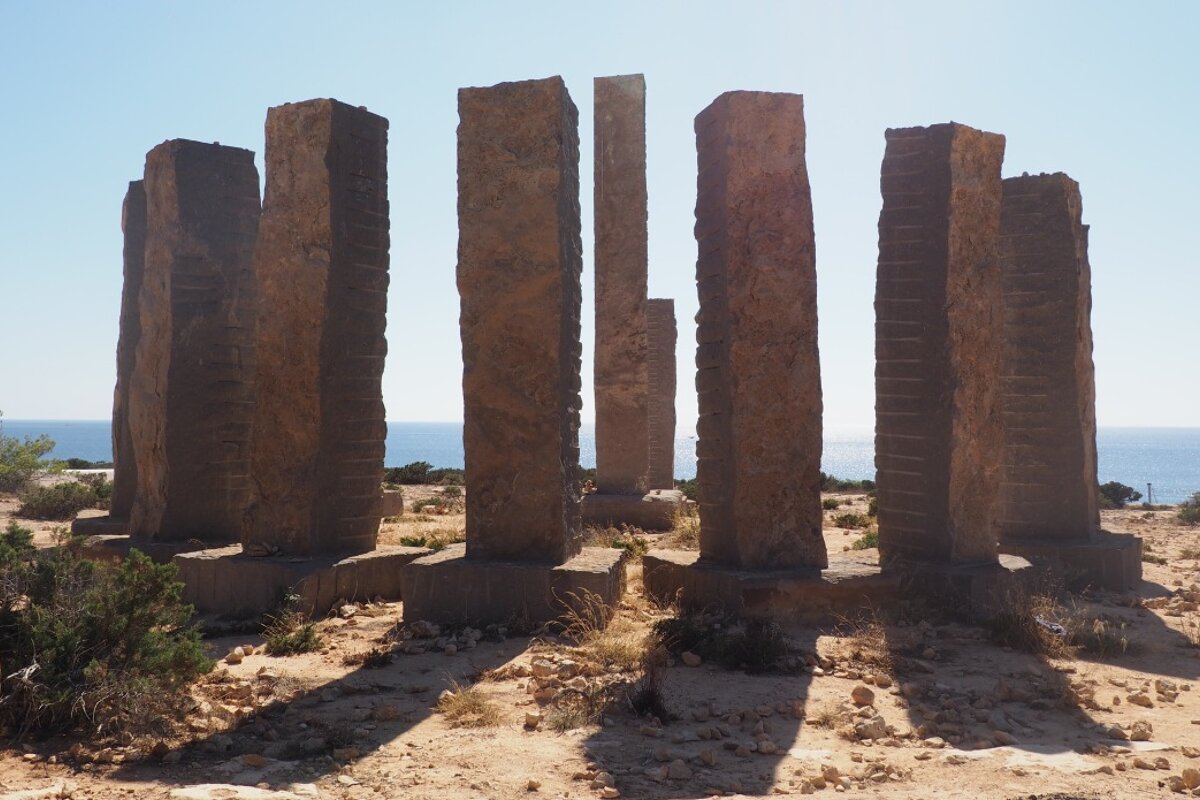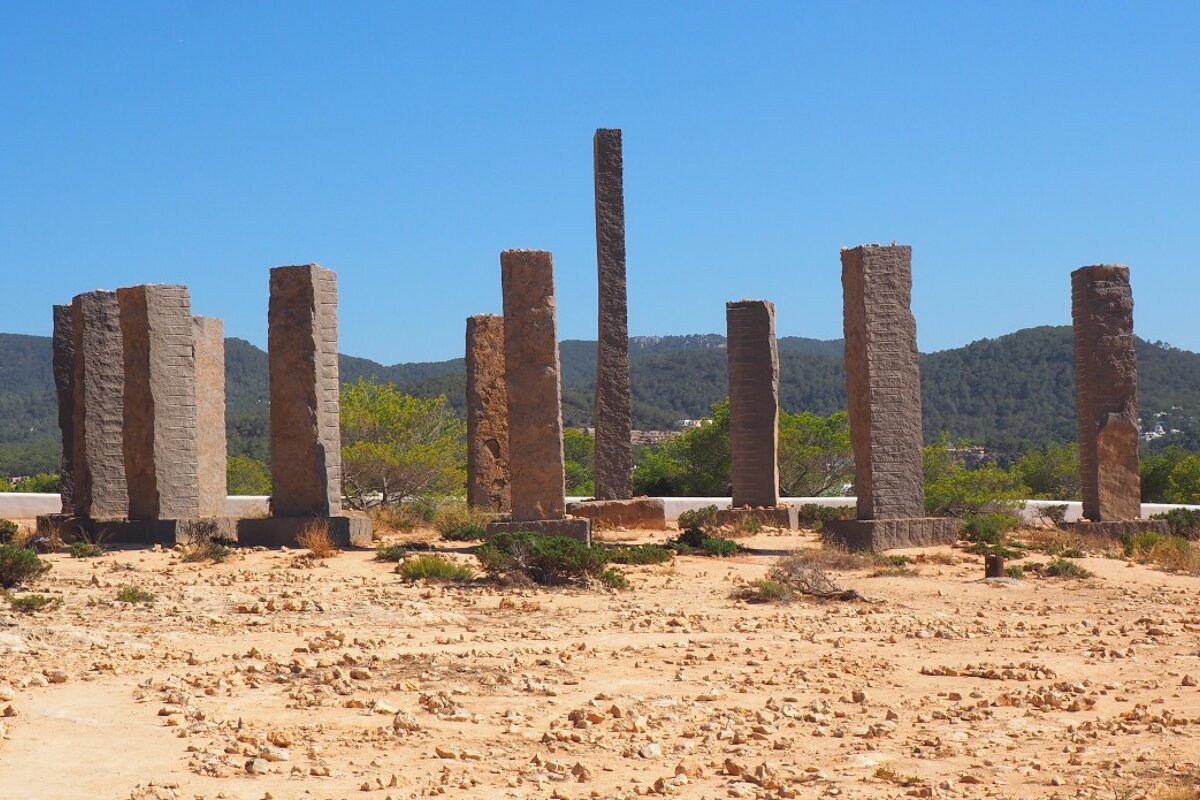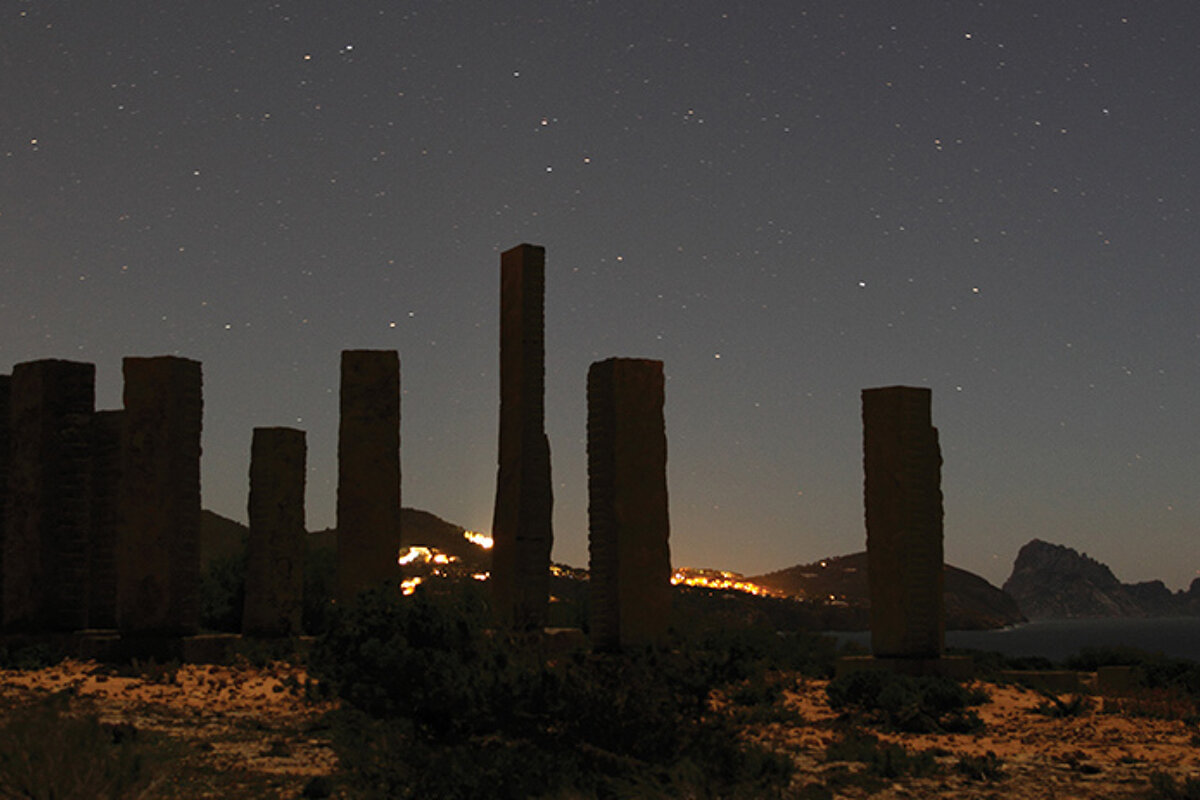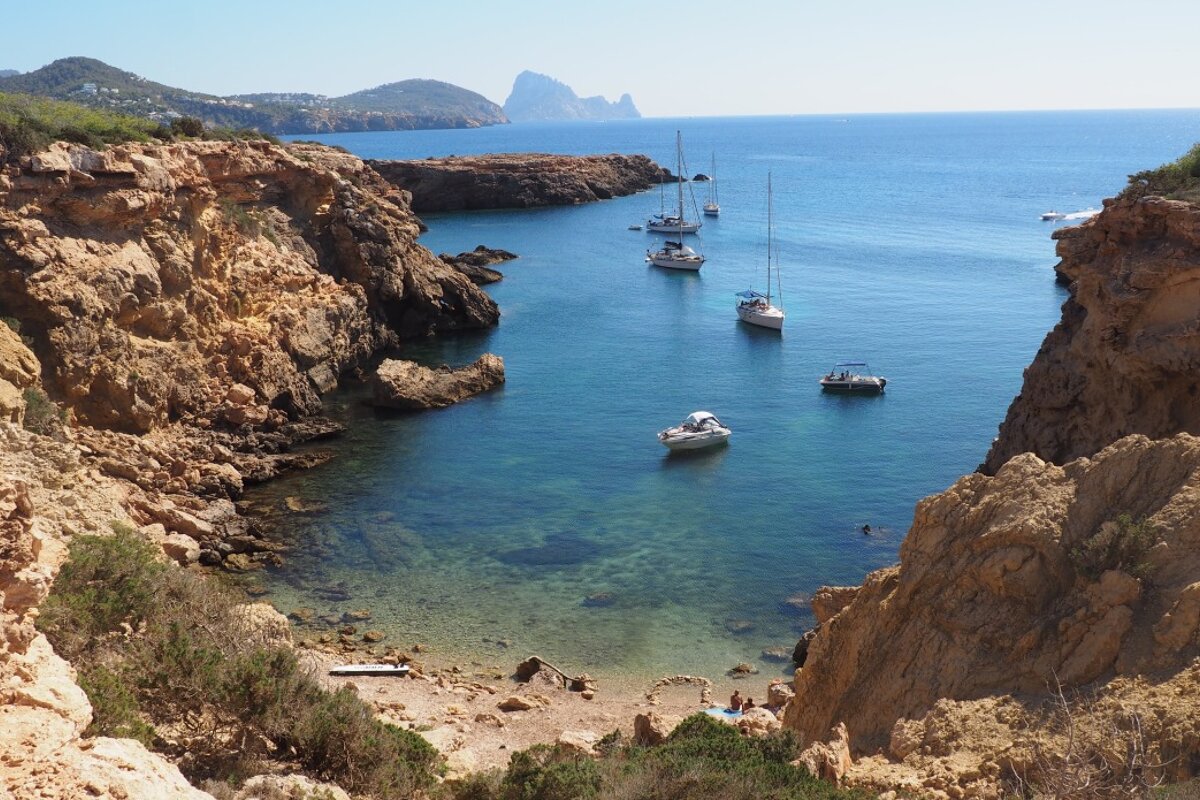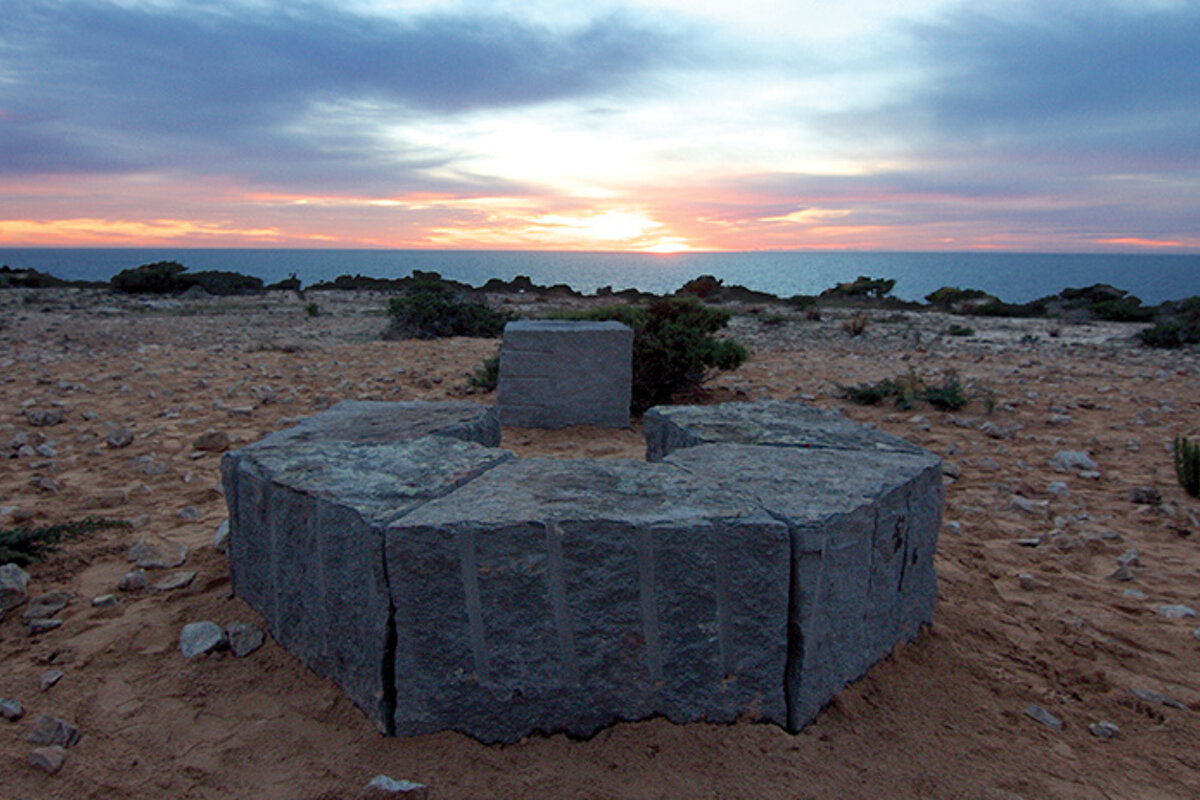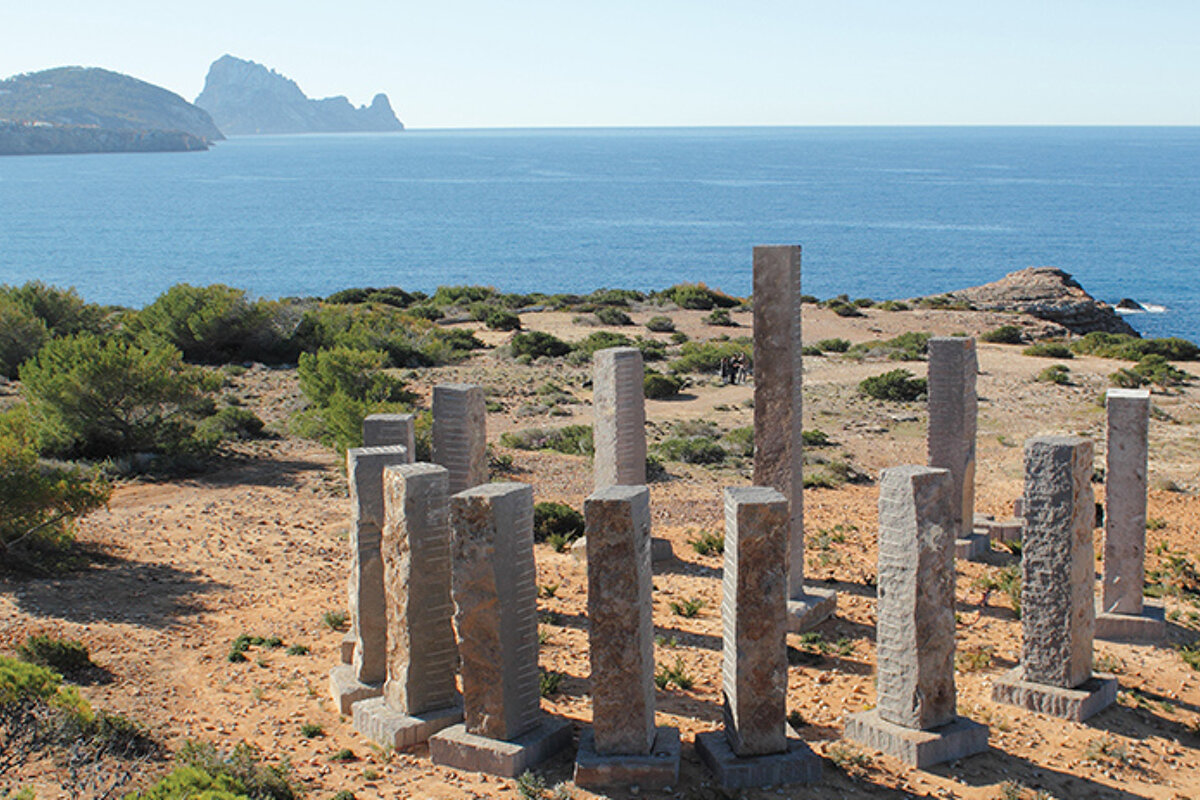 Stonehenge Ibiza-Style
A visit to some wonderful art on the south west coast of ibiza
A bare and somewhat desolate stretch of rocky headland on Ibiza's south-west coast has been transformed into a tourist spot and place of international interest due to the creation of contemporary art installation Time and Space. The Sculpture was commissioned by Cirque du Soleil founder Guy Laliberte and created by Australian artist Andrew Rogers. It is often referred to as Ibiza Stonehenge due to its similarity to that iconic British Landmark.
The monument consists of 13 huge Basalt columns arranged in a semicircular shape on the edge of the cliffs above tiny Cala Llentia. The central column of the structure is the largest and stands at over 20m tall, and is topped with 23 carat gold leaf. The monument was erected in 2014 amidst some controversy regarding planning permission and environmental rights and has not yet stopped raising questions regarding its purpose and meaning.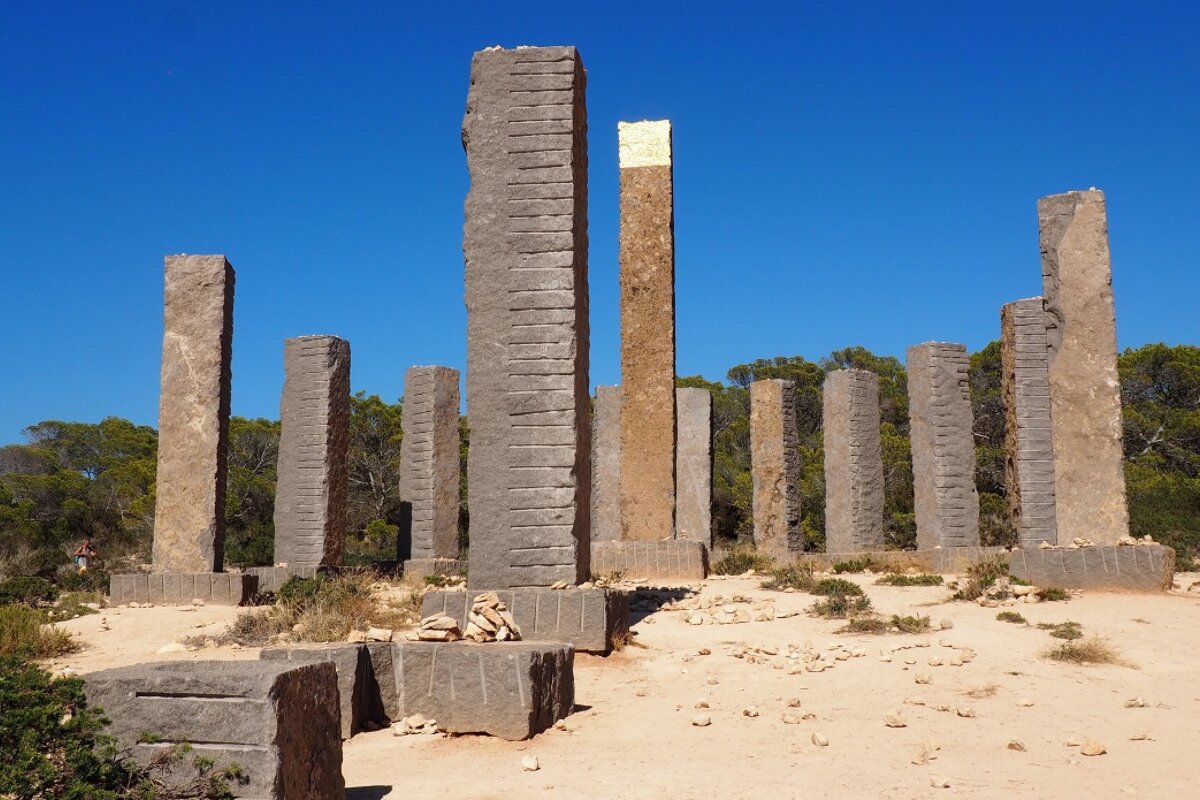 ---
Modern art is always open to interpretation but this one really seems to have set peoples minds running. Due to its shape many think it was intended as a sundial, some think it is meant to be a compass and still more people think it is a signal, sign or landing zone for passing UFO's.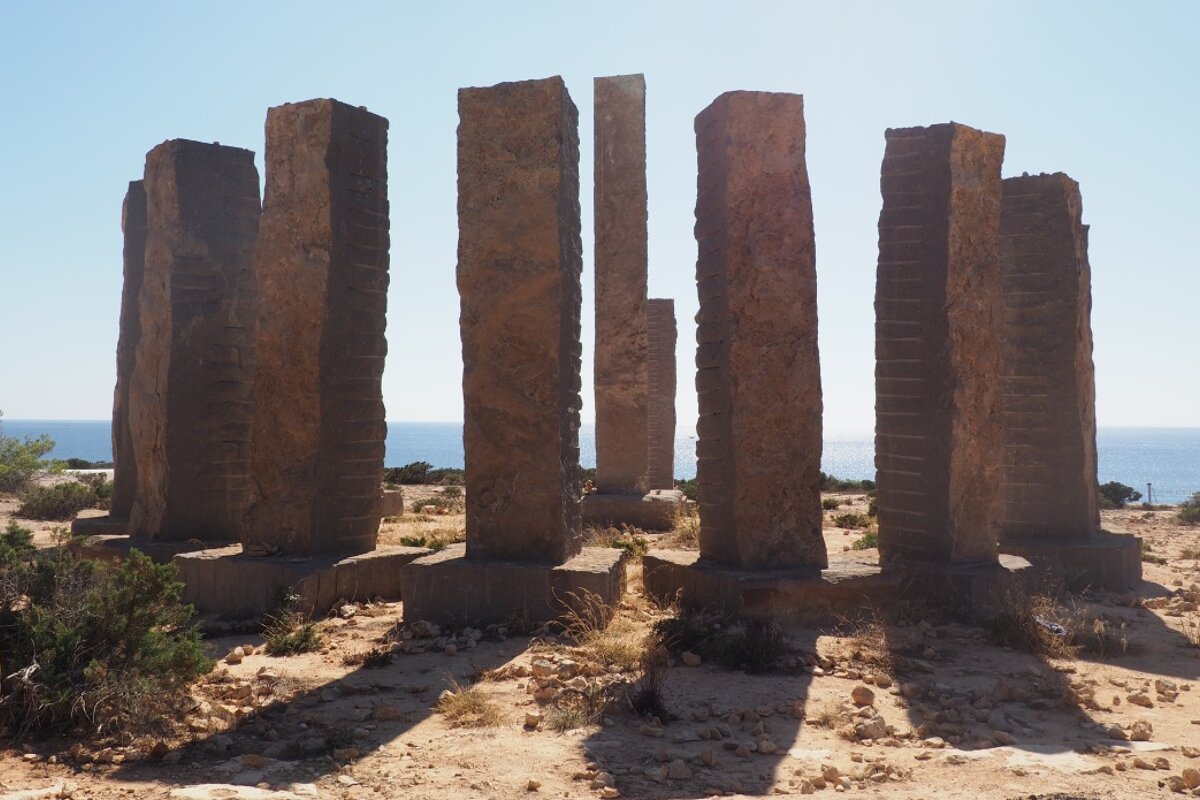 ---
Collective imaginations seem to be running wild due to the sculpture's location in the grounds of Guy Laliberte's Ibizan home. A man with a reputation for the eccentric, the Canadian not only created the world's most surreal circus experience but in 2009 was also the seventh person in the world to be sent into orbit as a Space Tourist and did so wearing a red nose, becoming the world's first Space Clown. Many people seem to think that this experience in space must have something to do with his commissioning of this project and perhaps that is where the UFO ideas have come from or perhaps they are linked to the sculpture's location overlooking Es Vedra Rock.
---
The Island of Es Vedra off the south coast of Ibiza has long been a site of myth and legend, its place in the history of Ibiza is surrounded by tales of religious sightings, satanic ritual, sea nymphs and sirens. In modern times people have reported the island interfering with watches, compasses and other technology as well as strange lights and cloud formations being seen above the rock. Many people head to Es Vedra to pray, meditate and otherwise connect with the energy of this mystical place and apparently Guy Laliberte did express that this was a part of his intention when commissioning the project.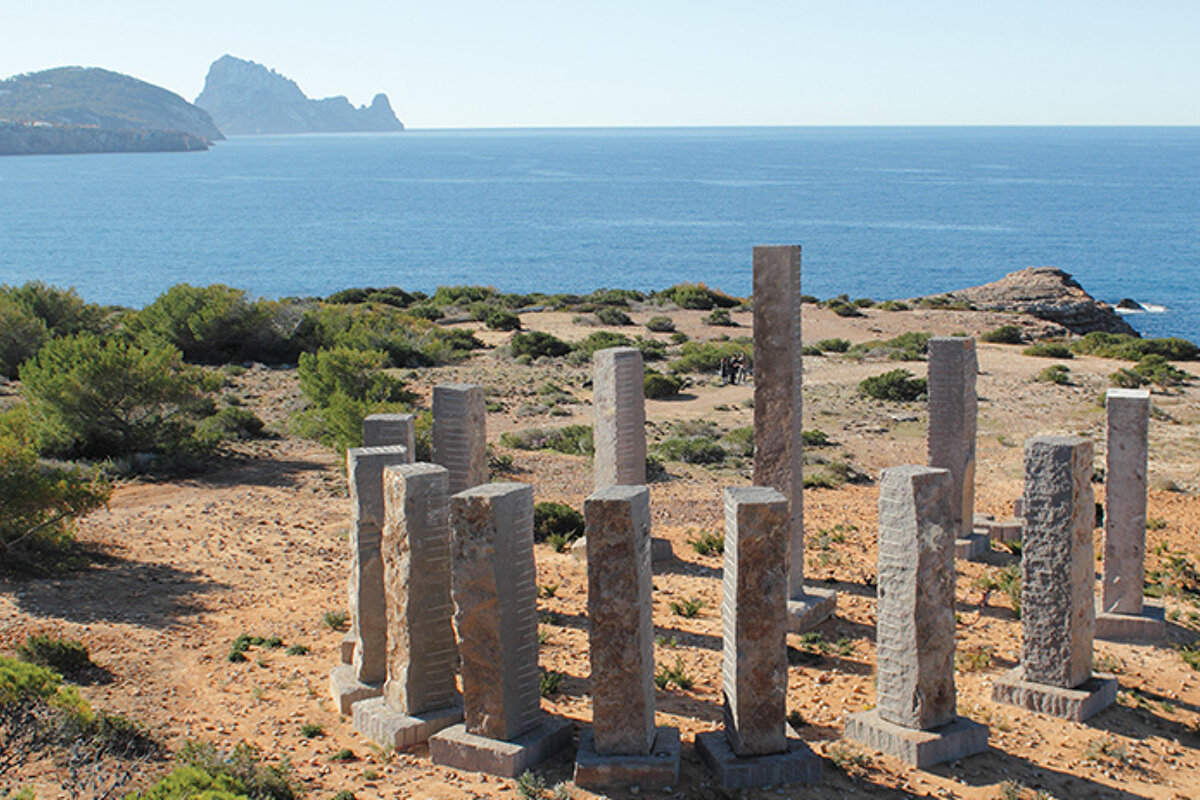 ---
The Artist himself Andrew Rogers has said many things about his work but none seem to have definitively answered anyone's questions. Rogers is one of the world's leading contemporary artists and the creator of the world's largest land art project entitled 'Rhythms of Life'. The project consists of 51 geoglyphs (massive stones structures) scattered across deserts, forests, cliffs and glaciers in 16 countries across the world, he created Time and Space as a piece to be included in this larger project. Rogers talks about creating pieces that connect people with their land and with their heritage, about creating work that connects to the past and remains for the future. When talking of this work specifically he speaks of the columns being arranged along an elliptical shape reminiscent of the paths of the planets, he also says there's a mathematical connection to the Fibonacci sequence which recurs over and over again throughout nature.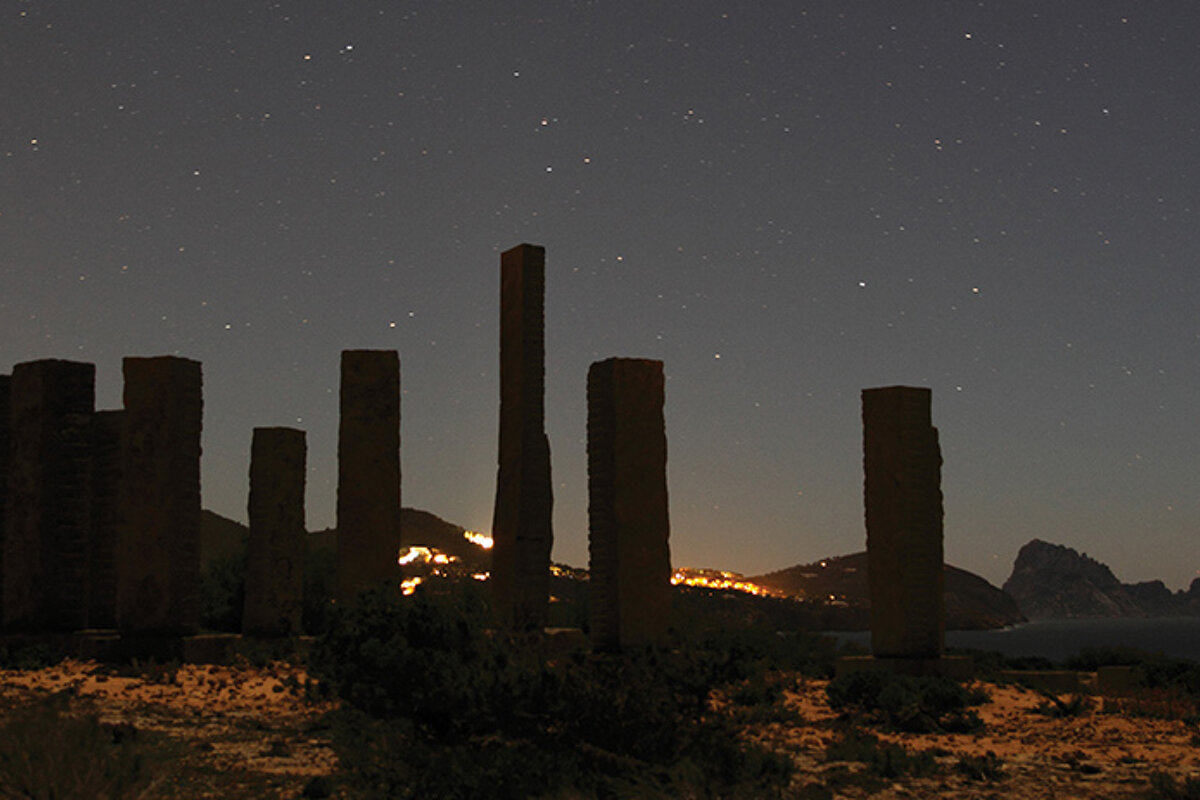 ---
Whatever their real intentions and whatever the true meaning of this sculpture, the fact remains that it is a unique and wonderful sight well worth a visit. Perched on the west facing cliffs as it is this sculpture is beautiful at all times but especially when viewed in the evening when the basalt columns change colour in the dying light and the rays of the setting sun reflect off the gold leaf tipping the central column.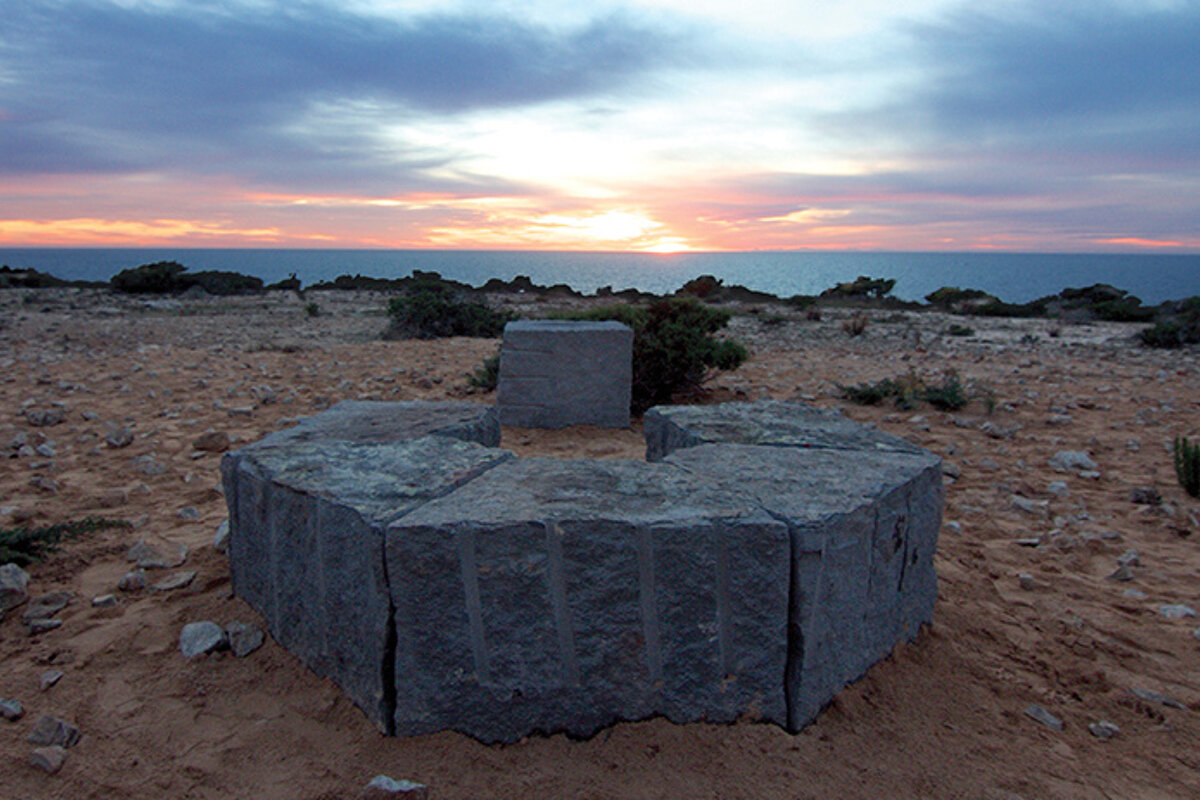 ---
Unique though it is, this sight is seldom busy as many people do not seem to be aware of its existence. To visit drive towards Cala Conta or Cala Tarida and then follow signs to smaller Cala Codolar, you can park at the beach where there are toilets and a lovely beach restaurant and then it's just a short walk up the hills south to the monument. There is some limited parking directly behind the monument affording easier, flatter (although not paved) access to the site.