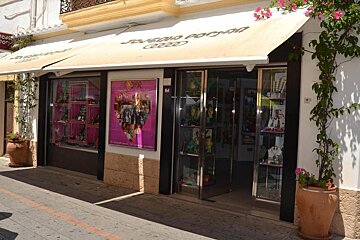 Elisa Pomar Jewellery Designer, Ibiza Town
Traditional Ibizan jewels with contemporary touches
This family-run business is lead by Elisa Pomar, a designer of traditional Ibizan jewels who has worked with international designers such as Dolce&Gabanna.
The Pomar family has been designing traditional Ibizan jewellery since 1850, when Elisa's great-grandfather was known as "The King's Jeweller" for providing presents for king Alfonso XIII's lovers. Their love for traditional Ibizan jewels means that they have even reproduced lost jewellery pieces such as the "Clauer", a chain with keys that Ibizan women used to wear hanging from their skirt.
Each piece of their collections is inspired in a special spot of the White Isle, from its turquoise waters to the white sands on its coves or the green of Ibiza's countryside.
They have two shops in Ibiza's marina, open throughout the year. Monday to Friday from 10:30 to 13:45 and from 17:00 to 21:00. Saturdays from 10:30 to 13:45.
Location