Not to be confused with the 'hidden' beach S'Estanyol on the east of the island, this one is much larger, much more accessible and located over on the west coast in the San Antonio bay.
Playa S'Estanyol is made up of three distinct beaches, all going by the same name and all accessible to the others by foot, but separated from each other by rocks, roads and hotels.
If you are coming from the centre of San Antonio you'll find the first section of S'Estanyol beach located opposite The Lizard Bar, at first glance this little stretch of beach seems to be a part of neighbouring Es Pouet beach from which it is separated only by a small stone jetty. The beaches share access to the same restaurant Es Pueto with its cheap and cheerful menu and €5 cocktails. Both beaches are used by the Water sports company Santi Sports and they both boarder the same busy road with its restaurants, shops and bars. What they don't share however is the services; here S'Estanyol does not have a lifeguard service, toilets, showers or sun loungers although these are easily found by walking across the jetty to Es Pouet Beach.
What S'Estanyol does have is soft sand, a rock free, shallow entry to the sea, clearly marked areas for water sports and swimmers and a rocky area popular with evening fishermen, rock poolers and snorkellers.
---
When you're ready to move on to the next section of this beach you can do so by following the rocks round to the left, it's not an arduous trip, its takes only 2 or 3 minutes but there is no real track, you walk through scrub and over rough rocks. Anyone with a stroller or wheelchair or needing assistance should walk along the main road, cutting back down to the coast just before the Tagomago hotel.
Section 2 of this beach is probably the nicest of the three, a little crescent shaped cove with sunbeds and parasols that cost only €5 and €4 the cheapest by far along this stretch of coast. The cove is quite deep with white sand at the back and even a little greenery shielding the beach from the road giving a pleasantly tropical vibe and sense of privacy. The water's edge is marred by the tire tracks of the vehicles that drive along at night cleaning up the beaches and also by mounds of seaweed, but once past those two obstacles you're out into the clear sea with its sandy bottom and shallow gradient.
At the back of the cove is Sa Flama restaurant serving tapas and Mexican food. Lovely in the daytime with is own private beach and view out to sea this restaurant is even better in the evening when its view is of the sunset and its chefs create mouth watering smells from the barbeque grill. Half a litre of sangria here will cost you €7, tapas dishes from €4-10, fajitas €13 and the most expensive item, a T-bone steak €19. Cheerful atmospheric music, the bbq smell and the sunset make this a beautiful place to spend an evening.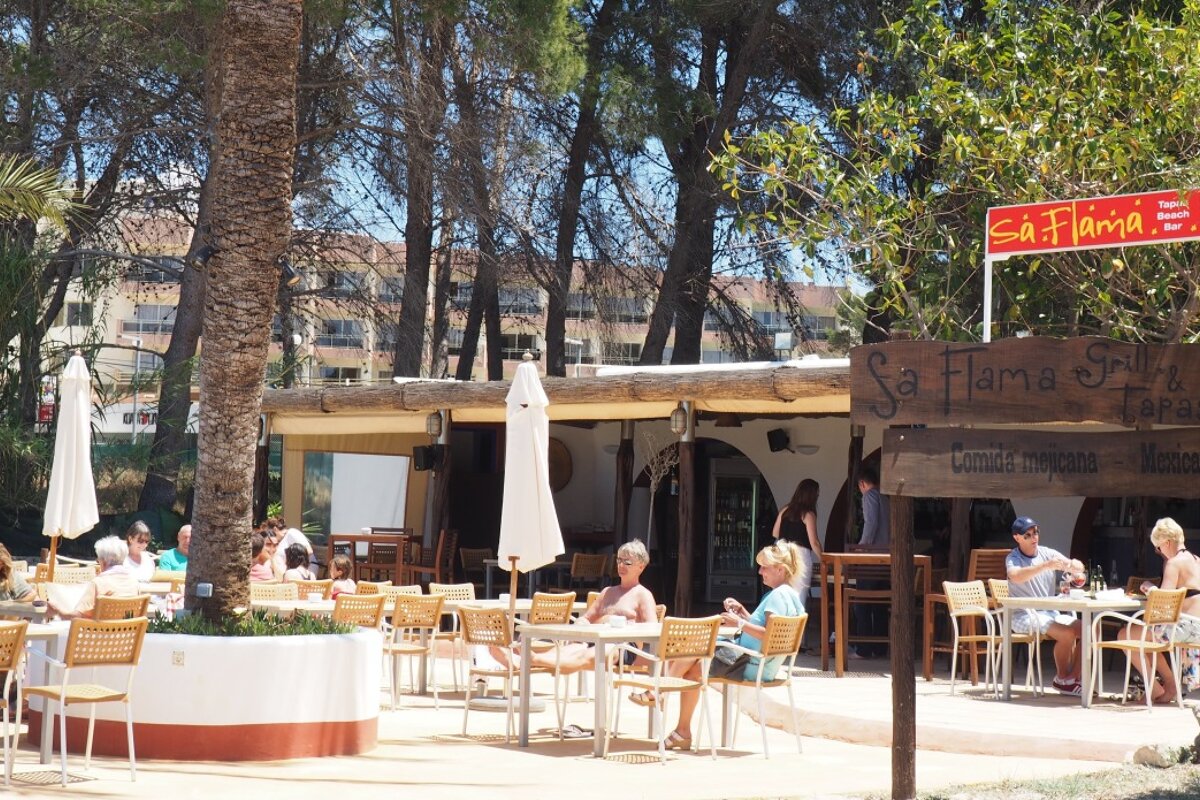 ---
Continuing along the coastline on an easy paved road to beach number 3, the busiest perhaps due to it's location between three massive hotels. The Tagomago, Hotel S'Estanyol and the San Remo will flood this beach with their guests in the summer months but until then it's a pleasant little beach to spend a few hours on, narrow but with soft sand, clear water and plenty of rocks around which to snorkel or fish.
This beach is most noticeable for its boats and water sports, you can wake board, banana boat, fly board and water ski from here as well as book boats for sunset, snorkelling trips or ferries to other beaches and islands. You can also catch the water taxi from here back over to San Antonio port, to walk back from this point would probably take you around 30-40 minutes or there are also buses available on the main road.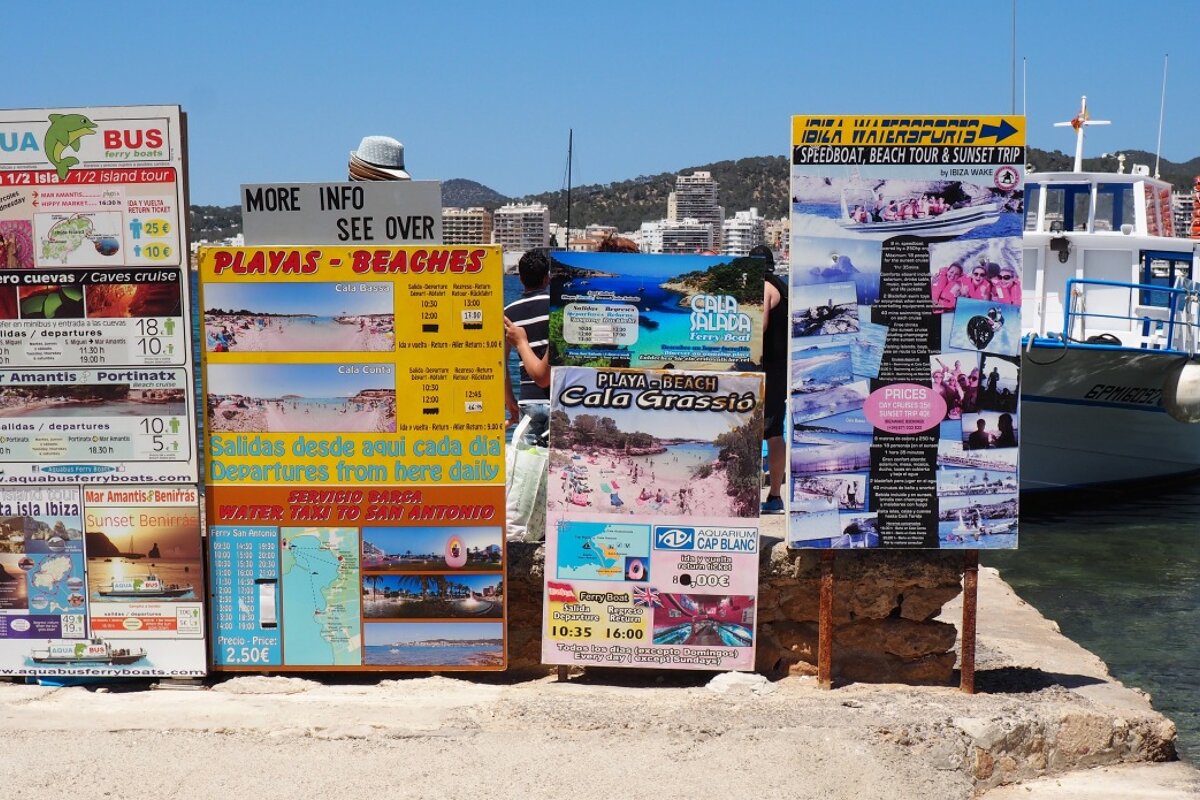 ---
That's Playa S'Estanyol, a beach in three halves, each pretty, sandy and with good access to the sea; any of these beaches make a good pit stop for a day spent beach hopping around the bay. All are easily accessible from the main road and never far away from shops and restaurants and there are plenty of water sports and activities on offer to keep kids amused but do bare in mind that none of these beaches have lifeguards.
Worth a visit if you're staying in one of the neighbouring hotels, don't want to leave town too far behind or want to explore the coastline especially at sunset when the view is beautiful.