Cala Figueretes is the closest beach to Ibiza town but it's much more than just a town adjacent stretch of sand. Figueretes is a beautiful white sand beach that would be well worth trekking to, the fact that you don't have to is simply a bonus.
Located at the other end of town to Dalt Vila, Figueretes is about a 20 minute walk southwest along Avenue D'Espanya, just walk straight out of town and you'll find sign posts telling you when to turn off. When you first spot the beach you'll find yourself looking a beautiful sandy crescent shaped area dotted with sun loungers and parasols with a life guard station set up dead centre, but don't camp out too soon. Although this looks like all the beach you'll need, there's plenty more where that came from. Keep walking along to your right and you'll find the beach stretches on for much further than you would expect, getting quieter the further you walk. Head along the beach until you reach the rocks at the far end and then turn around and make an informed decision on where to set up camp.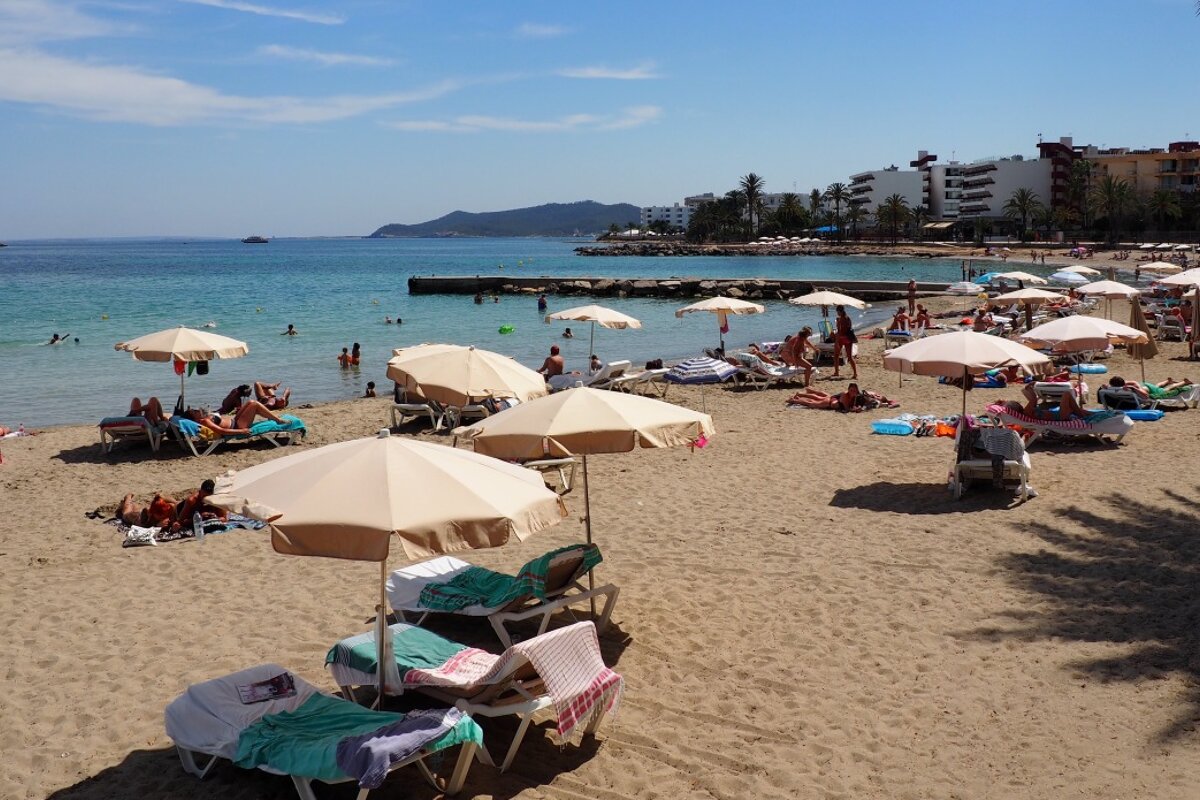 ---
This beach has two lifeguard stations, two water sports centres and several wooden walkways and concrete ramps running down from the road. There are showers dotted around and although there are no public toilets specifically for the beach there are plenty of restaurants and bars around that are not precious about beach goers using their facilities. There is a tourist information kiosk at the beginning of the beach and several stands selling boat rides, cruises, ferries to the island of Formentera or back to Ibiza Port and you can also rent cars, scooters and bikes from here.
The sea here is perfectly clear and has a sandy seabed all along the beach, it has a gentle gradient as you enter and well marked boat lanes and swimming areas. If you fancy a bit of snorkelling then swim alongside any of the stone jetties that jut out into the water or head for the rocks at the far end of the beach, these rocks also make for a nice bit of rock pooling and exploring. If you're more of a water sports enthusiast then hire out a paddle board, kayak or pedalo or get some exercise in by hiring one of the Shuttle Bikes; a bike attached to two yellow inflatable's that you mount and pedal like a regular bike to propel yourself out into the sea. It looks far more energetic than chilling on a lilo but if exercise is what you're after, then get your shuttle bike on!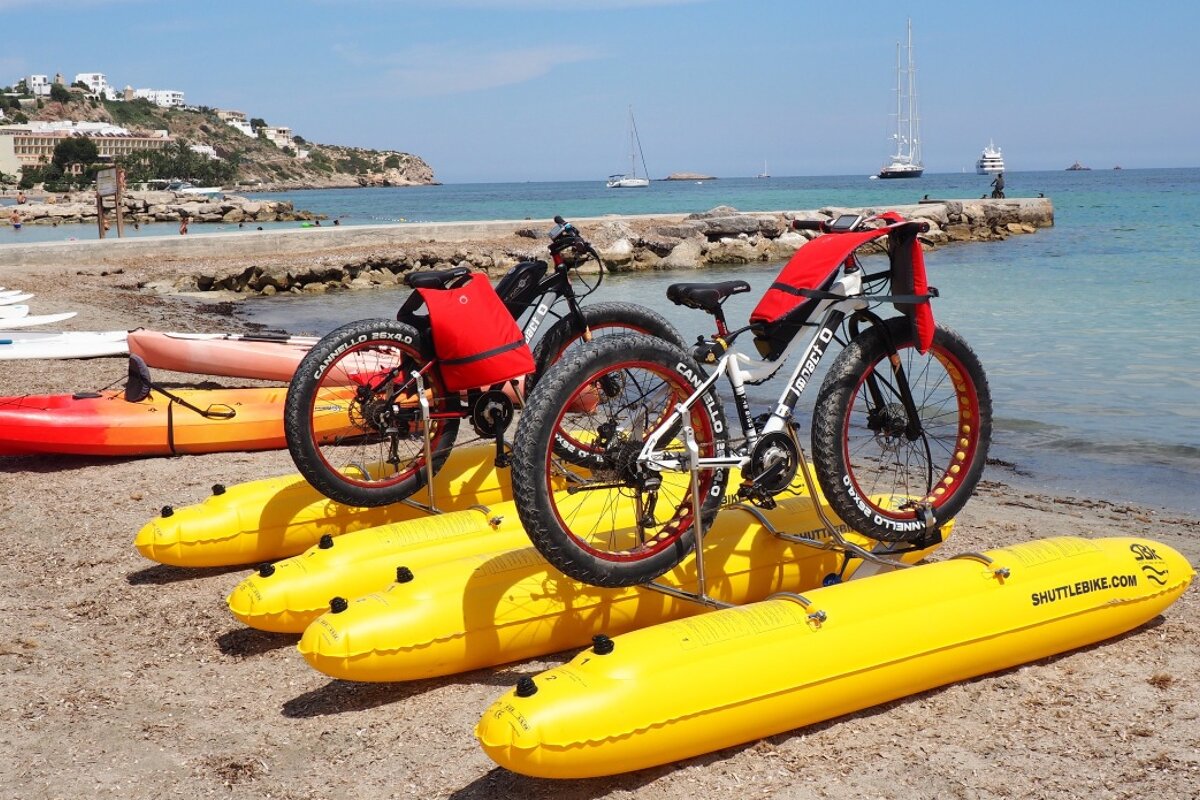 ---
Bordering the beach is a palm tree lined pedestrian promenade which makes this beach a safe place to let children run free with no fear of cars, the trees also throw some very welcome shade onto the beach. All along this walkway are bars, restaurants, cafes and shops, selling anything you need within a few steps of the sand but sympathetically positioned so that the beach doesn't feel overly urban or crowded, the bars are set back from the promenade and have large shady terraces and plenty of beachy tunes, they add to the atmosphere rather than ruining the look of the beach. The food options are extremely varied, Chinese, Thai, British, sushi, pizza, pasta, tapas and Mexican all have a presence and many have a menu of the day option which will do you 2 courses and a drink for around €12-15. The supermarkets are also handy for drinks, ice creams, beach toys and picnics.
If you fancy a cocktail you cant go wrong with any of the bars, they all have nice terraces with plenty of sun and shade, cocktails range in price from around €6-10 so just pick spot with a great view and a price you're willing to pay. Of an evening several of these bars turn lively and have happy hours, pumping music and offer a taster of the Ibizan nightlife but in the day times they're all pretty chilled.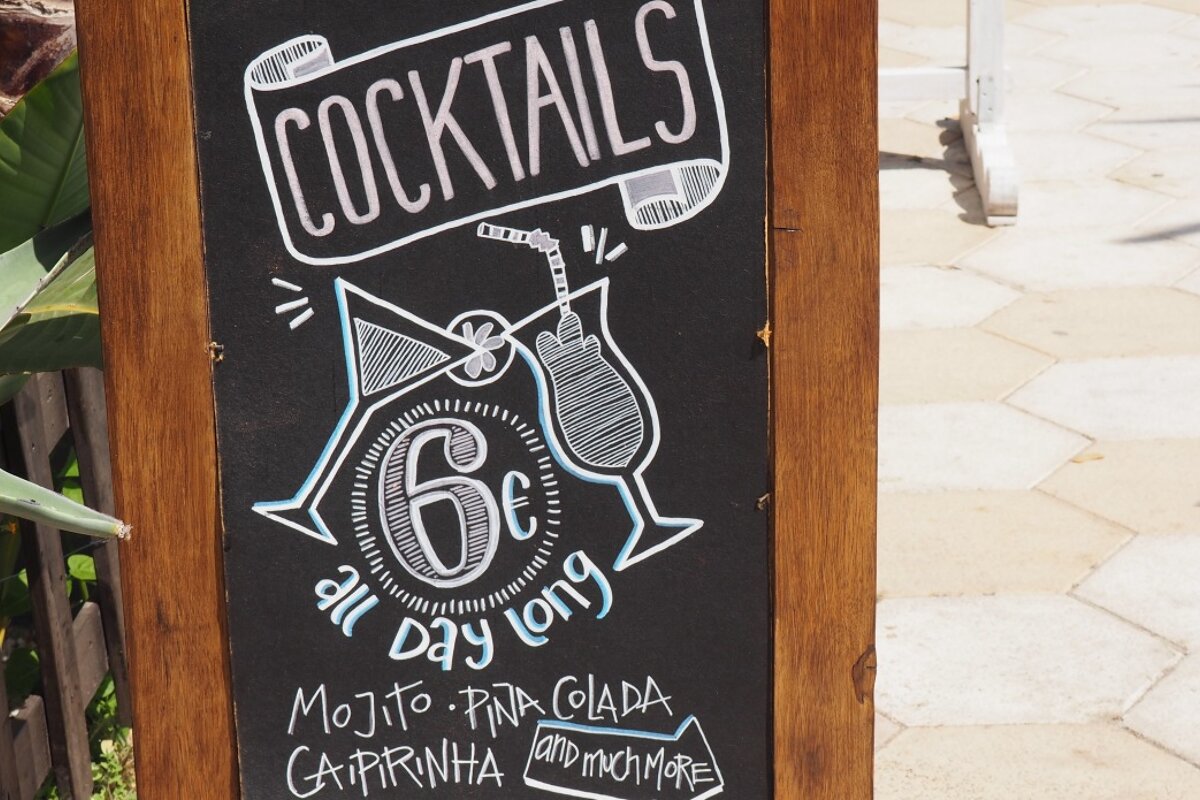 ---
Head to Figueretes for a beautiful sandy beach that feels much further away from town than it actually is. Quiet and spacious with white sand, clear seas, view out to the open sea and all the activities and amenities you could ask for, Figueretes is a great spot for a family friendly beach stop.