If you tire of the boutiques and glitzy glamour of Ibiza town but still have an itch to shop till you drop then the Hippy Markets are where you need to head to.
Originally started by local traders and artists selling their wears to passing tourists these markets have become an enduring tradition and one of the iconic images of Ibizan tourism. These markets spring up all over the island on different days but the largest ones, the most renowned ones are the Punta Arabi Market every Wednesday, and Las Dalias hippy market which runs every Saturday through the year.
Ibiza has a long standing relationship with hippy culture, it began to grow on the island during the 1960's and has never really subsided, the north of the island especially has retained its hippy personality, nudist beaches abound up north, artists, painters, writers and travellers flock to its shores on a yearly basis, drum circles, retreats and raves have a home there and a part of this enduring alternative culture are the markets that showcase the talents and products that come out of it.
---
The Las Dalias market at first glance looks deceptively small but actually holds around 200 stalls, once immersed you can lose hours easily just wandering between the stalls laden with jewellery, clothing, bags, musical instruments, sandalwood and olivewood carvings, metalwork, sculpture, shoes and art. As always with Ibiza nothing is simply one thing nor the other, the stalls are not all expensive nor are they all cheap, not all beautiful and not all bizarre but there's certainly a little of everything to be found. The jewellery ranges from friendship bracelets and souvenir trinkets to beautiful and ornate pieces, heavy antiques lay next to bracelets made from recycled spoons. Stalls draped with rich and beautiful sari fabric, carved deities and Moroccan lamps, stand next to a tent selling clothes made out of ring pulls off drink cans, which in turn stand next to a hippy cook book stall, next to a hand painted bikini tent.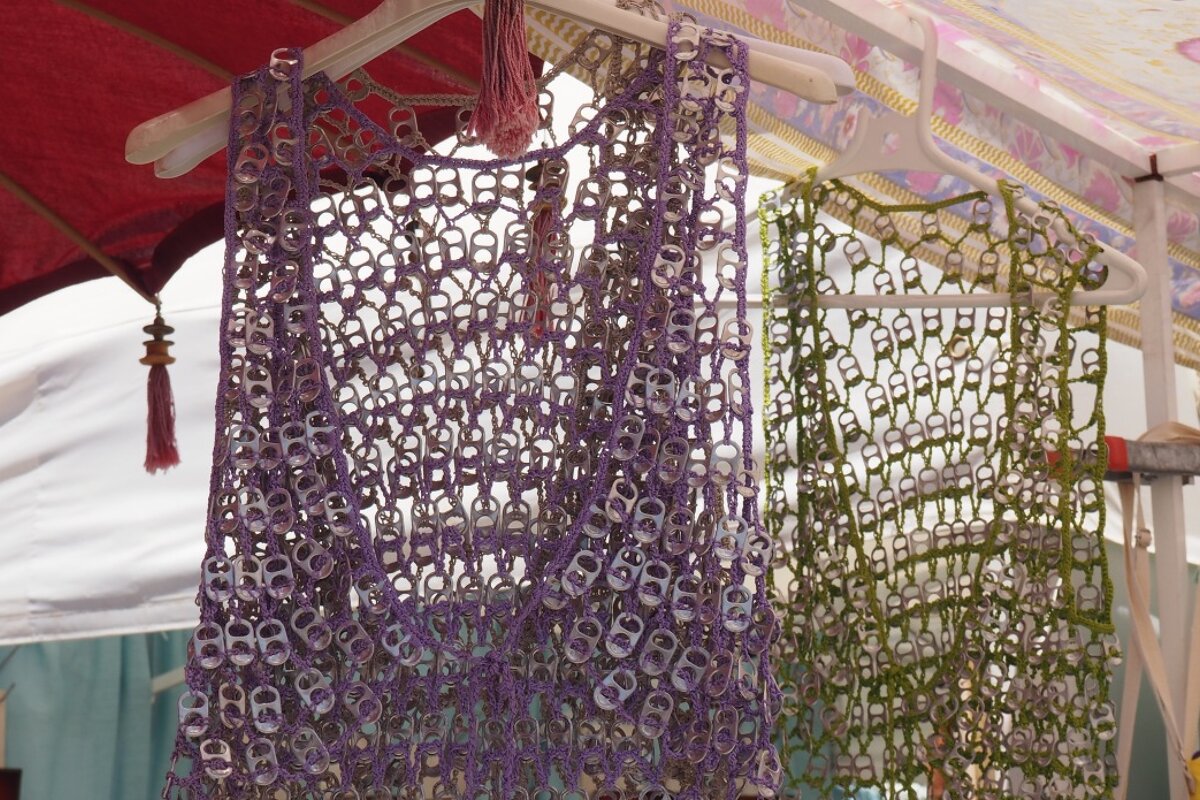 ---
Performance artists, bands, buskers and mimes wander and entertain the crowds amidst stalls offering to dreadlock your hair or weave coloured feathers through it, stalls taking retro photography, henna and neon tattoos are on offer, and joy of joys second hand bookshops!
When you've had your fill of wandering or just need to take a break then head to one of the juice stalls or restaurants on offer. There was a stall selling homemade mint lemonade for €2.50, juices and smoothies started around €5 and if you're after a fresh fruit mojito or daiquiri chopped and crushed in front of you then they start at around €10, bars selling beer and wine are also dotted around.
There is a lack of food stalls due to the presence of Las Dalias restaurant, but there is an open pizzaria selling slices for €3 and the restaurants itself has menu where you can get a tostada from around €2.50, sandwich for €3.50, burger for €8 as well as other options which were not badly priced.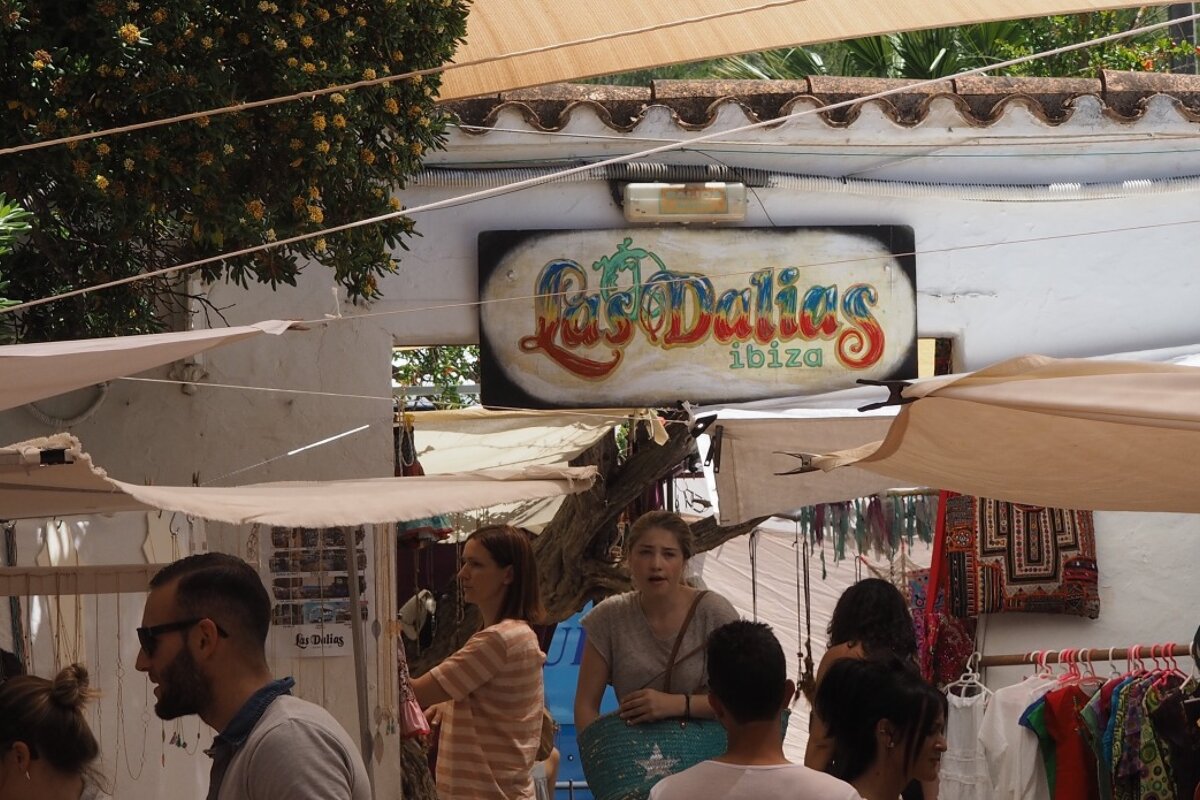 ---
These markets were made for people watching, grab a spot with a drink and a view and watch the artists at work and the traders making sales, watch the tourists hunting for bargains and the performance artists doing their thing. More often than not there'll be a band playing somewhere in the market, Las Dalias has a rich history of live music nights and events and since they host night markets during the summer months, the music and the markets tend to blend nicely. Get down to one of these nights and check out Ibiza's hippy heritage scene in all its glory.
Timing: Markets run every Saturday 10 am – 8pm throughout the year. Night markets run 7pm- 1am on Mondays in June – September and Tuesdays July – August, also on a Sunday in August.
Access: This is easiest by car and there ample parking. Buses do run if you'd rather, take the number 13 from Ibiza town to Santa Eularia for €2 followed by the number 16 to Las Dalias for €1.55, be warned though the number 16 is somewhat infrequent in its timetable and in peak season will be extremely busy.