Top tapas in Ibiza
The best spots to savour your favourite traditional tapas or innovative plates
Designed to be shared among family and friends over good times and conversations, tapas is the nation's best-loved cuisine. Dining out on these delicious small plates is one of the most popular social activities in Spain, among locals and visitors alike.
Ibiza is home to a wealth of fantastic tapas restaurants, where you can sample everything from traditional plates to more innovative fusions. You'll be sure to find something to tantilise the taste-buds in every corner of Ibiza, whether it's those creature-comfort signature Spanish tapas dishes or some unique new ideas concocted by experimental chefs. Whilst on the island, we recommend you take the time to try both varieties!
So if you fancy a quick snack, light dinner or gastronomical journey, here is our pick of the best places to eat tapas this summer.
Traditional Tapas
There is something utterly comforting about stumbling across a traditional tapas menu. Signature tapas dishes are a warm reminder of Spain's heritage and it is well recommended to sample them during your holiday in Ibiza.
Classic Spanish tapas includes both hot and cold dishes such as scrumptious croquetas and locally sourced jamón ibérico. Other firm favourites are patatas bravas, Andalusian calamari and Padrón peppers. And of course, we can't forget the well-loved Spanish tortilla. You should also try the smaller tapas Pinxto bites, which are served on individual cocktail sticks. Traditionally with these bites you pay according to the number of cocktail sticks left on your plate, and a number of the traditional pinxto and tapas restaurants still do this. It's a simple but fun way to enjoy an authentic dining experience in Ibiza. The best part of all - traditional tapas dishes are generally very reasonably priced.
Some of our top picks for traditional tapas are: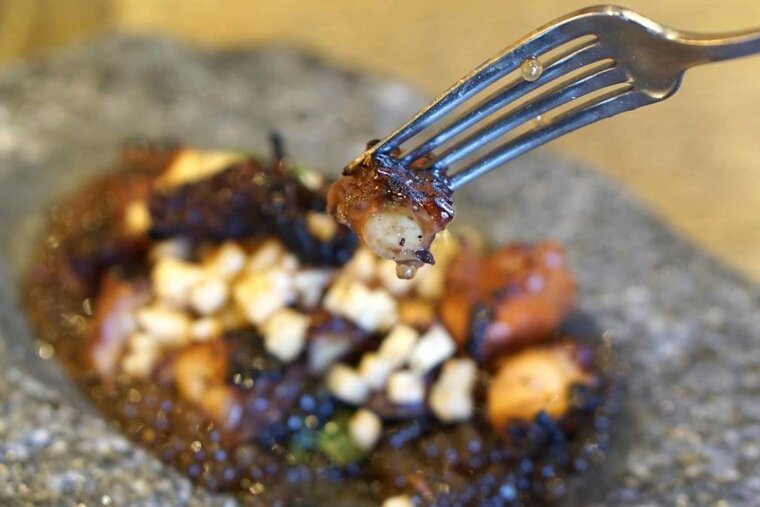 Trendy Tapas
New concepts and tapas ideas are always emerging and becoming hard to miss or dismiss across Spain, Ibiza included. Top-quality chefs are taking the old Mediterranean classics and adding their own exciting twists, or completely throwing out the rule-book to come up with new internationally-inspired creations. All of this to our great pleasure! With a wealth of new-style tapas eateries on the island, you can be certain to awaken your senses with the real variety on offer in Ibiza.
Some of the dishes you could encounter range from fried octopus, grilled artichokes, king prawn carabineros and deep fried Brie. If you mouth is not already watering enough, you can also expect to find tapas deserts on the menus! But with ever new creations, you should simply expect the unexpected!
Tapas Restaurant & Lounge Bar is an innovative tapas bar in San Antonio, near the main promenade. Their menu includes creative takes on traditional Spanish tapas, including a good selection of vegetarian dishes.
Laylah Restaurant located in Ibiza Town offers a menu of modern sharing plates, and an extensive cocktail list. Located in Ibiza Town close to some of it's most popular nightclubs, it's the ideal place to start your night.
Giri Cafe & Restaurant is in the main square of San Juan. The menu combines traditional Ibizan recipes with exotic touches, including main dishes and smaller snack plates.
More inspiration...
Ibiza has a lot to offer to all the foodies out there. This is only a small selection of restaurants and bars serving tapas and other delicious Spanish dishes on the island.