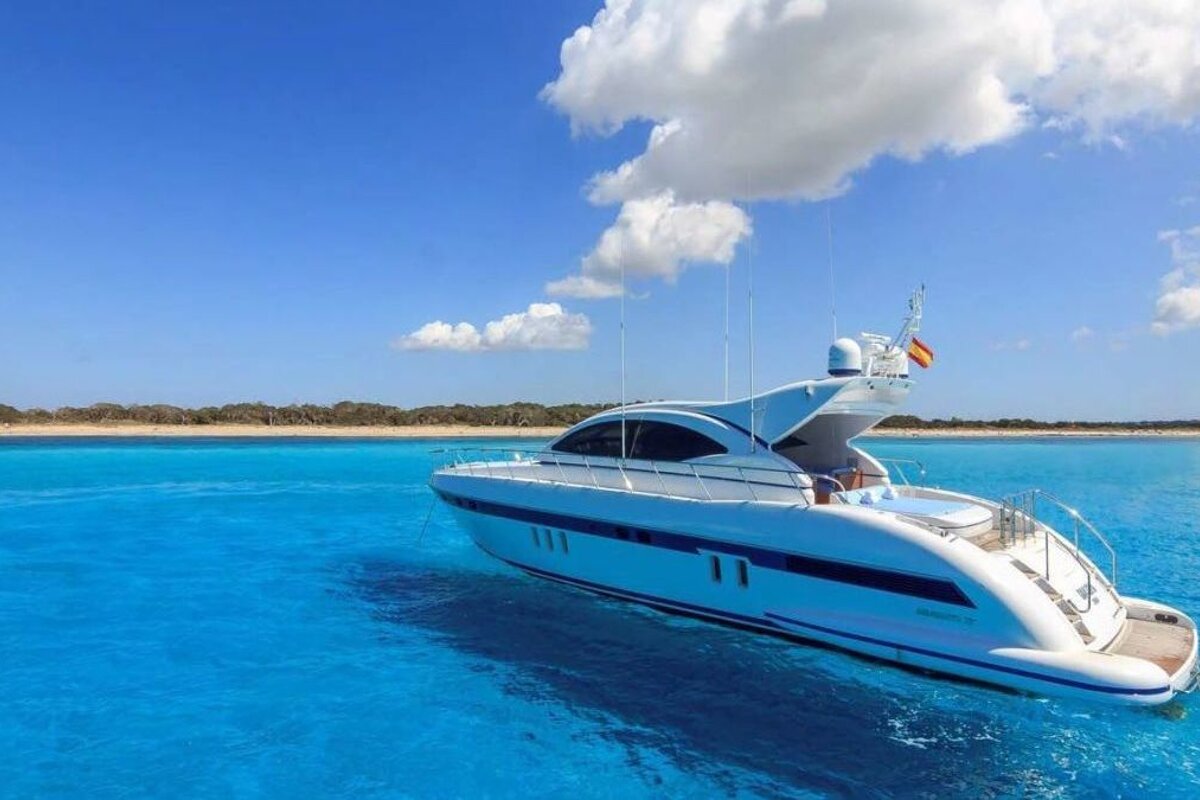 Ibiza hottest yacht charters
Explore the Ibizan coastline aboard the best yachts
Is there a better way to discover an island than on a yacht? We have picked our favourite yacht charter options in Ibiza, and what you can expect to find onboard, to help you decide which best suits your group and budget.
Sail around Ibiza's coastline and feel the sea breeze on your face while you enjoy a chilled drink, take a refreshing dip in the Mediterranean, explore the island's crystalline waters snorkelling, or if adrenaline is more your thing, practise water-skiing under the sun.
Yacht charters are usually booked by the week, but there are also some day trip options. You can book bareboat or with a crew, depending on your experience and if you're looking for a more active or a more relaxed time at sea. For some useful tips on chartering a yacht in Ibiza, check out our Yacht Chartering Guide. For the different charter types, you'll find plenty of yachts to choose from, so you can browse and book your favourite, turn up at the marina, and Ahoy!
Below you'll find our top recommendations for different weekly or daily charter options in Ibiza.
The elegant motor boat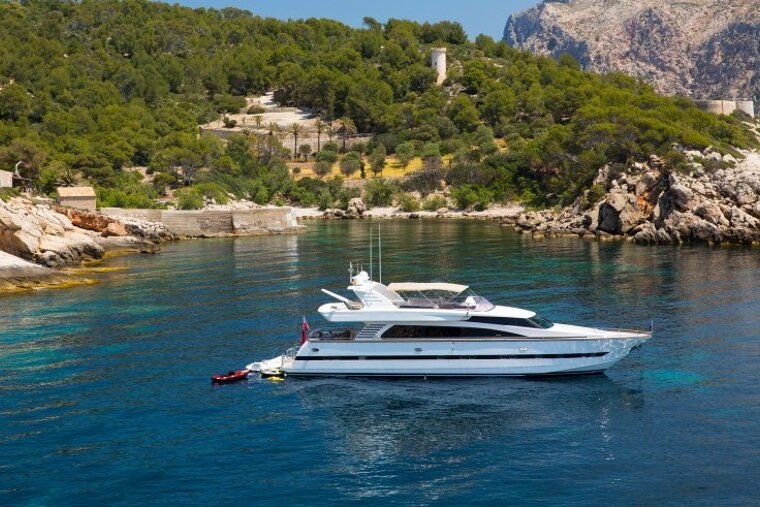 These sleek and eye-catching motor boats are a great option for smaller groups of usually up to 8-12 people onboard with 6-8 berths, and are the more affordable option for a yacht charter if you're on a budget. With average speeds of around 35 knots per hour, they are also a perfect choice for those looking to travel faster and see as much of the island as possible during your time on the water. These smaller motor yachts are usually booked on a weekly basis, but are also more likely to offer daily charters than the larger super-yachts.
Onboard these motor boats you can expect an ample and comfortable aft deck for lounging and relaxing, sunbathing areas on the front or back of the yacht, and a swimming platform. Inside there will be comfortable living areas, usually with ample entertainment including television and sound-systems, and cabins with usually a mix of double or twin bed options to suit your group. You can be sure whichever boat you choose will be elegantly designed and finely furnished.
For those looking for activities onboard or underwater, you'll often have access to a range of sea equipment on these boats, such as snorkelling gear, fishing equipment, seabobs, and on the larger boats, jetskis and a jet tender may also be stored onboard. What more do you need?
The luxury super yacht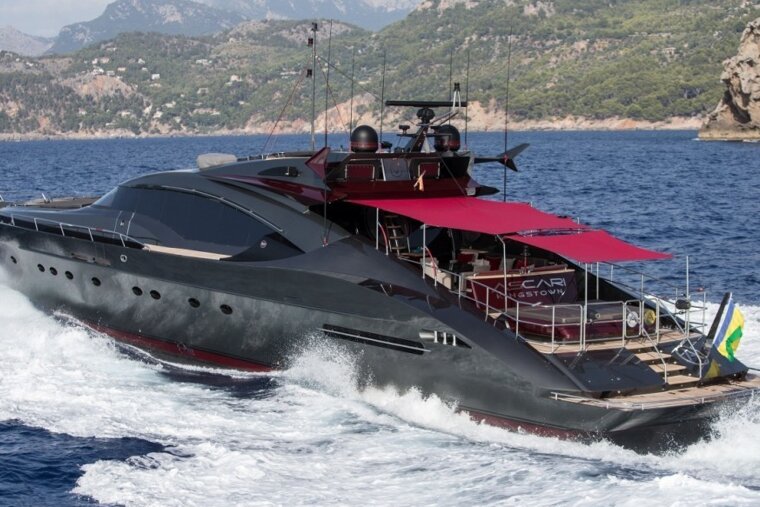 For the ultimate luxury experience, the super yacht is an excellent choice for cruising the stunning Ibizan coastlines. Usually able to accommodate 10-12 + guests in cabins, and many more for daytime cruising, it's a great choice for an extravagant trip and a party on the sea.
These yachts are usually crewed with a large cast of cooks and stewards to cater for your every need. Even before getting onboard, you'll enjoy a concierge-style booking service, where your needs will be discussed and your trip planned down to the smallest detail, including route, stops and food, to ensure the most perfect and luxurious experience onboard. You organise additional crew members, including dedicated water-sports specialists and instructors, or masseurs to join you onboard.
Onboard, the superyachts are usually equipped with the highest tech when it comes to technical chartering equipment, but also entertainment gear, such as sound-systems, or DJ decks, for a stylish party onboard. There will be ample space for sunbathing on the dedicated sundecks with sunloungers, on sunpads on the front and back, and up on the flybridges. If you need to take a break from the sun, you'll find luxurious outdoor and indoor lounge areas, where you can be served a cocktail whilst enjoying the views. Inside, these yachts are fitted and furnished to the highest quality and you can expect true elegance. Interior and exterior space is maximised, to ensure the most comfortable experience.
You most definitely will not be bored aboard these yacht, which usually carry a massive selection of water toys such as jet skis, dinghys, stand-up paddle boards, kayaks, scuba diving and kite surfing equipment, flyboard, etc. They will carry one or more smaller tender boats to take you out to the coast or coves, and some even have speedboats aboard to whizz you out for an adrenaline-filled afternoon on the water.
The classic sailing yacht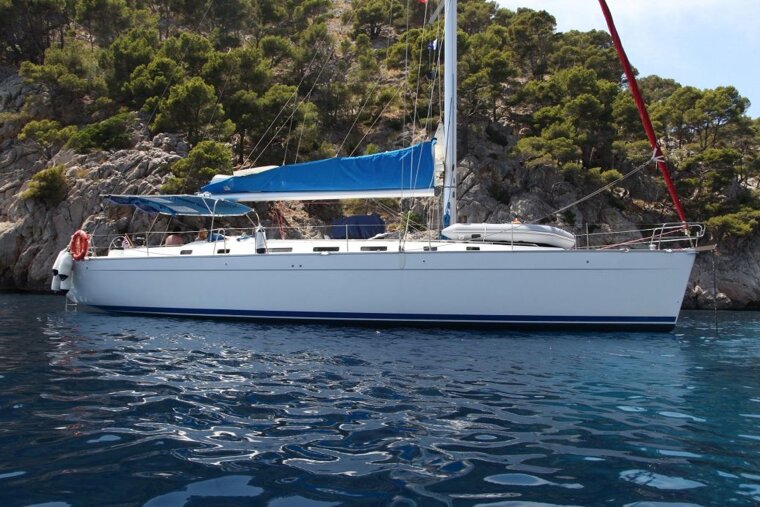 If you're looking for a slower pace of life on the sea, then cruising aboard a more traditional sailing yacht is the right option for you. Often equipped with many of the modern luxuries of the modern motor yachts onboard, you don't have to compromise on comfort and style to get the charm of a classic sailing experience.
The larger sailing yachts can usually accommodate between 8-12 people sleeping and more during the daytime for cruising. These yachts also maximise inside space excellently, making use of their vast hulls, although their natural shape, size and layout mean available space is not as ample as the modern yachts and superyachts. Outside, the large front decks on sailing yachts offers maximum lounging, sunbathing and al fresco dining opportunities, as well as the swimming and diving decks. Inside, the finish will usually be more traditional wood and beams for the classic feel, but most will also come equipped with the modern comforts of sound-system, television or home-cinema, fully equipped kitchens and comfortable cabins.
As with the motor boats, you're likely to find a host of sea equipment onboard, including stand up paddle board, kayaks, jetskis, tenders and water ski and wakeboard equipment. What more could you need for a luxurious and relaxing week out on the sea?
The experience day boat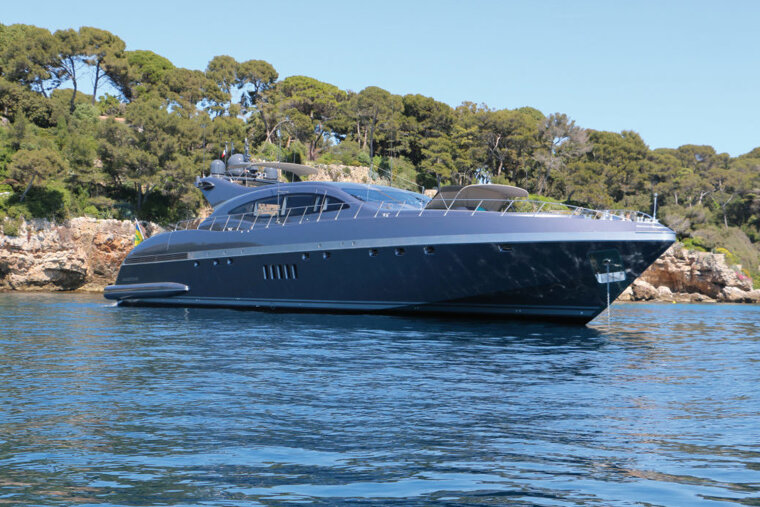 Are you on holidays with a big group of friends and family, or want to celebrate a special occasion - a birthday, anniversary, engagement, or even a wedding? You're best looking at daily yacht charter or exclusive boat trips, with a crew and captain, to head out onto the sea for a luxurious and extravagant one-day experience.
You can choose from a motor yacht or a sailing yacht, depending on your preference and style of trip you're after. These boats have all the same luxuries and equipment as the ones we've seen above, but you can just take them out for the day. You can choose from one of many recommended day charter routes, which will be especially designed to show you as much the areas as possible. Many companies and crews will be able to organise for your specific event and needs, so you can arrange in advance for celebrations, or you can just book, turn up and enjoy a relaxing day out. Either way, it's a great way to enjoy visiting the coastlines, swimming, doing water activities, eating and relaxing together with your loved ones for a day.
More inspiration...
To learn more about chartering a yacht on the White Isle read our Yacht Chartering Guide. If you prefer to explore Ibiza's coastline without the hefty price tag, check out our selection of boat trips.