Beautiful Cala Benirras is situated in the north of the island and has acquired a reputation for itself as being a 'must-see' spot on your Ibizan tour due to its hippy heritage, stunning sunsets and the drummers who congregate there to drum down the sunset.
Beautiful all week long, Benirras beach really comes into its own on a Sunday when crowds gather to watch the now famous drum circles that occur on the far end of the beach between the fishermen's sheds and boat houses. This ritual originated as an anti war rally in 1991 when it attracted hundreds of local people who arrived with their drums to make their message heard. Since then the tradition has continued, first yearly, and now weekly with drummers old and young, new and experienced gathering to drum along in solidarity and to salute the setting sun.
The crowds that gather to watch the drummers are a sight in themselves. Tourists in the hundreds flock here for the spectacle but you'd be hard pressed to pigeon hole them all; clubbers, beach hoppers, hippies, dancers, families, tour groups, backpackers, it seems that the drums of Benirras appeal to all. It's easy to see why, the atmosphere of freedom and inclusion is prevalent everywhere along the beach, nudists swim happily at one end, whilst fire dancers, poi artists and hula-hoopers practice at the other and sunbathers lay themselves down in between.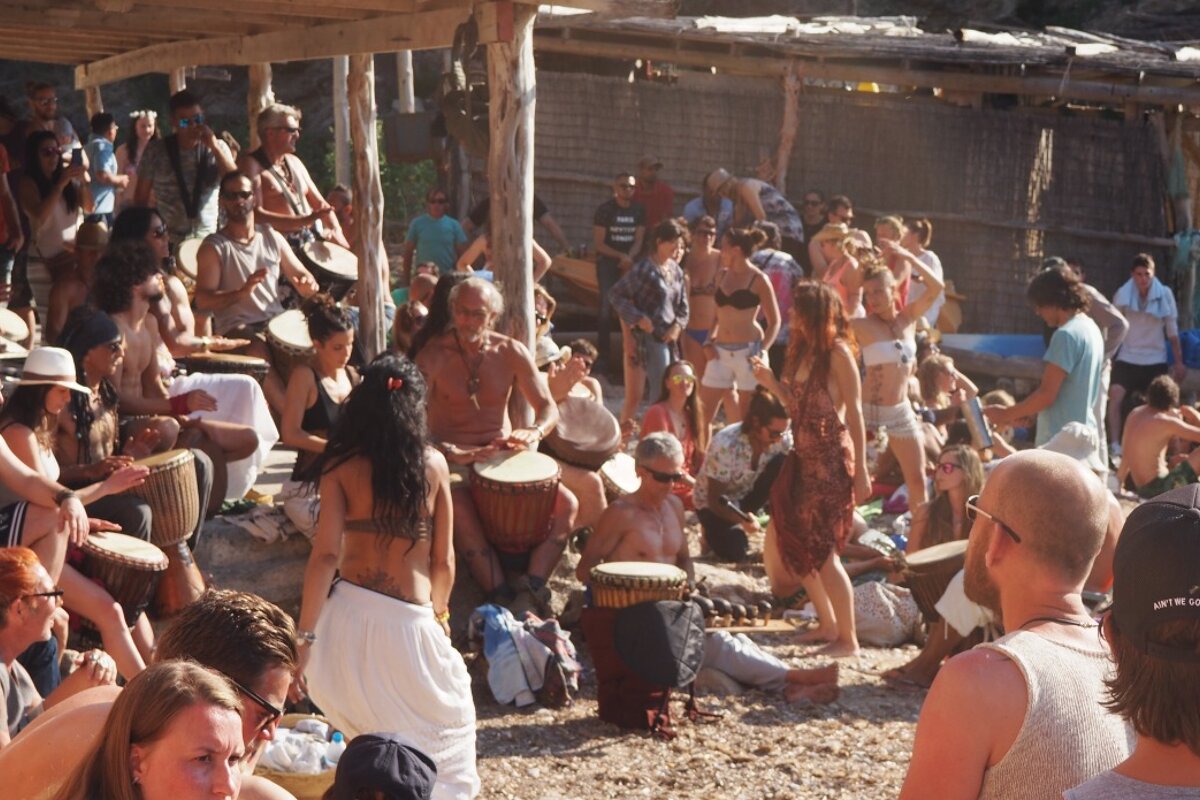 ---
The drummers sit or stand facing out into the crowd, some patting their drums softly, some beating them like their souls are on fire. Cigarettes, beers and water are passed freely from the crowd to the drummers and back again, people arrive and leave at will, harmonicas pipe up between the drummers, some of whom learn from the others whilst some look like they've been doing it forever. The crowd sits, stands and sprawls on the sand and rocks watching the spectacle or gazing out into the bay and the setting sun. People dance to the drums as if they can't help but do so, stamping and leaping to the tribal rhythm entranced by the endless beat, the more reticent sway quietly in the crowd whilst children dance with unselfconscious abandon.
Anything goes at Benirras and with free entry and no judgement it's a marked difference from the glamour and glitz of the south of the island's super clubs. An evening spent at Benirras is an evening of insight into Ibiza's hippy past and present. As the summer progresses more and more people will flock there and the drums will continue longer, fire dancers and performers will take over where the drummers finish and the party will continue later into the night. It is an absolute atmospheric must see for anyone visiting or living on the island.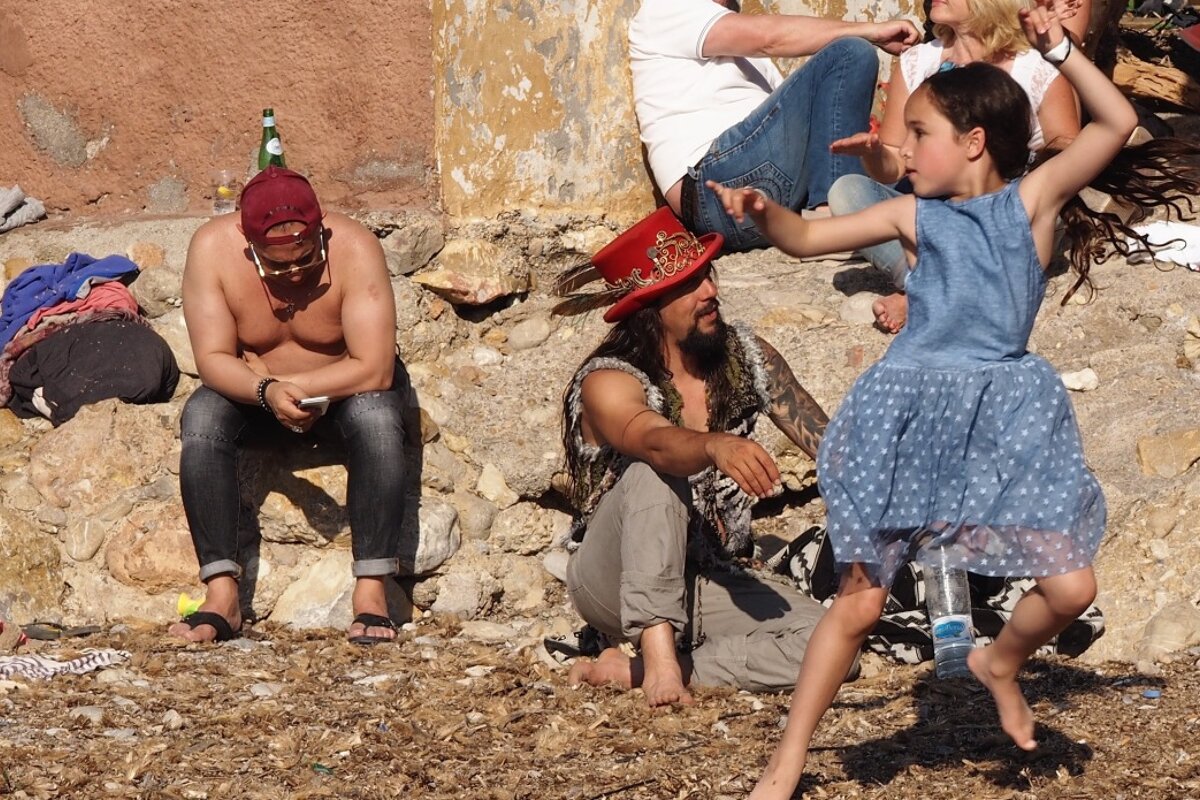 ---
Thousands of tourists descend upon this beach throughout the summer and if you choose to come on a Sunday you need to be prepared for the crowds, the beach will be packed all day long and will get busier as evening progresses. Buses do not run here on a Sunday so unless you're looking to arrive by boat you'll need to drive and although there is large amounts of parking available (roadside and in temporary field car parks €3), its never enough and if you arrive late you'll find yourself having to park way back up the hill and hiking down. Ideally you should arrive early and just plan to spend all day on the beach, there's plenty here to amuse you.
Sundays see Benirras beach hosting a good sized hippy market at the entrance to the beach with around 30 stalls, a lot of which can be recognised from the Las Dalias Saturday markets. Clothing, jewellery, bags, art, instruments and statues are on sale with the vendors sometimes working on their crafts at the stalls so you can watch the process involved. Get yourself a henna tattoo or a colourful hair wrap, grab a massage at the chill out zone, pick up an ornately decorated parasol or beach rug, or deck yourself out in hippy bangles, bracelets and anklets until you jingle with every step. When you're done with your shopping grab a seat at one of the restaurants for some excellent people watching as a side to some excellent food at the acclaimed Elements restaurant and beach club.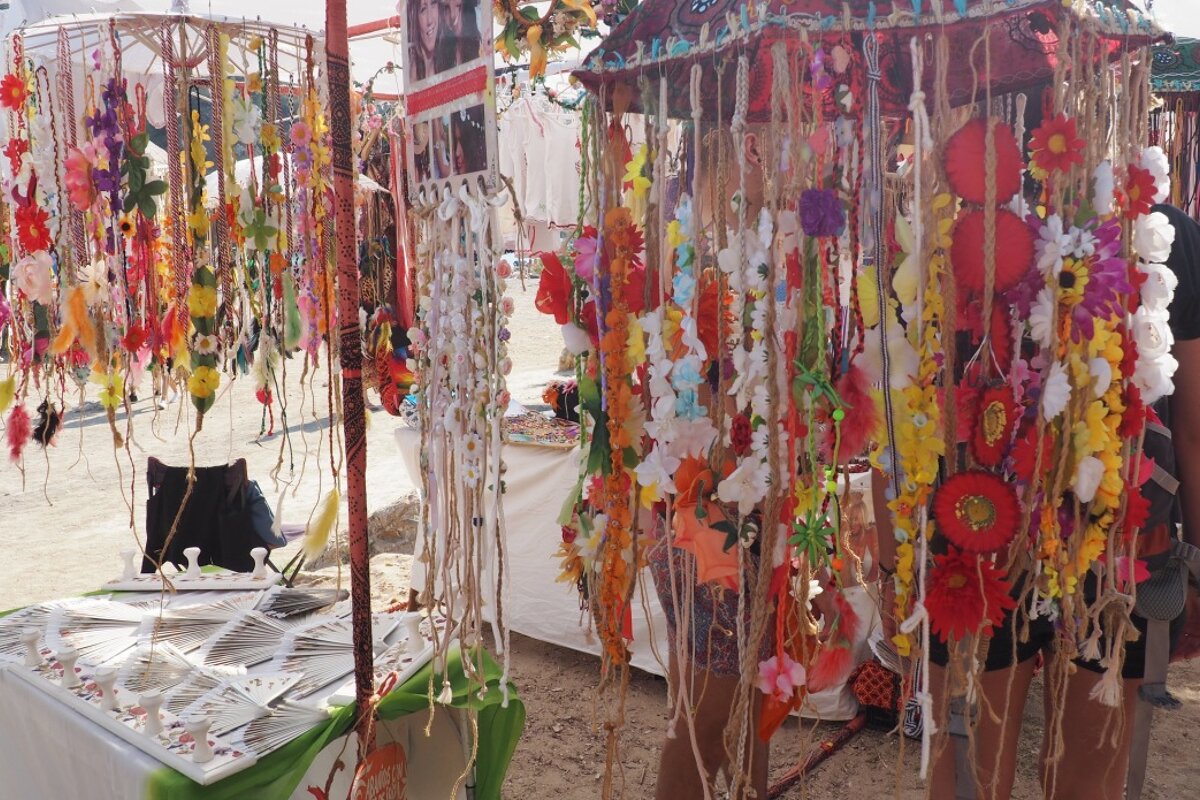 ---
Put Cala Benirras on your list for a mid week if you want to see a beautiful beach with a stunning sunset view, but if you want a truly unforgettable experience head there on a Sunday and soak up the bohemian, hippy, authentically Ibizan vibe.