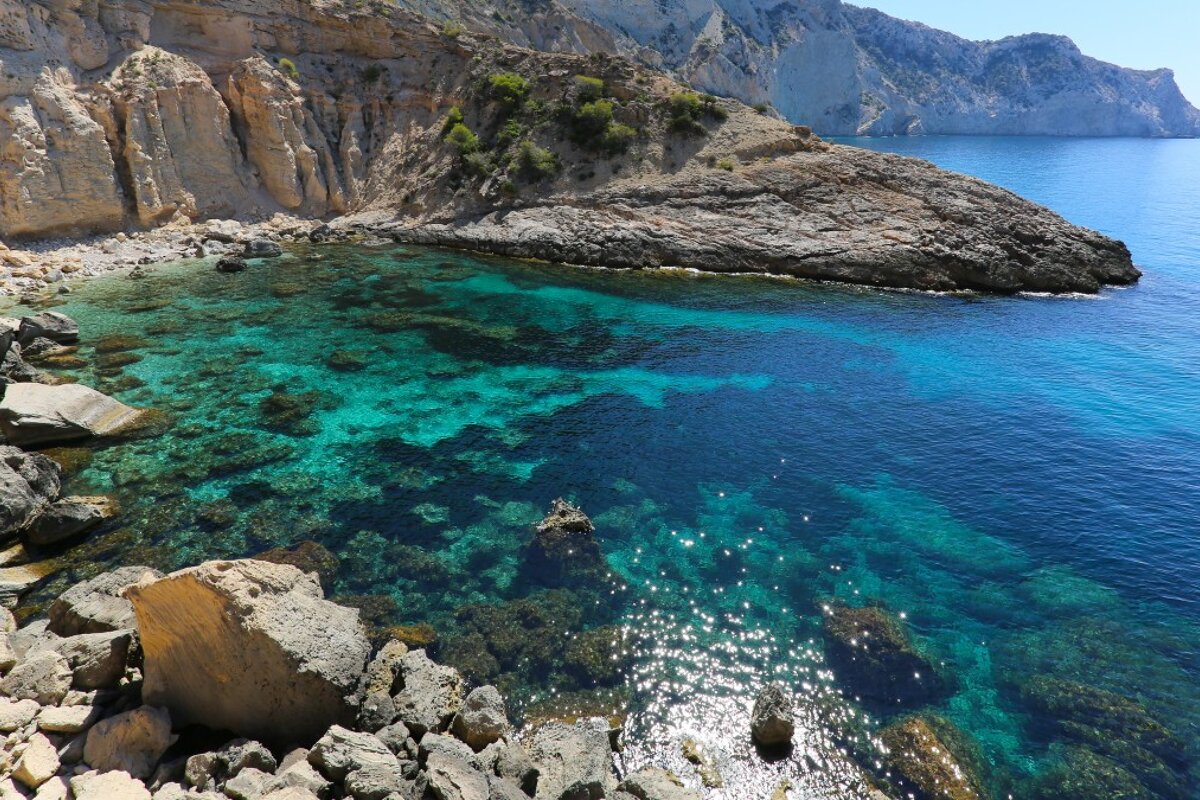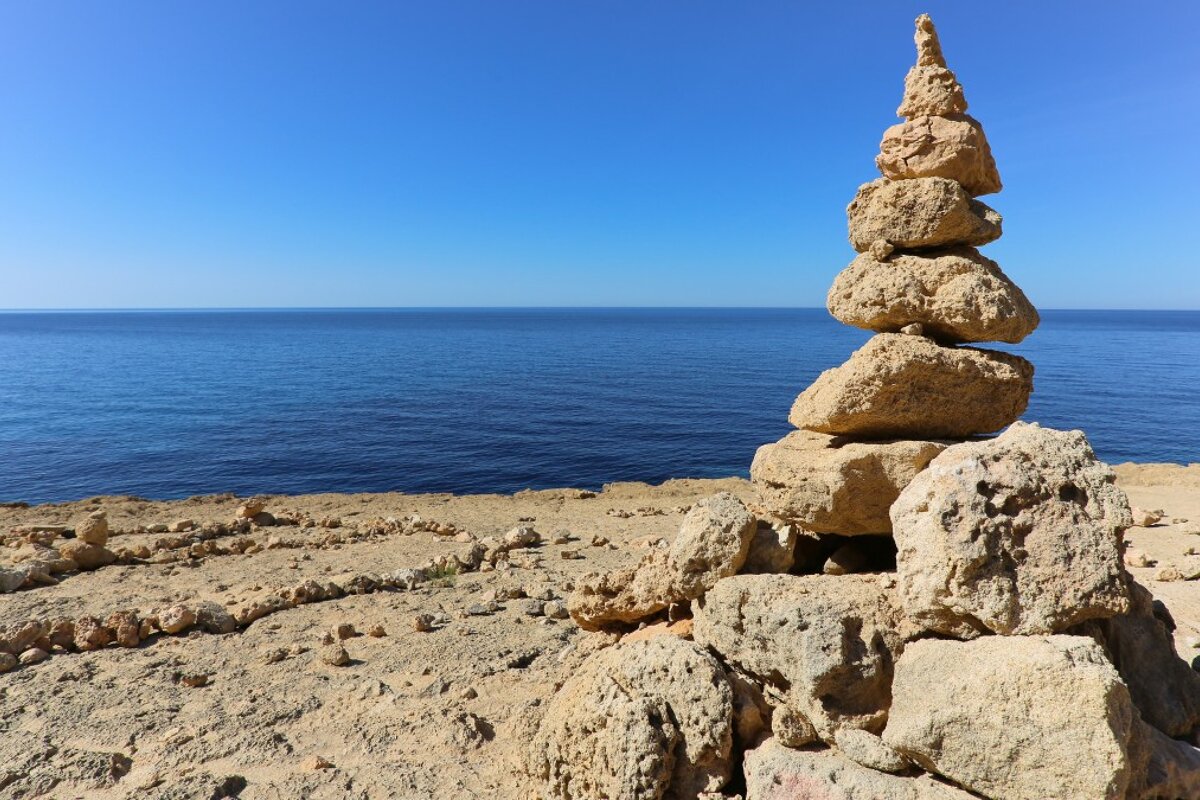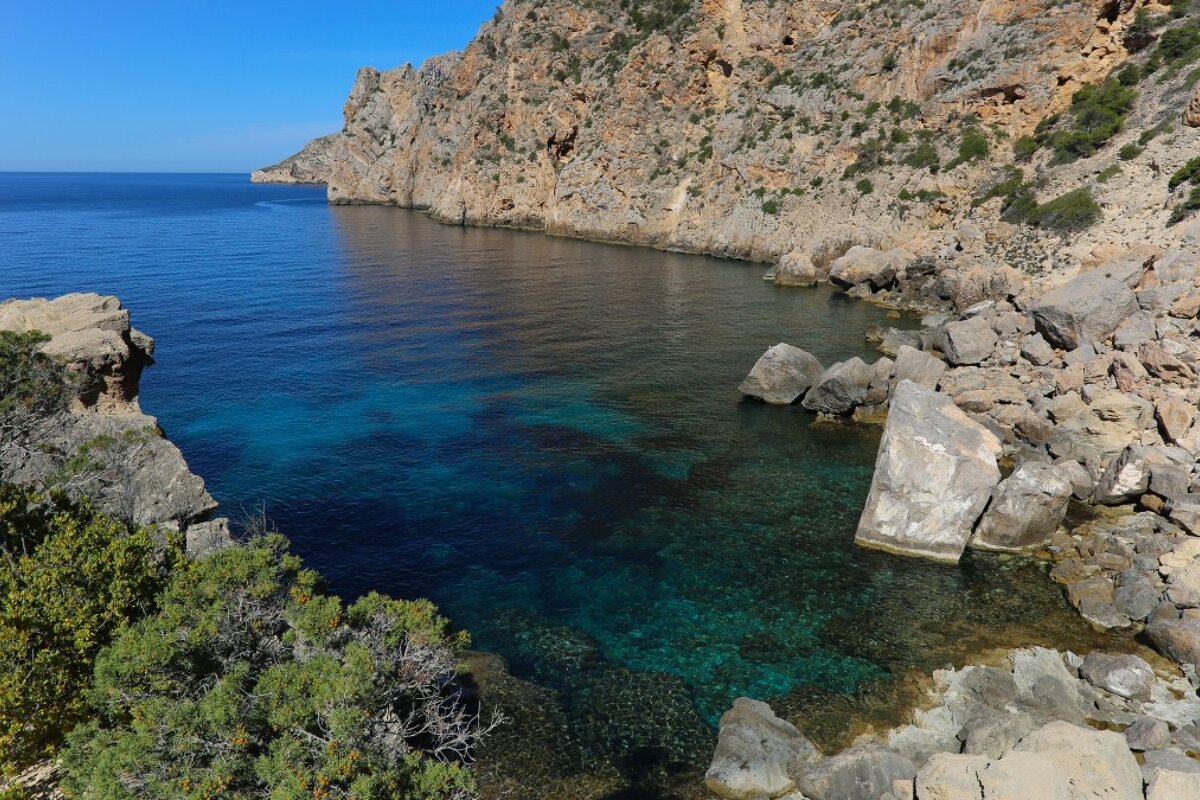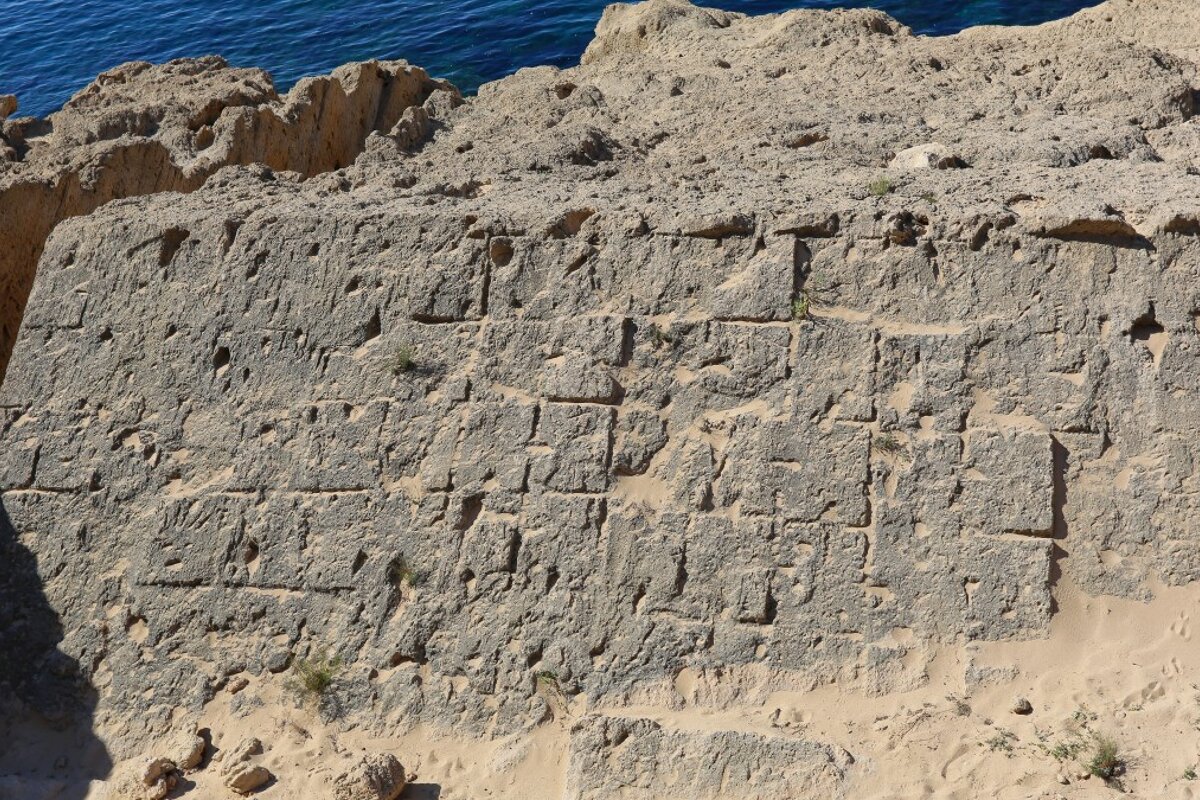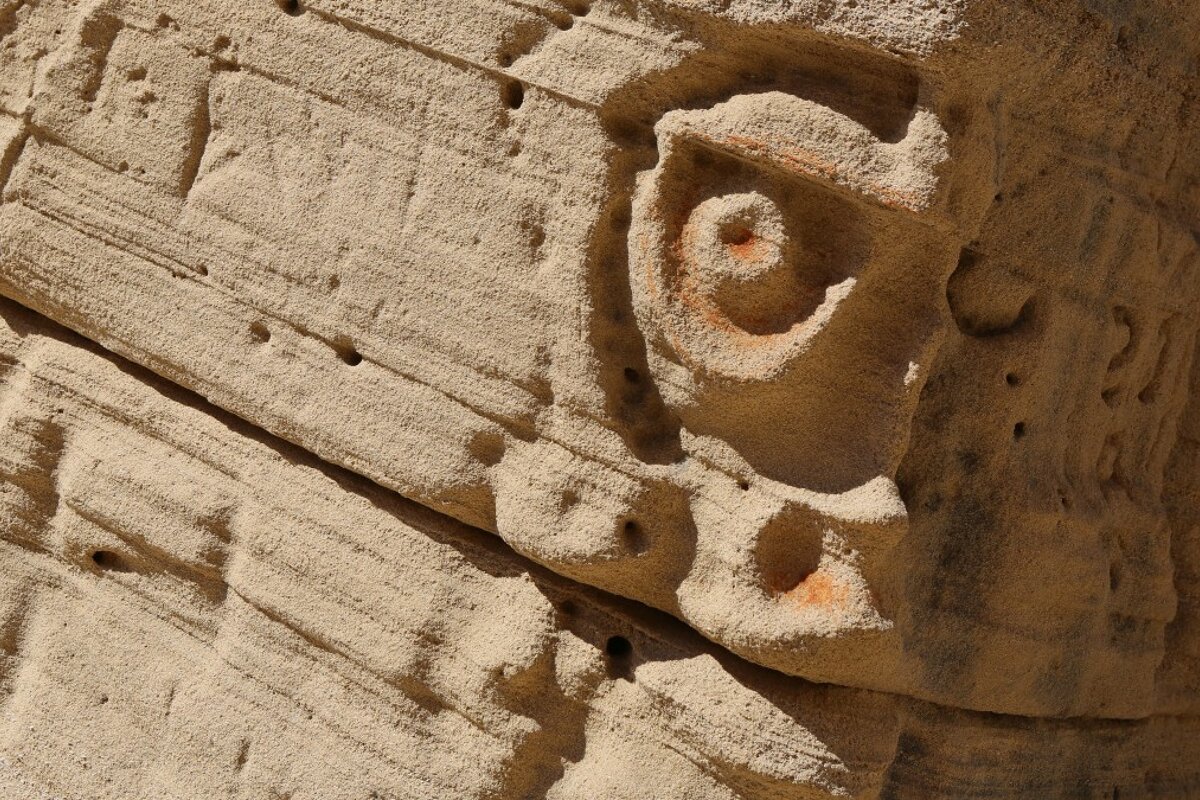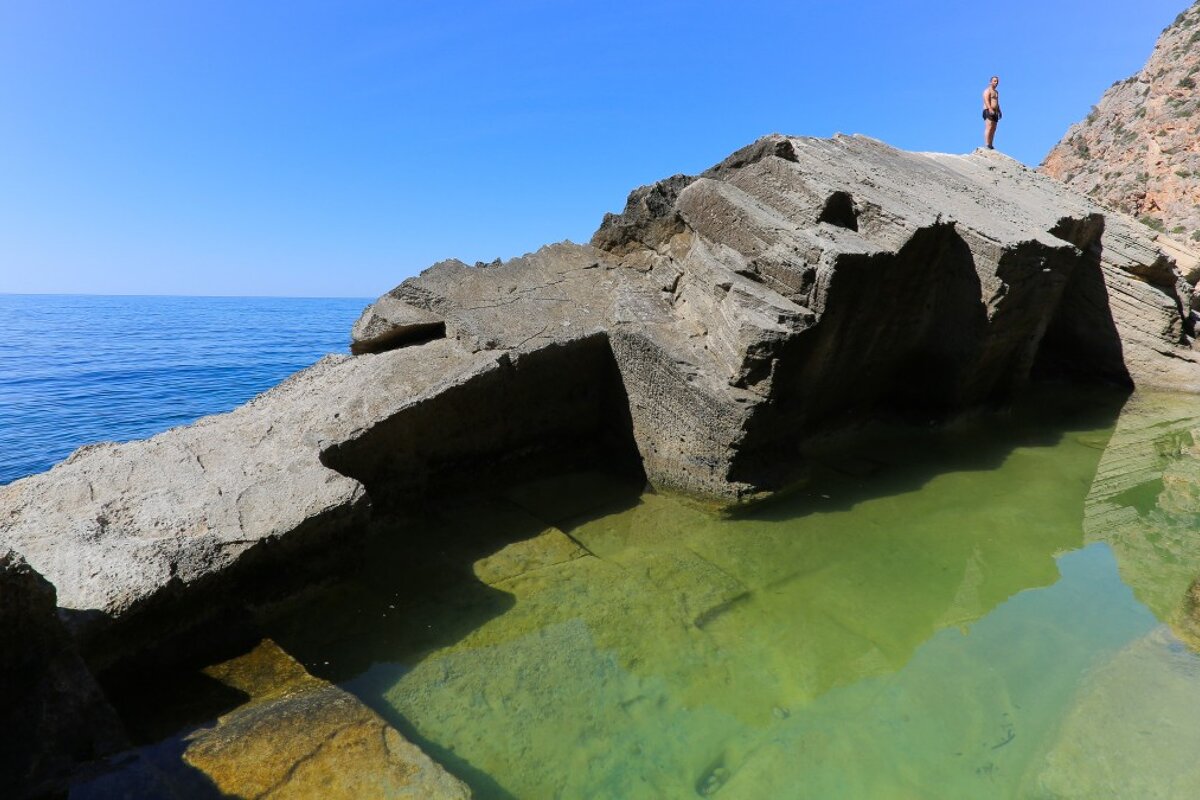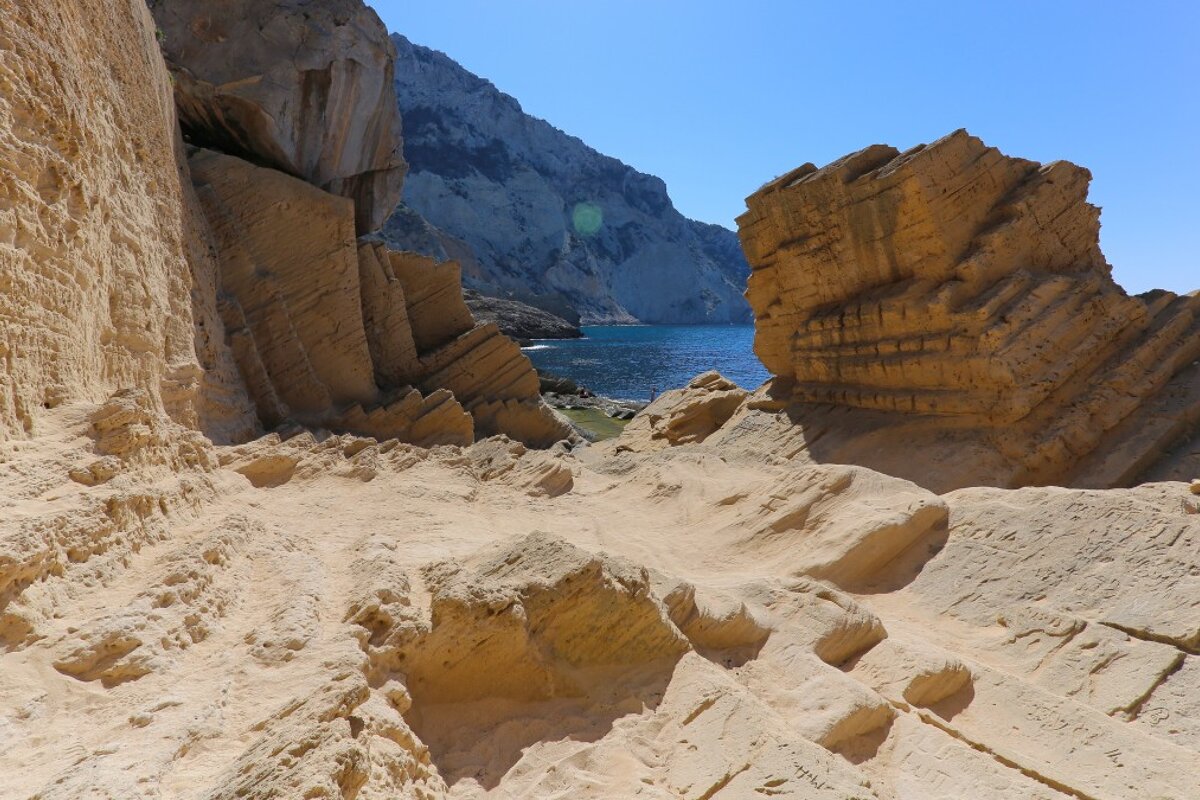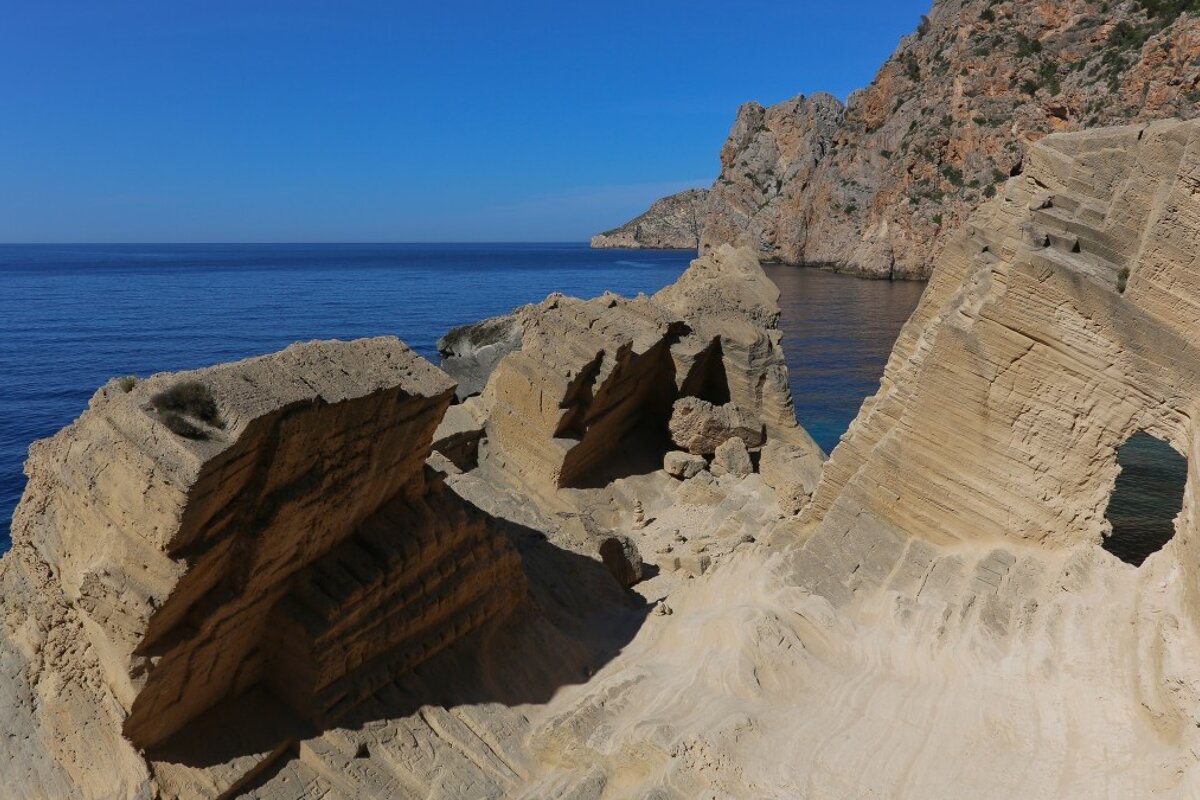 Atlantis Beach (Pedrera de Cala d'Hort), South-West Ibiza
Enchanted & magical cove on the south coast opposite the island of Es Vedra
Centuries ago the rock from here was quarried and used to build the watch towers, homes and walls of the citadel of Ibiza. Today you will discover a multitude of interesting and unusual rock formations here.
The trail down is steep in places and covered in loose rock and low level scrub and bushes. Once you have negotiated the trail you will discover Atlantis - the lost city... or the quarry at least from which a city was created! A labyrinth of caves, rocks, holes and sea pools, this place is truly magical and a sight to behold.
Much like Punta de sa Galera the flat rocks here can be good for sunbathing... although be warned they might not always be sitting at quite the right angle!
It has also become popular with climbers and you will find several bolted routes in place here.
Watch out for
The many stone and rock artworks dotted around, both on the cliff top and down in Atlantis. You will also see some rock carvings (although hard to decipher these days between the more recently produced graffiti!) down in Atlantis.
Who should go
The path there and back is suitable for those who are physically fit, especially in the hot summer months with the ascent is more of a challenge. The rocks and formations below are sometimes slippery and can be dangerous so this is not a place that is suitable for people of reduced mobility.
Visitor comments
"As all great beaches, it's a long and winding road to get here but it's well worth it. I imagine in the summer it's a nightmare parking but it's a stunning location with crystal clear water and it's reminiscent of beaches in Thailand. There's a lovely restaurant as well." - Trip Advisor
"Although this is fairly difficult to get to, it's absolutely worth it once you reach the plateau and see the view of Es Vedra that awaits. It literally takes your breath away. Revered by the hippies for many years, this is an amazing place to view the amazing sunset. Es Vedra is awesome... you can feel her energy! I am almost reluctant to let this secret out for fear of mass crowds but it's so special. We were married here and it's somewhere we will visit year after year." - Trip Advisor
"The views of the islands of Es Vedrà and Es Vedranell are quite amazing. Also, it is a very nice beach to go snorkeling, if you're into it: quite many holothuria, and a good amount ot diplodus and other Mediterranean reef fishes. White sand and crystalline waters. Recommended!" - Trip Advisor
Directions
On the road between Es Cubells and Cala d'Hort as you reach a downward right turn with a view of Es Vedra, you will see a small road on your left that is signposted. Follow along this dirt track and you will reach a parking area that is used mainly for access to the defensive tower of Torre de Savinar on the cliff top. If you follow the trodden path to your left then you will pass several stone art works on the ground and discover the path that leads down to Atlantis.
When to come
Avoid the heat of the midday sun, especially in the summer months! The walk back up is not advisable in the kind of heat that we experience in Ibiza in August...
Location
South West Ibiza, Ibiza